Kia e-Niro Review | PCO Car Guide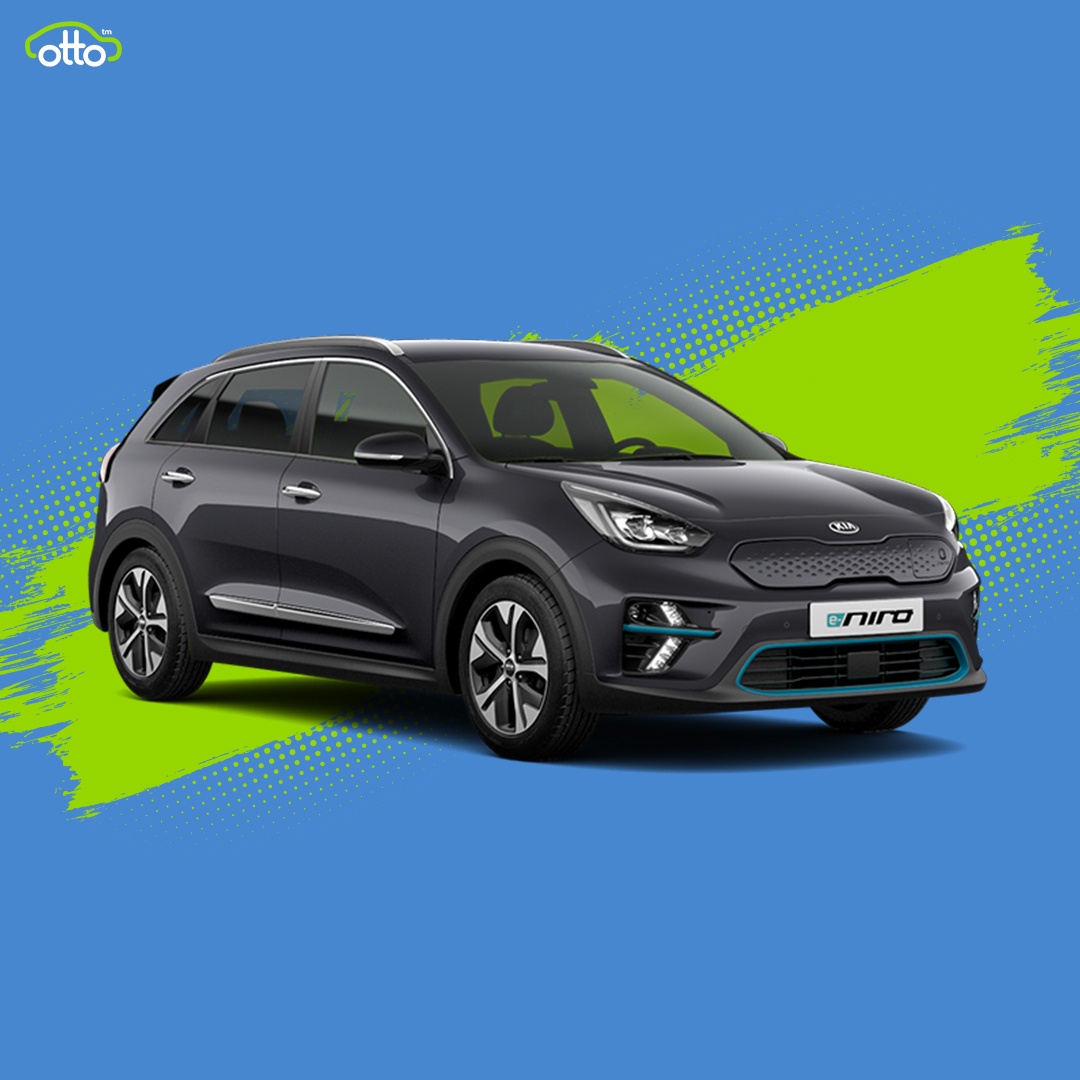 June 25, 2021
This review is part of Otto Car's new PCO Car Review series. We aim to look at the latest and best PCO cars in the market, in order to give you an honest insight into how they look, how they perform, and how suitable they are for private hire driving. You can see even more cars on our PCO Car Review Page!
Contents
Introduction
It's safe to say that the Kia E-Niro has made a huge impact in the PCO market. In fact, we could even go as far as to say that it has shaken up the entire electric vehicle market in general.
It was originally released as a serious alternative to the Tesla, and the comparisons are justified as well; it has a hefty range of 282 miles, a sleek design, and a host of useful and attractive features inside. It has also come forward as a serious rival to the Nissan Leaf, which has previously dominated the electric PCO market in terms of sales.
This attention to detail has also been recognised by the wider community, where it has picked up a number of different awards. This includes the DrivingElectric Car of the Year Award 2019 and WhatCar? Car of the Year Award.
That's why we were keen to write a review specifically for PCO drivers, so that we could breakdown what you can expect from this electric vehicle, and how suitable it is for the private hire industry.
Throughout this article we look specifically  into the 64kWh Kia E-Niro, which was released in 2020, but if you're interested in the latest model, you can find out more about it on our PCO Rent 2 Buy page.
If you stick around long enough we've also included our PCO Car review video at the end, where you can actually see us hop in and take the Kia E-Niro for a spin. (If articles aren't your thing then feel free to jump straight to the vid 😉.)
First Glance
Before we get started, we've outlined some key specs and our Rent 2 Buy pricing plan for PCO drivers.
This should give you an idea about the features and price point for this PCO car.
Vehicle Specs

👇

Rent 2 Buy

👇

Up to 282 Miles Range

Price: £259 per week

64 kWh lithium-ion polymer battery pack

Contract Length: 4  Years

Sat Nav

Down Payment: £499

LED Running Lights

Free Servicing

17″ Inch Alloy Wheels

Free MOT, PHV Licence & Road Tax

Touch Screen / Sat Nav

Free Insurance

8-speaker JBL® Premium Sound System

No Balloon Payment

Electric parking brake with autohold

Mileage Cap: 800 miles per week 

Apple CarPlay & Android Auto

Free CCTV Installed
These are just a quick glance at the specs inside this vehicle. Keep reading for more, or check out our dedicated Kia E-Niro Rent 2 Buy Page for more details about the scheme.  
The Drive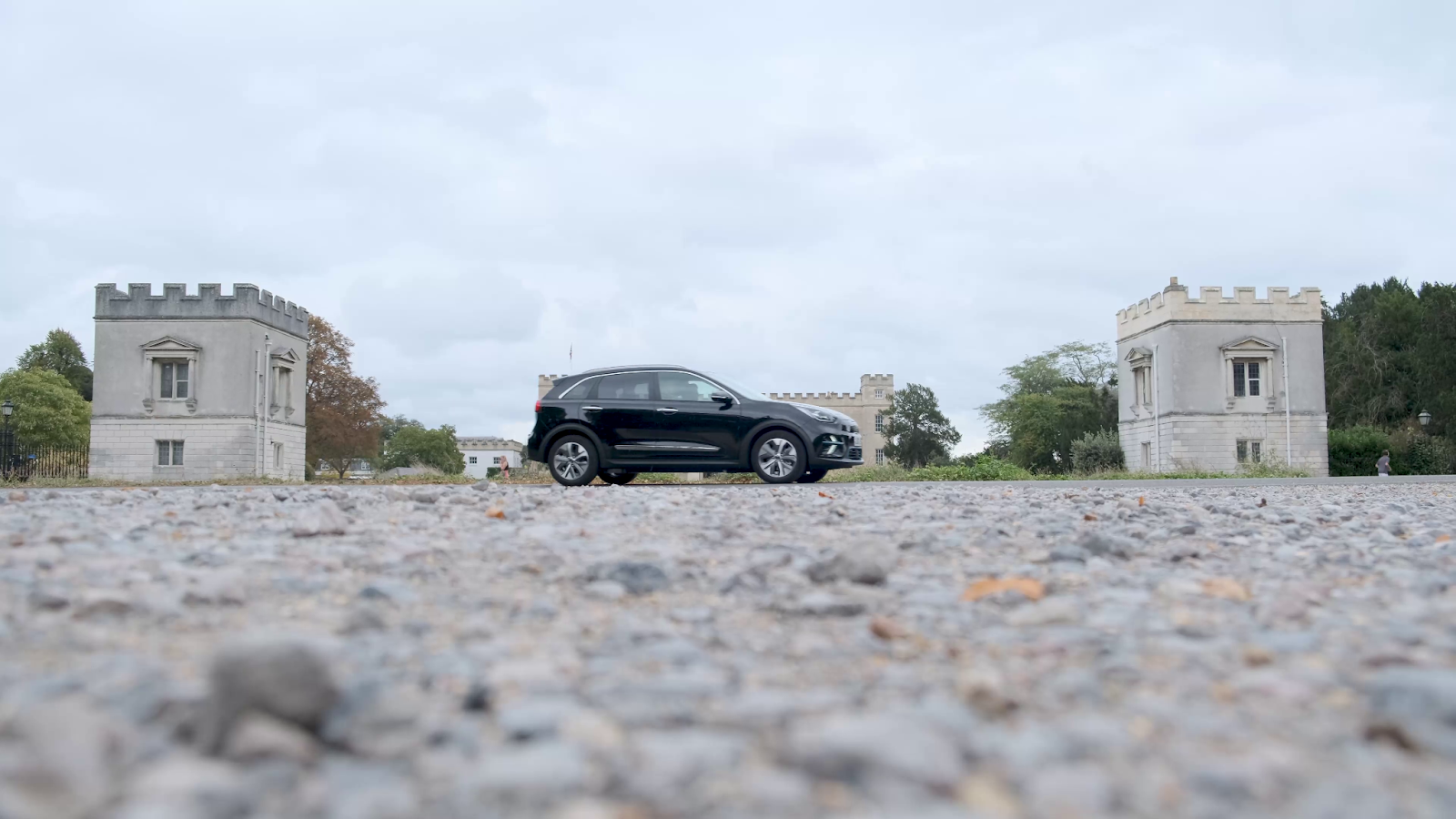 We thought that the drive on this PCO car was fantastic.
It was quick off the blocks, in part due to its electric motor, which clocks in at around 201bhp. This might not be as relevant for inner city PCO driving, but it's still good to know that it has a powerful motor, which is close to Tesla levels.
All in all the drive felt extremely smooth. The Kia E-Niro is a relatively light car (2,230kg total), but the suspension system worked well, and the 17″ Alloy Wheels maintained a good grip on the road. Whilst some users have mentioned a slight jerkiness around corners (which is a common complaint with EVs), we didn't feel the same, and overall we found the drive to be controlled and enjoyable.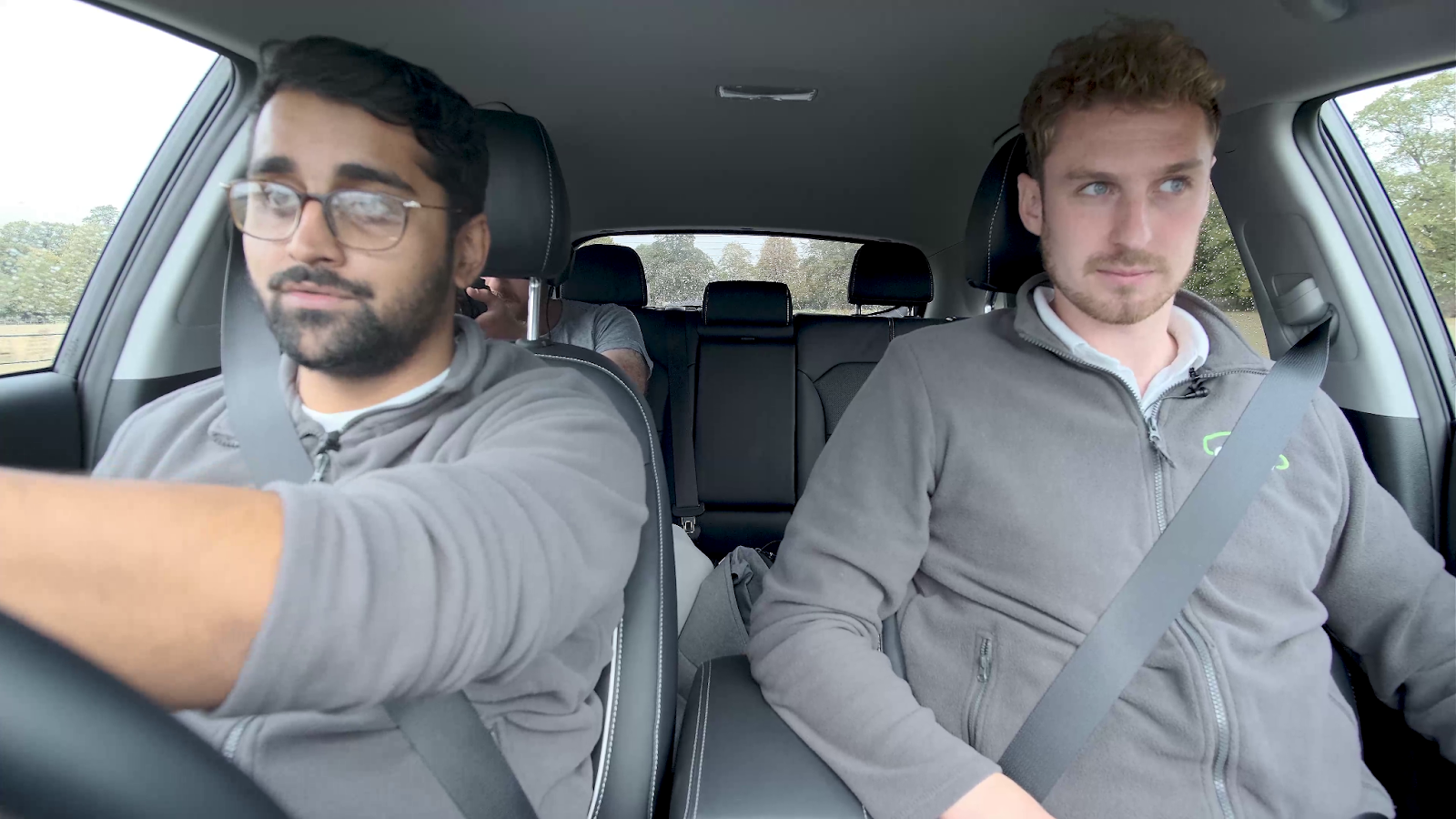 As is expected from an electric PCO car, there are also a number of nice features designed to improve your overall experience. This includes the ability to switch between different driving modes (eco, comfort, & sport), an anti-lock braking system, a Lane Keep Assist system, and an Adaptive Smart Cruise Control Function. Whilst these are features that most PCO drivers have probably worked without in the past, they make for nice additions, and once you have them you almost definitely won't regret it.
It also includes regenerative braking, which is a very useful feature for PCO drivers looking into electric vehicles. Simply put, this takes the wasted energy that comes from braking your vehicle, and uses it to recharge the vehicle's battery. Pretty handy right?
Like with many other PCO electric vehicles, such as the Nissan Leaf e+ Tekna or the MG5 EV Exclusive, there are a lot more useful features that we could mention here, but the overall review of the drive was that it was extremely good. We never felt like the car got away from us, and above all it was an enjoyable drive, which is probably the most important thing that we could say about it.
(If you would like to see some other specs then feel free to check out our PCO Rent 2 Buy Page instead.) 
Exterior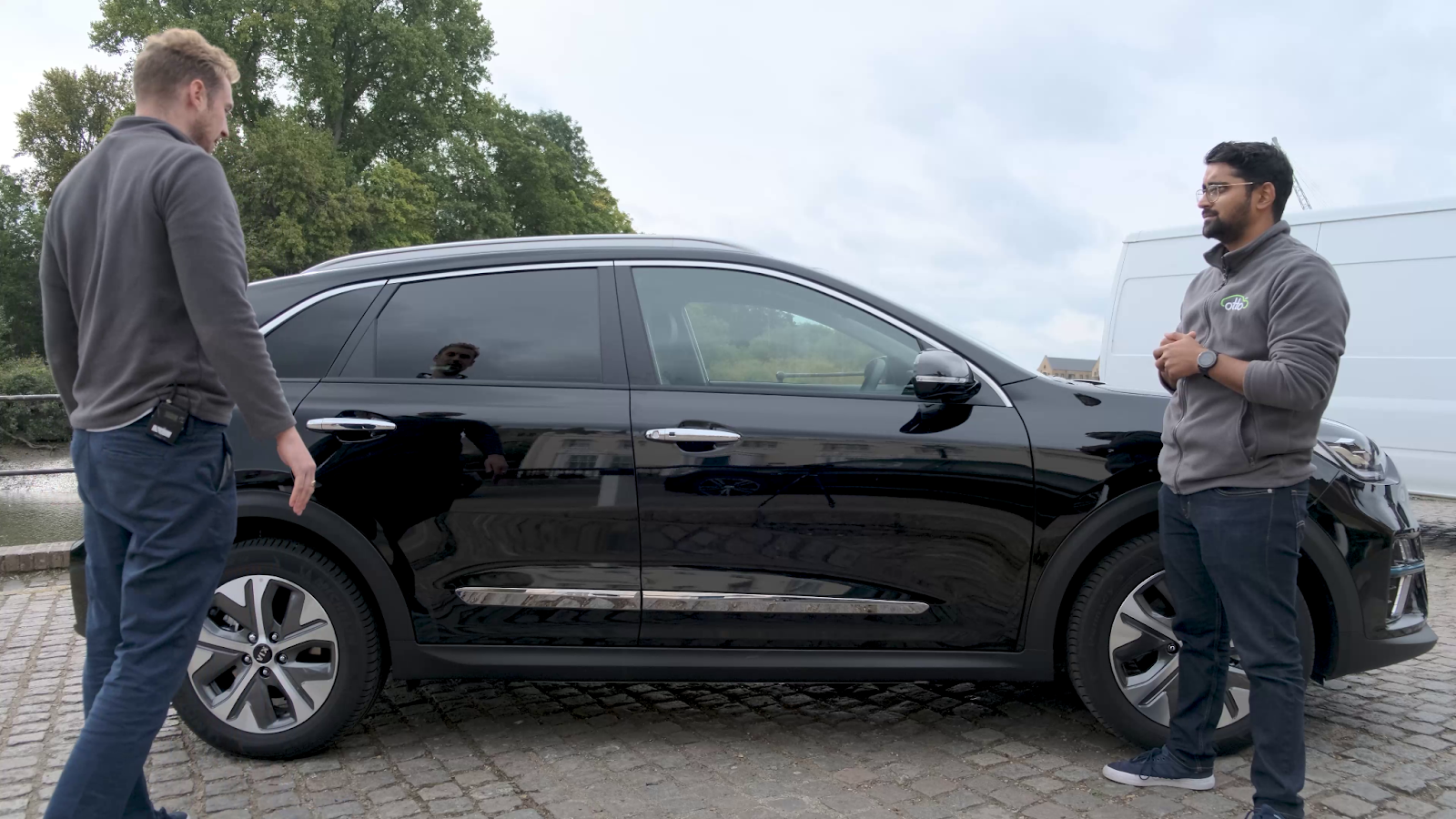 Whilst most people seem to love the Kia E-Niro's design, there are a few features which can split opinions. The look of a car can be quite subjective, and for that reason it doesn't pull top marks.  (Check out our review vid below to see what divided us!)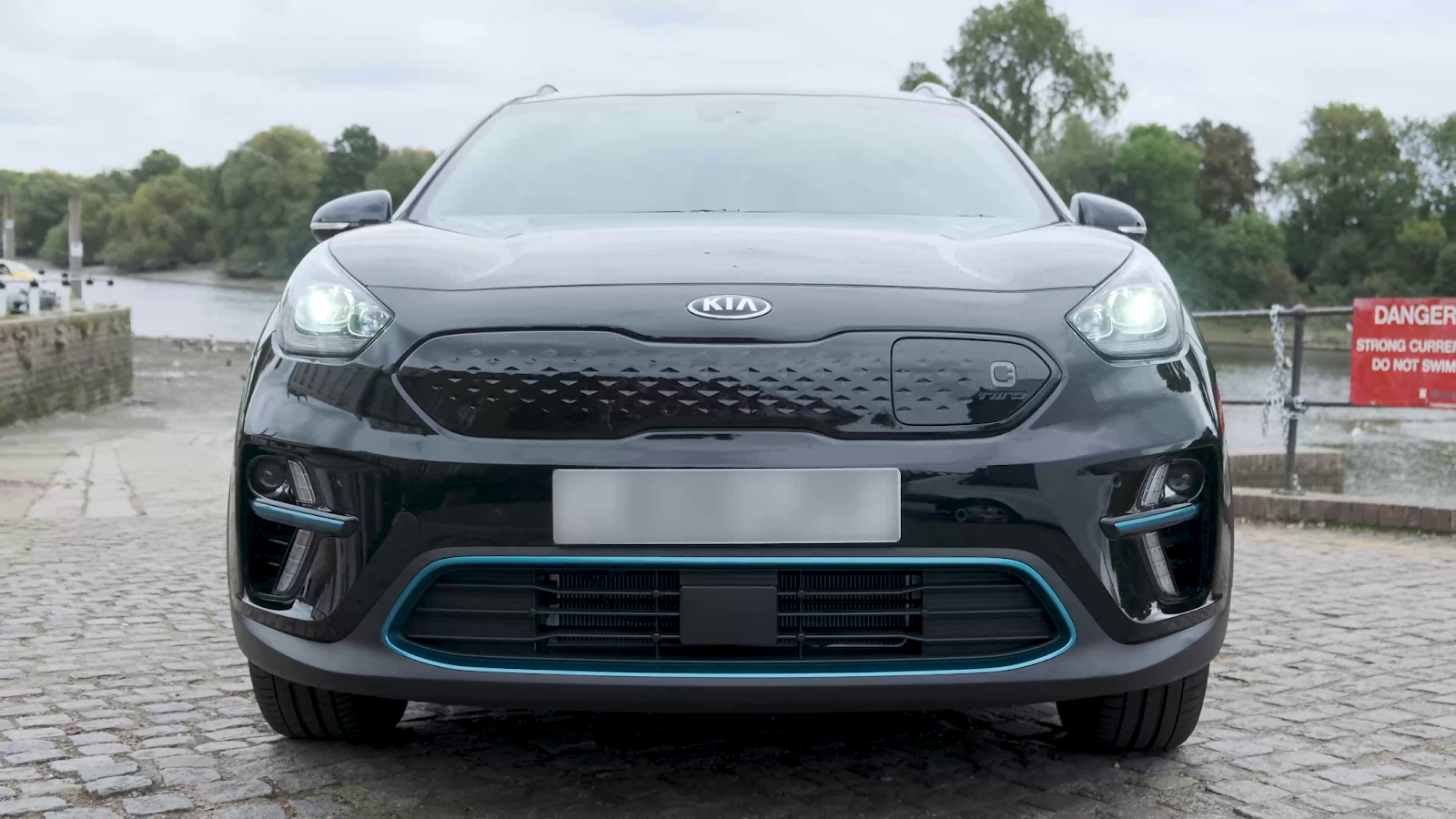 The general consensus however is that this car is definitely compact and stylish. This is highlighted by a few features: the matt black radiator grille in the front, the distinct roof rails, the LED running lights, and a healthy dose of privacy glass. It also includes the splash of electric blue in the front, which clearly distinguishes the Kia E-Niro from its non-electric counterparts.
We are also big fans of the side mirrors, which are electronically adjustable, but are also heated and have LED indicators as well. This is coupled with rain-sensing front wipers as well. London can be a wet and misty place at the best of times, so we find that these touches can make a world of difference!
Interior

There is actually quite a stark contrast between the interior and exterior of the Kia E-Niro. Whilst it looks like quite a sensible and compact vehicle from the outside, you might find yourself using words like "futuristic" when describing the interior. We did at least.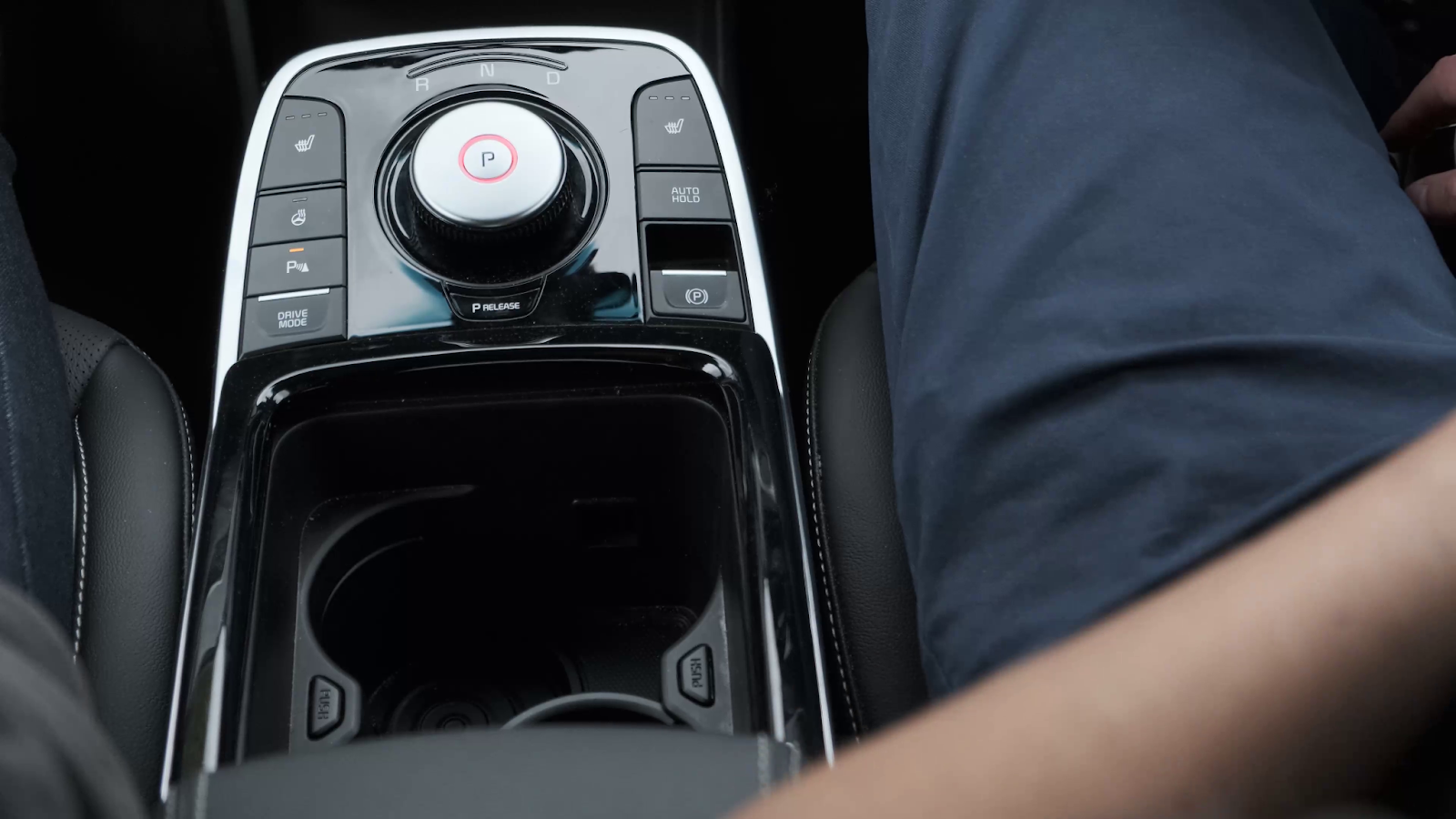 Part of that is just in the design in itself. The flashy gearstick and the pop-up cupholders for example seem like small creative touches which are relatively insignificant in the grand scheme of things, but let you know that you're sitting in a well designed PCO car.
Of course another aspect is the 8″ Touchscreen Display, which lends this car an extra bit of wow factor. It feels almost as if Kia have thrown in a free iPad with this car, and it genuinely feels easy to use. A lot of touchscreen displays look the part, but can be be a little bit cumbersome to use, but with the Kia E-Niro it actually feels intuitive and responsive to the touch.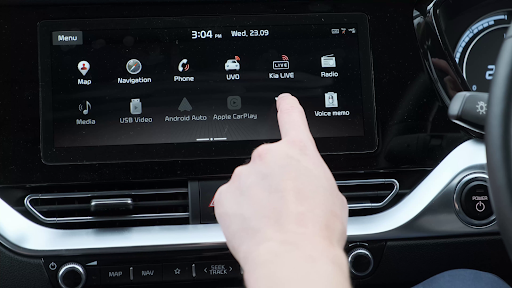 That's not all either. The Kia E-Niro comes with an 8-speaker JBL Premium Sound System with Subwoofer, External Amp & Front Centre Speaker, which will be (literal) music to the ears of any sound lovers out there. This PCO car also comes kitted with Android Auto & Apple Carplay with voice control commands, so no matter what your device you'll be able to sync up and play some tunes. No more awkward stops trying to figure out why your passenger's bluetooth isn't working!
The charging indicator on the the dashboard screen will let you know how much charge you have left, which is handy for those of you who like to keep tabs on your range. There is also a mounted control system on the steering wheel, which comes in especially handy for easily switching between different driving modes.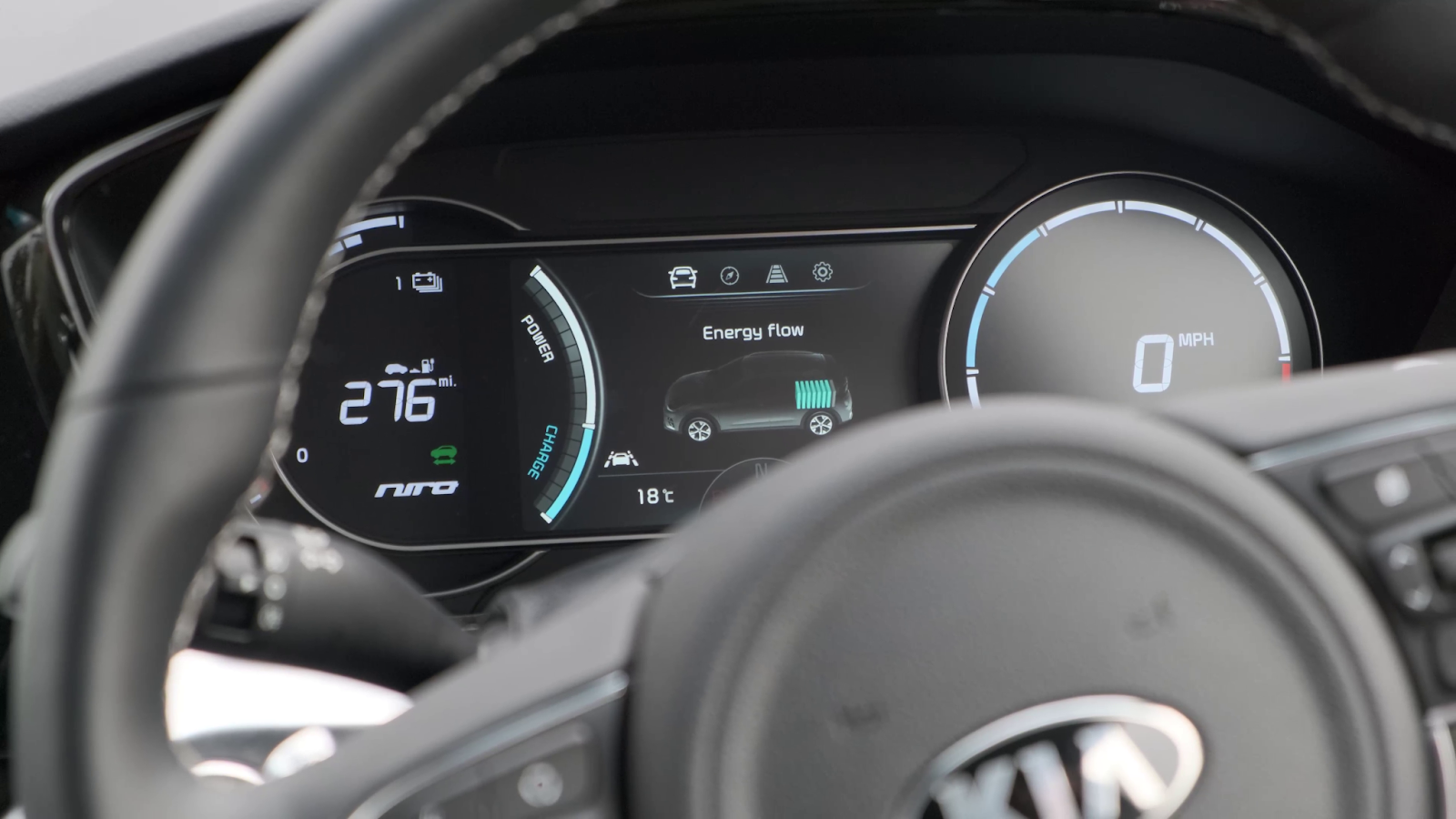 Finally, you will also find rear parking sensors and a reversing camera in the Kia E-Niro too. These are becoming increasingly common in newer models of vehicles, and they are extremely useful for easy parking in the big city.
Passenger Space & Boot

One of the stand out features of the Kia E-Niro for PCO drivers is how it is a convenient and compact city vehicle, whilst also packing plenty of space for passengers and all of their things.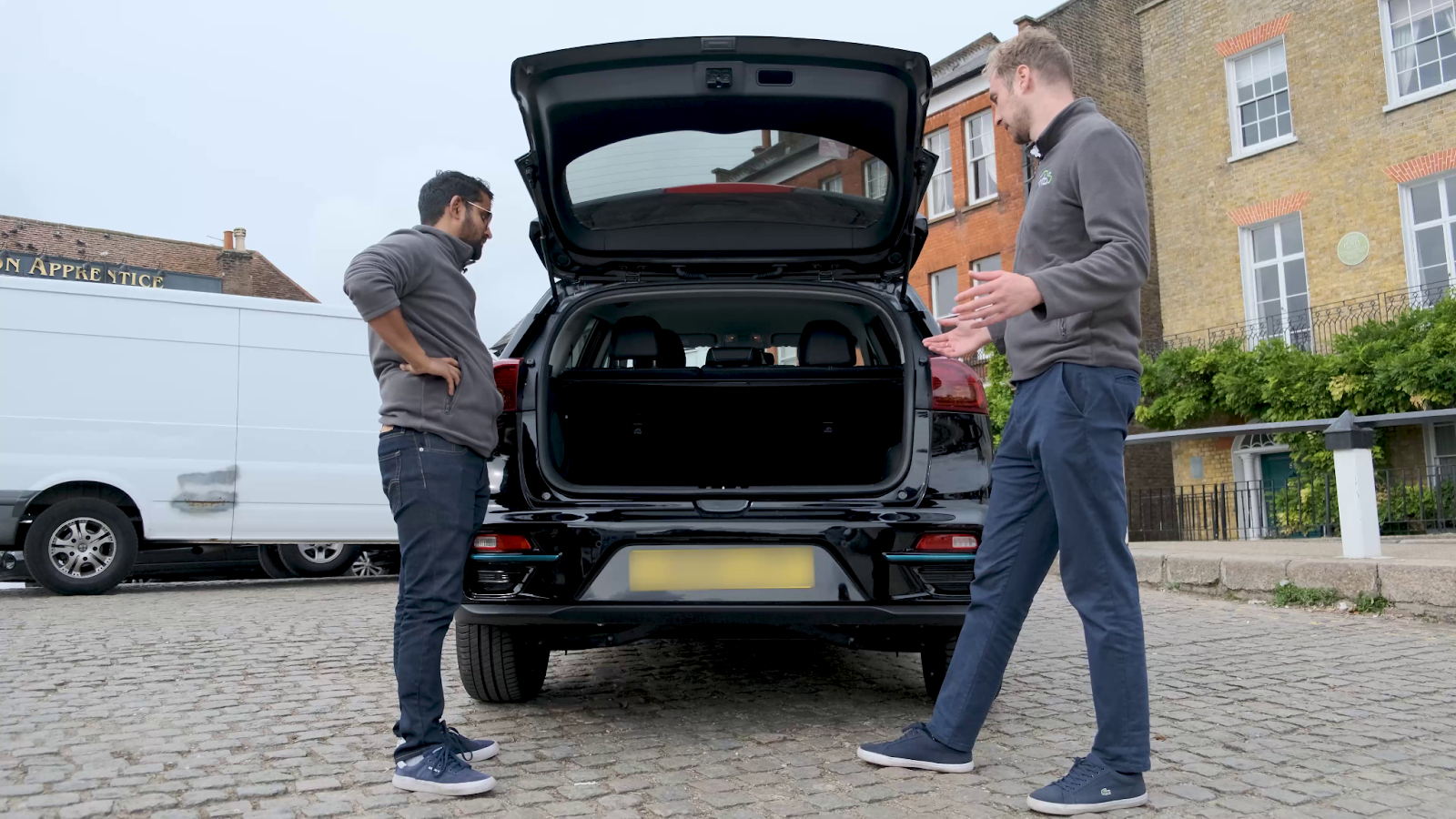 The boot has a 451L capacity, and this extends to 1,405L if the back seats are folded up. That is more than enough space for your average Uber journey, and we predict it will do the job for the majority of airport runs as well.
In terms of passenger space we think that you'll be more than covered with this car too. If you have three particularly tall passengers then things could get a little bit tight, but for the most part PCO drivers will be absolutely fine.
Running Costs

We recognise that for PCO drivers this is quite an important category. That's why we wanted to give you an extensive breakdown of the savings that you could look to make with this PCO car.
The Kia E-Niro vs. Petrol Hybrid
We've included below a table showcasing the differences in fuel cost for the Kia E-Niro vs. the Toyota Prius. We worked this out using a handy tool on the Go Ultra Low website.
The following is based on a work schedule of around 1000 miles of PCO driving per week.
Kia E-Niro

👇

Toyota Prius

👇

Journey Fuel Cost: £41

Journey Fuel Cost: £53

Cost per mile: 4.1p

Cost per mile: 5.3p

Total Annual Fuel Costs: £2,113

Total Annual Fuel Costs: £2,765
According to these estimates PCO drivers could save up to £652 annually on fuel costs alone.
That's not all either. You would also be looking at daily savings of £15 for not entering the ever-expanding congestion charge zone. If you enter on average 3 times a week, this would make annual savings of around £2400 on congestion charges alone.
On top of this there is less wear and tear on electric vehicles, which makes for lower servicing and replacement costs. (If you'd like to learn more about this, you might be interested in reading about the top 10 reasons for PCO drivers to switch to an EV car),
All of these savings will make a huge impact on your overall earnings, which is obviously a huge asset for PCO driving.
Safety & Reliability

Kia is known for building safe and reliable vehicles. The Kia E-Niro is no different, having been awarded a 5 star in the Euro NCAP after safety crash tests.
The Kia E-Niro has quite a few features focused specifically on safe driving: it has seven Airbags built in should you get into a collision, Lane Keep Assist, Blind Spot Detection, Electronic Stability Control and an Anti-Lock Braking System.
This PCO Car also feels reliable on the road, and the fact that you won't be servicing it as often as a petrol hybrid contributes to it's overall sturdiness and long-term reliability.
Overall PCO Suitability

Here at Otto Car we don't usually give the full five stars on our PCO Car reviews, but when a PCO car deserves it then you have to make an exception.
For starters it won't be a surprise to many PCO drivers to learn that we are big fans of EV cars for PCO work. With the Uber Clean Air Plan, and increasing number of reasons to make the switch, it feels like that is where the private hire industry is inevitably going.
However, we also believe that it has to be the right EV to tempt drivers to make the switch, and the Kia E-Niro manages that nicely for a few reasons.
To begin with the range is a whopping 282 miles. That is a lot of work that you can do without much charging. That means that you are making good savings on congestion charges and fuel costs, whilst also driving a PCO car that won't give you any range anxiety.
On top of that, the design and quality of drive are up there with the best. It feels nice to get in the Kia E-Niro, for PCO drivers and passengers, and the drive is smooth and enjoyable.
Ultimately, PCO drivers will also be looking for a car that makes economical sense, won't depreciate in value over time, and will be nice to go out in on a day to day basis. Whilst this fantastic PCO car comes in at a higher price point than the Nissan Leaf e+ Tekna, we genuinely think that the Kia E-Niro hits all of these marks and some.
Review Video
Check out our PCO Car Review video below. It's packed with nice scenic shots of the Kia E-Niro (and a few of London as well!).
Other Reviews
If you're interested in seeing how other cars stacked up to our scrutiny, then feel free to check out our dedicated PCO Car Review page. We'll be updating this regularly with the latest cars that PCO drivers will want to know about.