How are London PCO Cars currently performing with ULEZ?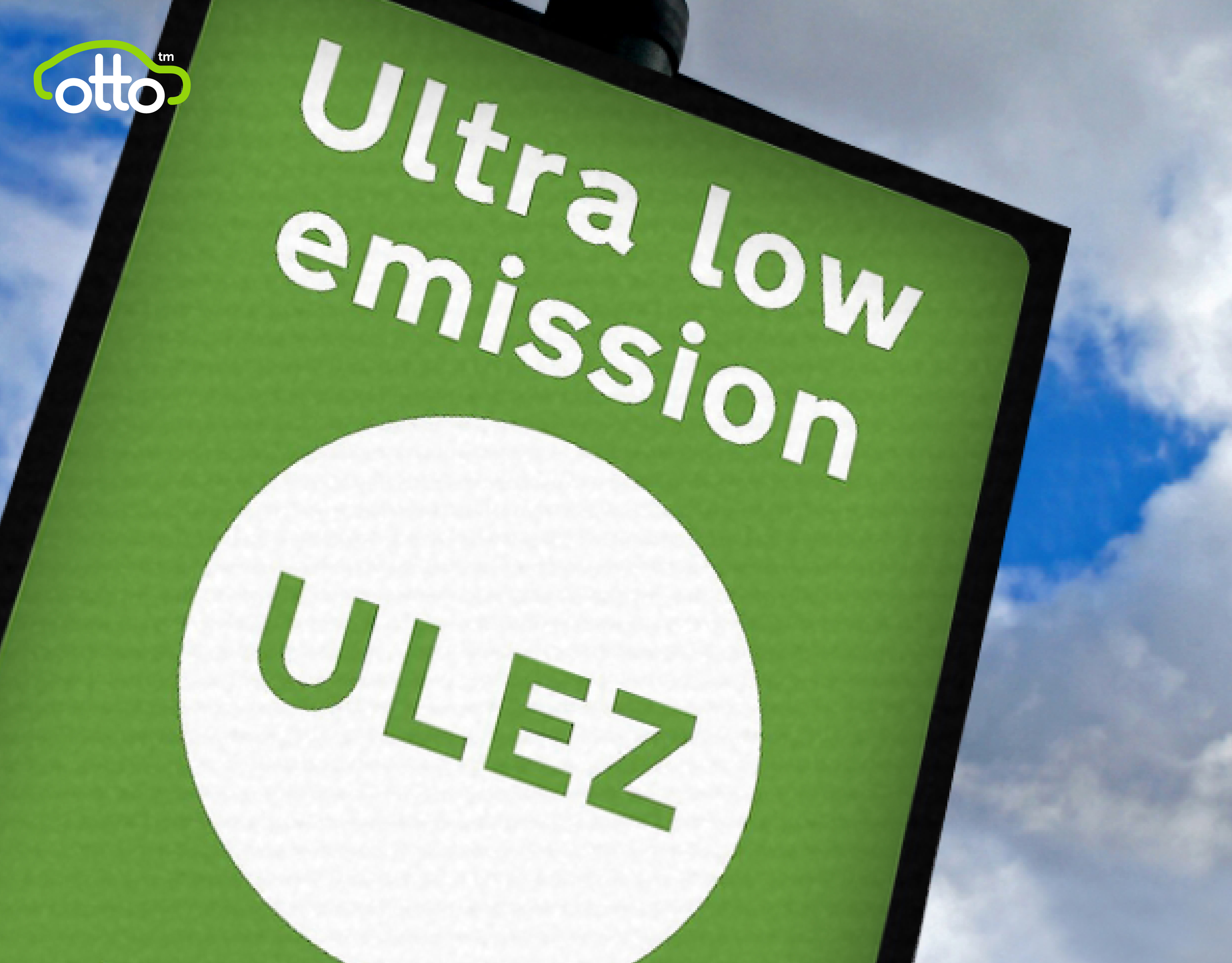 It's National Clean Air Day 2019 across the UK.
It's definitely been an interesting and surprising year for many PCO drivers with the introduction of Congestion Charges and ULEZ, and the city has had to adjust and get used to these changes.
We thought we'd mark this day with some useful facts and info about how London PCO cars are currently doing when it comes to these new rulings. To see how far we've come, and what we can expect to see in the future.
How many PCO Cars have become ULEZ Compliant in the past year? 
We've mapped out a table below showing how many of London's PCO Cars are currently ULEZ compliant, compared to those in 2018.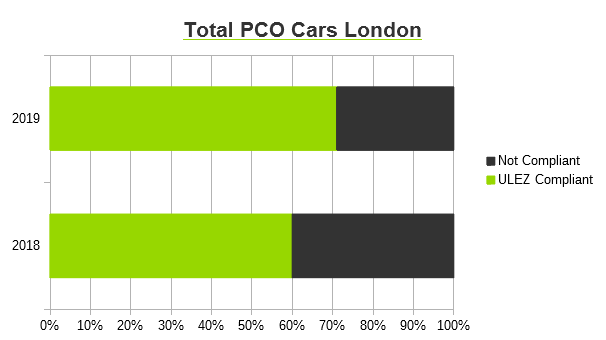 In 2018, 40% of the total licensed Private Hire fleet in London, including Uber London cars, did not meet ULEZ emission standards at the beginning of the year. As of February 2019 that figure is just 29%.
TfL clearly consider this a move in the right direction, with PCO drivers keen to avoid congestion charges by choosing PCO cars that meet ULEZ standards. The total number of ULEZ compliant PCO cars is expected to increase even further in the next couple of years, so we don't expect these numbers to slow down any time soon.
What is the breakdown of PCO Cars by fuel type?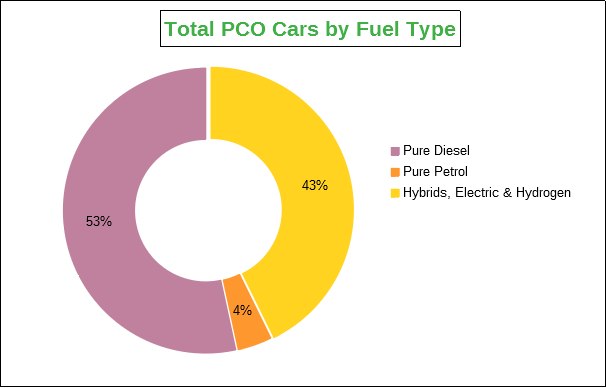 PCO Diesel cars are still the most licensed Private Hire cars in London. There are a total of 46, 825 currently operating in London.
The next most popular are Hybrids, Electric and Hydrogen. (These also include PCO hybrid diesels and PCO hybrid electrics). There are a total of  37,471 in London.
Finally petrol cars are gradually being phased out, with only 3,412 PCO petrol cars operating in London.
Some Important Dates to Remember
For those of you wondering how these vehicle types will change over time, it might be useful to keep these dates in mind:
1st January 2018 to 31st December 2019: 
All PHV cars licensed for the first time during this period must have a Euro 6 petrol or diesel engine, or a Euro 4 petrol-hybrid engine.
1 January 2020 to 31 December 2022:  
All new (less than 18 months old) PHV cars licensed for the first time will have to be zero emission capable.
PHV cars over 18 months old will need to have a Euro 6 engine when licensed for the first time.
From 1 January 2023: 
All PHV cars (of any age) will need to be Zero Emission Capable when licensed for the first time.
The reasons for encouraging PCO Electric Car Owners
The reason that the government is pushing for electric car ownership is because of the following statistics that TfL released for emissions in Greater London in 2013.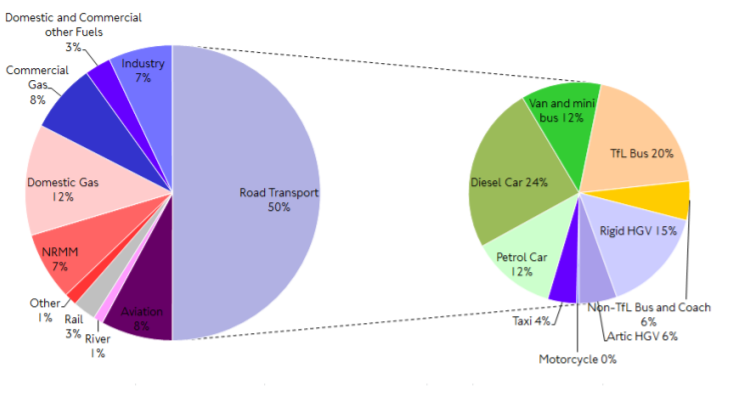 These numbers are the big reason for trying to control road transport, since it contributes for around 50% of total emissions in the city. This will be greatly reduced if more car owners make the switch to electric.
Although many people have different opinions about how effective this will be, it shows TfL's general reasons behind the ULEZ rulings.
Some benefits for purchasing an electric PCO car
Since the government is trying hard to push for PCO electric cars, we thought that it would be useful to include some of the incentives that are currently being offered if you're thinking of making the switch.
The Uber Clean Air Fee
If you haven't already seen anything about this, then  you can check out our full article about the Uber Clean Air Fee here.
However, a big takeaway is that from January this year, 15p per mile is now being applied to every customer picked up within the M25 in London, and all of the money raised by the driver will go towards upgrading to an electric PCO vehicle.
Uber are also working with different PCO Car providers, including Otto Car, to help drivers make the switch to an EV.
Government Plug-in Car Grant
The Government currently offers a Plug-in Car Grant to reduce the initial cost of purchasing a category 1 Zero Emission Capable vehicle. The maximum grant available is £3,500.
Additional Savings: 
– With certain electric PCO cars, such as the PCO Nissan Leaf N-Connecta, you will also be exempt from road taxes.
– Lower service costs due to less wear and tear.
–  Free or discounted parking spaces in certain places around London for Electric vehicles. (Eg: In Westminster if you pay for 10 mins, you'll get up to 4 hours free parking in Council Parking Bays.)
Driveway Installation
If you personally own a driveway, then you will be eligible to install your own charging point. OLEV will cover around 50% of this, and Otto Car will cover the rest if you're on one of our PCO Rent 2 Buy schemes.
Thinking of making the move to electric? 
If you're thinking of making the move to a PCO Electric Vehicle then it might be a good idea to check out some handy tips and advice on our Electric Car Guide.
We also offer PCO Electric cars on our PCO Car Hire and PCO Rent to Buy schemes.
#YourSuccessDrivesUs