Power To PCO Drivers | Working Together To Electrify London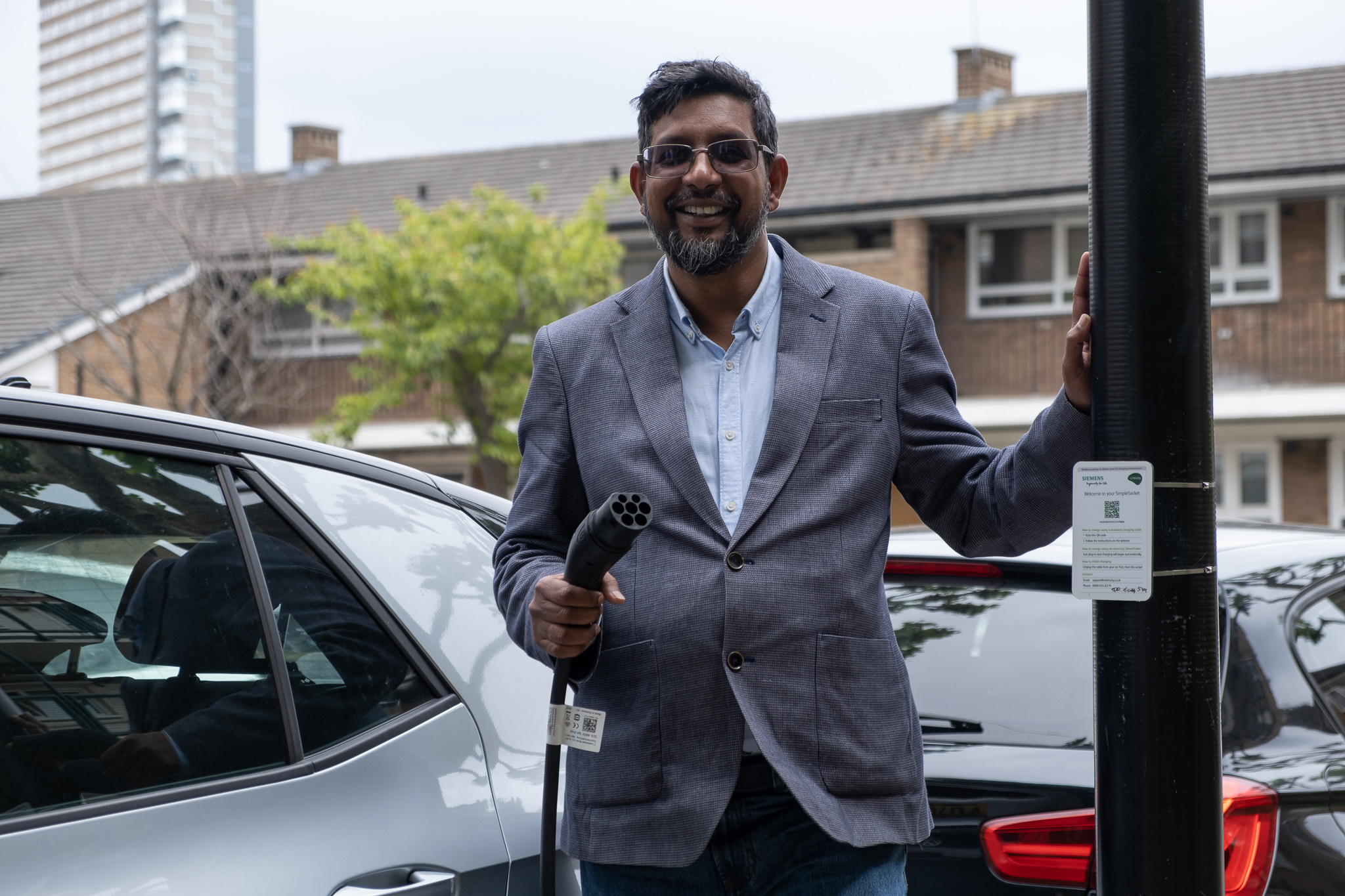 July 6, 2021
Here at Otto Car, we know that simply offering a fully electric PCO car isn't enough. The transition to electric PCO cars requires us to think outside the box and support PCO drivers in other ways.
From our recent free online EV education session to the introduction of our new Otto Charging Network, we're playing our part in supporting the private hire community switch to electric. Another way to support this change is by using PCO driver data to help increase the coverage of electric chargers in the capital. With over two-thirds of Uber Partners and PCO drivers living without a driveway, we knew it was critical to address this issue head-on.
In October 2020, Otto Car joined forces with on-street charging operator Siemens Ubitricity and not-for-profit action group The Camden Clean Air Initiative to create a new EV Charger Request Tool. It allowed PCO drivers with little to no local charging coverage to request an installation of an on-street charger in their area. This data would be passed to local councils to help make better decisions as to where new chargers should be installed.
Since our EV Charger Request Tool went live, we had over 650 submissions from PCO drivers in London who would like a charge point closer to their homes. 9 months on and we've had over 95 on-street charging points installed in Tower Hamlets alone with a further 81 more on the way. This is an area with some of the lowest numbers of chargers in London and desperately needs more coverage. 
We caught up with one of the PCO drivers who submitted their details last year, and now have a new on-street charger next to their home.
Meet one of our successful drivers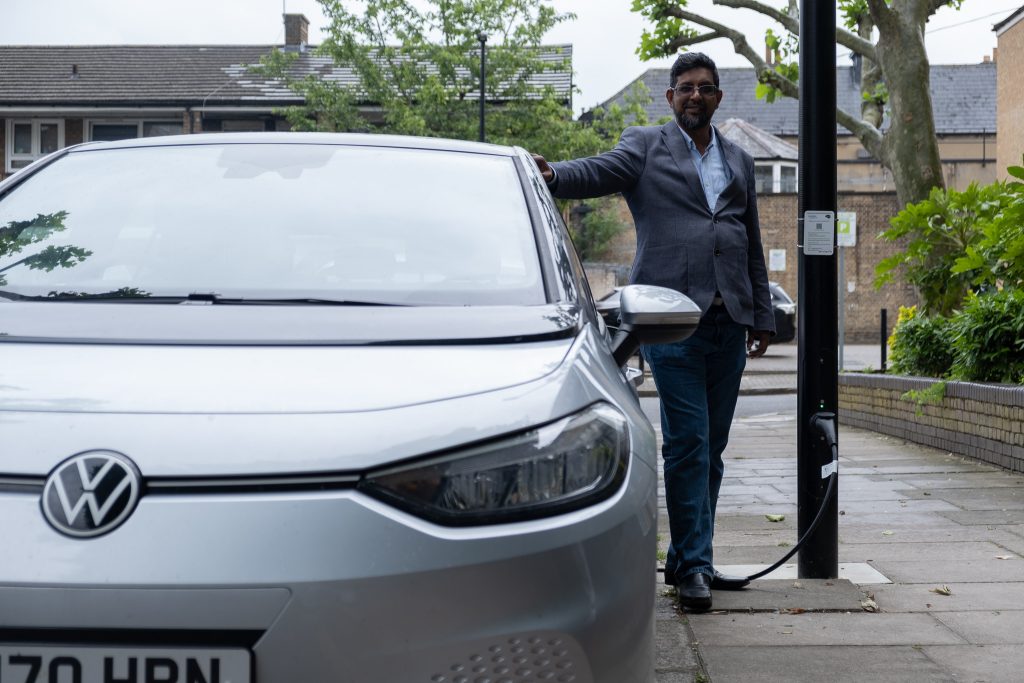 Mr Ali, pictured with his new lamp post charger and one of Otto Car's fully electric PCO cars, the VW ID.3 Life
Meet Mr Ali. He's a PCO driver based in East London who's been in the private hire industry for nearly two years. Formally working in retail, Mr Ali got hold of a PCO licence and got himself a Toyota Prius Hybrid to get him on the road and working.
In recent times, the push to switch to electric has made Mr Ali re-think his choice of PCO car. With electric cars exempt from the £15 per day Congestion Charge, operators offering new incentives to switch (e.g. the Uber Clean Air Plan), and the lower running costs that come with driving an electric PCO car, a switch was starting to make more sense.
One of the biggest obstacles to switching was a lack of chargers in his local area. He lives in a flat in a high-rise area of London and therefore doesn't have access to a driveway to be able to charge an EV at home. After we introduced our EV Charger Request Tool last year, he submitted his address details to us so we could help get him a charging point closer to his home. Fast-forward 9 months, we've had a network of several Siemens Ubitricity lamp post chargers successfully installed on his street and the surrounding neighborhood, with one literally being in front of his home!
Mr Ali stated, "I'm very excited and happy to see these lamppost EV chargers outside of my home, allowing me to charge an electric vehicle while I am not working. This will really help me make the switch, which needs to happen sooner rather than later as this is where the industry is going"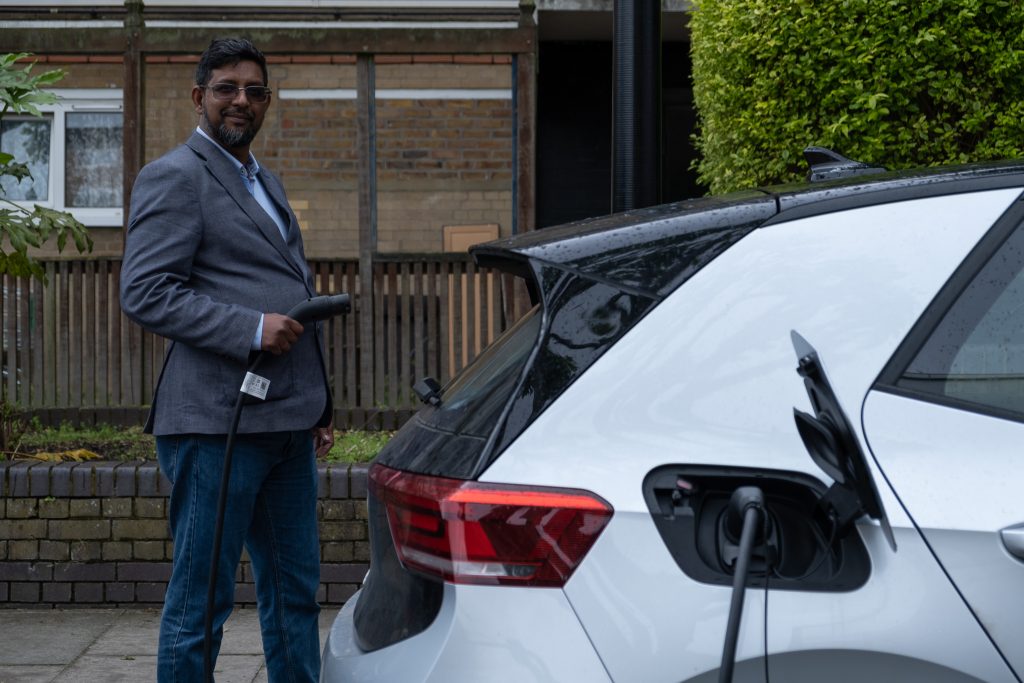 Charging Up
Siemens Ubitricity lamppost EV chargers are continually being installed at speed, with over 3,000 charges installed across the majority of London councils including Tower Hamlets and Newham, where many PCO drivers live. These lamppost EV chargers are providing PCO drivers without a driveway the ability to conveniently charge at a low cost whilst they're resting at home.
They're also the cheapest Pay As You Go p/kWh compared to other public access charging methods, meaning PCO drivers can save on their running costs as well. There's also the added benefit of the energy being supplied from EDF, which is 100% renewable!
Siemens Ubitricity lamppost EV chargers are available to use directly or PCO drivers have the option to use them through the new Otto Charging Network, which also includes a range of slow, fast, rapid and ultra-rapid chargers to suit every PCO drivers' needs (including over 600 rapid chargers across Greater London!). 
The benefits of switching to electric
If you're thinking of switching to electric, there's never been a better time. With the government and private hire operators offering lots of incentives as well as the running costs being significantly lower. Here's a quick breakdown of our top reasons for switching.
The most obvious benefit out on the road is that you won't have to pay for the Congestion Charge, which is £15 a day. Electric private hire vehicles are exempt until 2025, giving PCO drivers 4 years to drive freely into Central London without being charged.
Uber Green and the Uber Clean Air Plan Incentives
London's most popular operator Uber recently released a new Uber Green feature, exclusively for electric cars in Zone 1 and 2. Uber also reduced their commission on Uber Green to 15% for the rest of 2021. This means that getting an EV could potentially put you in touch with a lot of untapped drivers with lower service fees than before.
Uber also took things further and offered their partners a chance to upgrade to an electric PCO car at a discounted rate through one of their dealer partners (which includes Otto Car). You can learn more about the Uber Clean Air Plan on our website.
PCO drivers, who drive significantly more than the general population, will see huge savings in their fuel costs. 
We estimate that it will cost you around 3.2p per mile on a public access charger, compared to current diesel prices of 11.5p per mile! If you drive up to 1000 miles a week then this will result in major annual savings. 
Better Air Quality For All
There are an estimated 40,000 premature deaths in the UK due to toxic air pollution. With transport contributing to a significant amount of this air pollution, it is hard to deny the major health benefits of switching to an electric PCO car. 
Did you know:  You can learn more about the benefits of switching to an electric PCO in our detailed Top 10 reasons to switch to electric article from earlier this year.
Moving Forward Together
The private hire community are leading the charge by upgrading to electric quicker than other industries, and their positive change is something we can all fully support, with London's toxic air being tackled with zero tail-pipe emission journeys across the capital.
When you also add the fact Transport for London wants to increase the number of electric PCO cars in the capital (and reduce the number of privately owned vehicles), to Uber's Clean Air Plan, we're all taking charge to electrify London and support private hire drivers.