This Week in Private Hire | 4th July 2019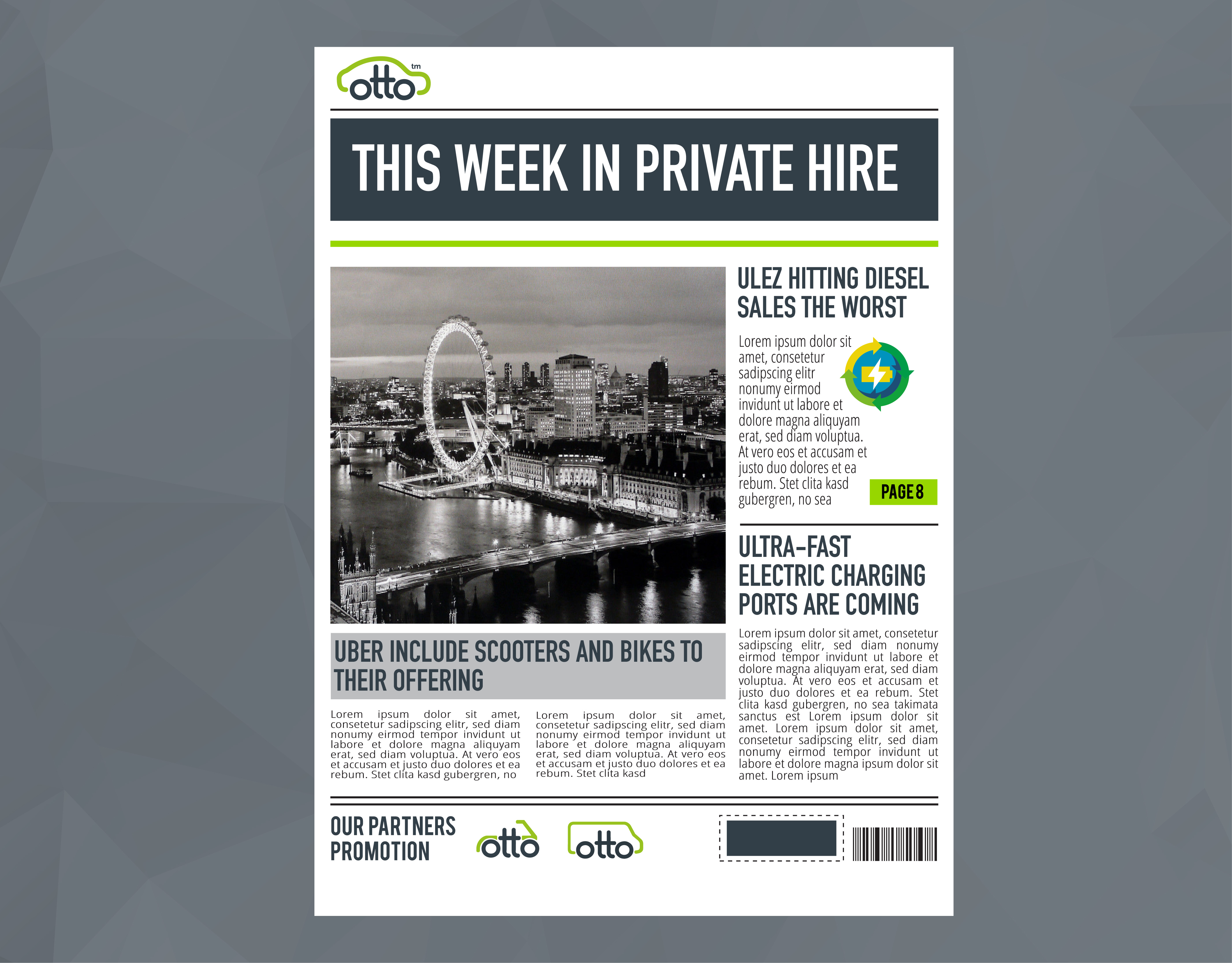 Check below for a list of this week's important news stories affecting Private Hire drivers across the UK.
If you're a PCO driver then be sure to read up. Stay fully up to date and informed with the latest events!
1. Uber Include Scooters and Bikes to their Offering
This has only been released in the United States, which seems to be a testing ground for many of Uber's different projects. However, we found this quite an interesting development, considering that London appears to be moving in a greener direction recently. Users of the Uber app, in cities like San Diego, can now log on and rent out an electric scooter to take them around town. It's yet unclear how popular this service is, how well it functions, or the types of users that would find this offering attractive.
2. ULEZ Hitting Diesel Sales the Worst
Electric and Hybrid vehicles have become increasingly popular for drivers since the introduction of ULEZ. However, one type of car that has not done well is pure diesels. Increased fees due to the congestion zone, and running costs, have led to drivers searching for alternatives in the capital.
3. Taxi Companies looking to Revolt Against Heathrow Vehicle Access Charges
Heathrow recently announced that it would be launching a new Ultra Low Emission Zone in the airport, which would also affect Private Hire drivers. Within this proposal, they also mentioned that it could turn into a Vehicle Access Charge (VAC), where all drivers would be forced to pay a particular fee for entering the airport. Some taxi companies in London have not taken to this kindly, and plan to come together to oppose this bill, which they feel impacts the trade negatively.
4. Ultra-Fast Electric Charging Ports are Coming to London
One of the biggest issues affecting PCO Electric Car Drivers is that it takes a relatively long time to get their cars juiced. Some of the slower charging ports can take upwards of 5 hours, whilst rapid charging ports (50 kWh) can get your car good to go in around 30 minutes. Well, IONITY have now announced that they plan to introduce brand new Ultra-Fast charging ports. These would be 350kW chargers, which could be a game changer for PCO drivers, since it will ensure a full charge at a fraction of the current time that it takes.
5. Bristol looking to finalize their Clean Air Zone plans
Last week we saw that the Clean Air Zones in Birmingham and Leeds have come to halt, since they can't get the technology to work properly.  This hasn't stopped Bristol from driving ahead with their own plans though, and now they are looking to consult on what the final law they are passing should look like. Currently on the table are two options:
Option 1.) A zone where the most polluting buses, coaches, taxis and goods vehicles (HGVs & LGVs) would be charged each day that they enter particular zones. Taxis. Private Hire Vehicles and LGVs would be charged £9 a day. while HGVs, coaches and buses would have to pay £100 a day. It would also include weight restrictions for vehicles entering the worst polluted routes, and a scrappage scheme of up to £2,000 for diesel cars.
Option 2.) Banning all diesel cars from entering specific central areas from 7am to 3pm, seven days a week. This would not apply to taxis/private hire vehicles or emergency services.
Let Us Know Your Thoughts!
Let us know what you think about any of the happenings this week in the comments on our Facebook Page.
#YourSuccessDrivesUs