Covid-19 & Private Hire | Updates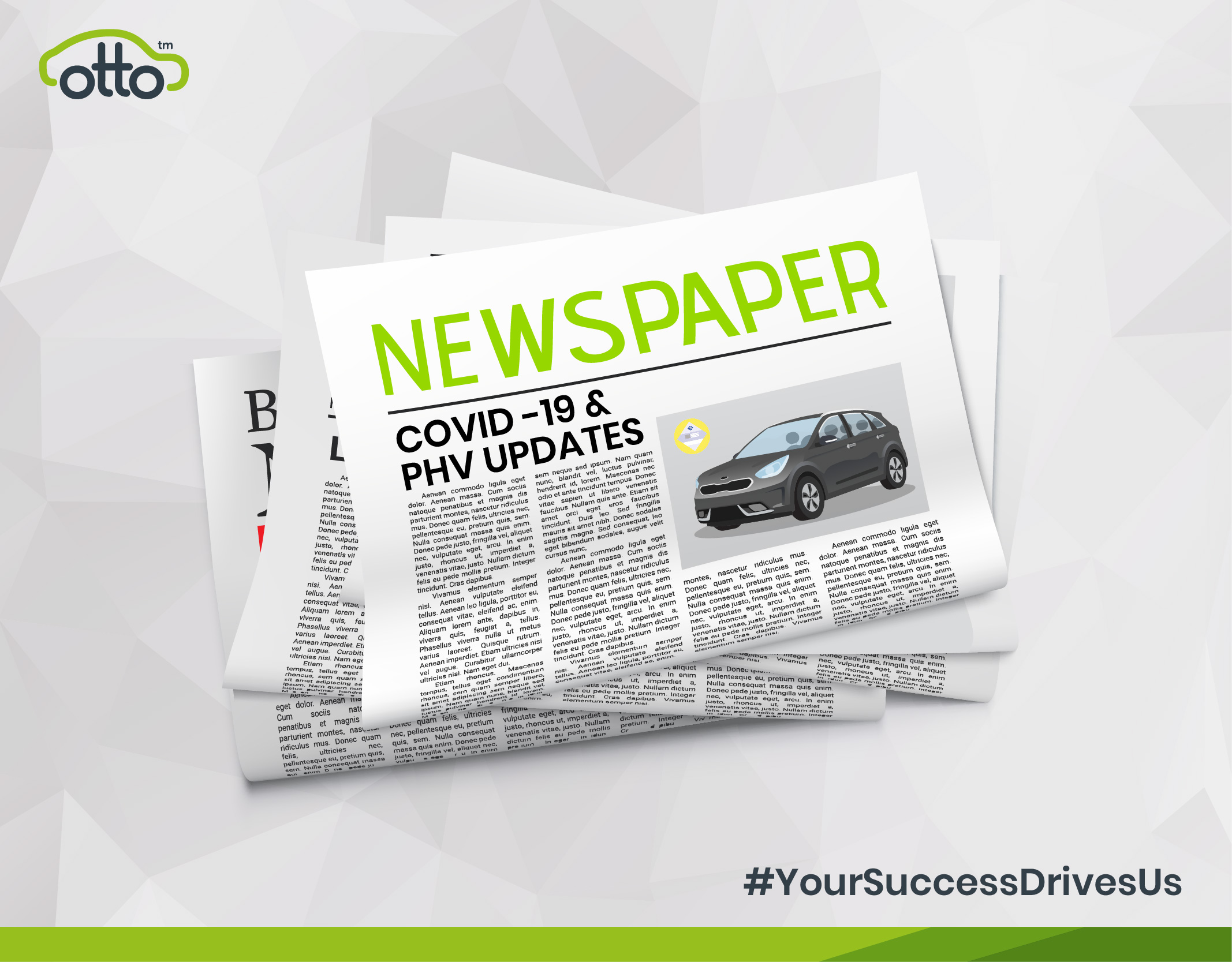 March 21, 2020
We're committed to bringing the private hire community the latest news regarding Covid-19 and how this affects the private hire market.
Please bookmark this page, as well be updating this as and when important news comes in.
For more in-depth support, please see our PCO financial assistance guide and our tips and resources guide for PCO drivers. Our London delivery company guide is also available for those looking for alternative sources of income during Covid-19.
If you're looking to get on the road, Otto Car are offering new and used PCO cars on the Rent 2 Buy scheme and short-term rentals on our PCO Car Hire scheme (discounts available. T&C's apply).
Uber provide rider and driver support | 24/01/2021
Riders heading to a vaccination centre can get a free trip on Uber (driver still gets full pay) and free PPE will be made available to their network of driver partners.
England begins new lockdown | 05/01/2021
Due to the rising number of covid-19 cases and the new strain of the virus, Boris Johnson announced a new national lockdown to curb its spread and save the NHS.
The lockdown is expected to last until at least the middle of February with updates given closer to the time. This will most certainly have an affect on the private hire industry, with demand set to decrease temporarily once again. The good news is that takeaways and deliveries can continue, providing a much needed boost to those who switched to delivery driving during this difficult time. You can learn more about London's top delivery operators, from pay to perks, with our delivery guide.
London enters tier 4 | 19/12/2020
Due to rising number of Coronavirus cases, London and the South-East has now entered a new tier 4. This means you cannot leave your house unless you have an exceptional reason. You cannot meet other people indoors, including over the Christmas period, unless you live with them, or they are part of your support bubble. Outdoors, you can only meet one person from another household.
London enters tier 3 | 16/12/2020
Due to rising cases in the capital, London has entered tier 3. Shops will remain open but bars, pubs and restaurants will have to close unless they are doing takeaways. The news will come as a blow to the private hire industry which was improving week on week after coming out of Lockdown.
TfL support for PCO drivers underway 10/13/2020
Transport for London will be distributing 1.5 million face coverings, 30,000 bottles of Dettol hand sanitiser and stickers to PCO drivers in London. These will be at special London Underground car parks and other locations. You can get the full list alongside car cleaning demonstrations at the TfL Coronavirus page for the industry.
London set to enter tier 2 | 25/11/2020
The capital is set to enter the second tier once lockdown ends, meaning pubs can open up till 11pm (if serving a substantial meal) and the public can meet others outside with a maximum of 6 people. This news is most welcomed from the private hire community, who should see an increase in trip demand as a result.
Covid-19 partition screen service now available from Otto Car | 24/11/2020
PCO drivers across London can now get their Toyota PCO cars installed with a safety partition screen.  Otto Car are TfL-approved supplier of the screens and the service is available on a first come first served basis at the Otto Hammersmith Hub (W6 9EA). You can find more information, including pricing, on the partition screen page.
Uber reintroduce Uber Medics with up to 50% off rides for NHS and care home staff workers | 11/11
As a way to support our NHS and care home staff workers and keep the private hire industry moving, Uber are offering a 25% discount on all rides which jumps to 50% if you use Mastercard.
Uber drivers still continue to receive their normal fee and the discount is funded by Uber directly. This offer is available all day everyday until at least the end of 2020.
Uber release new features to support their partners | 06/11
Uber Partners can now access a new dedicated network of charging hubs. There's even exclusive access to two rapid charging hubs in Q-Park Park Lane that's free to use for the rest of 2020. Depending on your UberPro level, you can get varied discounts on a special Polar Plus membership which includes reduced upfront and monthly fees on over 7,000 charging points across the UK. Learn more about how you can save on your running costs with Uber.
Two further features have been released including Uber Comfort and a Service Fee Quest, that helps Uber Partners unlock a lower service fee and keep more of the trip fare. This news is most welcomed at a difficult time for the private hire industry.
Self-employment support extended and expanded | 02/11
The government has announced self-employed workers will be able to claim state aid of up to 80% of profits (previously set at 40%). This will be available between November and January.
England set for new lockdown | 31/10
Due to a rise in Covid-19 infections, the government has decided to impose a 4 week lockdown starting midnight Wednesday 4th November to stop the spread of the virus. This will affect the private hire industry but it should be noted that schools, colleges and universities will remain open.
For more details on the new rules, please visit the government website.
Self-employment income grant to be extended | 23/10
With Covid-19 continuing to affect the private hire industry and the wider economy, the government will be extending the scheme for 6 months starting from November (split into 2 grants).
The first grant will cover a three-month period from 1 November 2020 until 31 January 2021.
It will be a taxable grant covering 40% of average monthly trading profits, paid out in a single instalment covering 3 months' worth of profits
Capped at £3,750 in total.
You can't claim just yet but their HMRC page will updated soon. Please check the page for eligibility and full details.
Uber reveals Uber Quest | 21/10
Uber drivers can now increase their income through Uber Quest, a new incentive programme on the app to increase trip work and driver earnings. You'll have to meet certain trip goals in a set amount of time to qualify. Please check your Uber driver app for details.
The Central London fee for riders will also be going up from £1 to £1.50. This is intended to help drivers with congestion charge payments and still be starting very soon.
London goes into tier 2 | 16/10
With Covid-19 cases and deaths increasing in the capital, the government have imposed the Tier 2 category which is a concern for the private hire industry. The key points are as follows
No mixing of households indoors
Maximum of 6 people can meet outdoors (different households)
10pm curfew continues for the hospitality industry
TfL set new rules regarding Covid-19 | 28/09
Transport for London have announced a range of new measures for the private hire industry around Covid-19.
Passengers must continue to wear a face mask unless they have a valid exemption. It's now a criminal offence to not wear one and you have the right to refuse entry and should call the police should you require assistance. Passengers can now receive a minimum fine of £200 which increases with each offence.
PCO drivers must continue to wear a face mask at all times.
You can now put specific Covid-19 signage in your PCO car to help passengers understand what's expected of them. TfL are very strict on the matter and you can only put the following sentences as signs 'A face covering must be worn at all times in this vehicle, unless you have a valid exemption'. You can also put 'The driver is entitled to refuse to carry anyone who is not wearing a face covering'. TfL will also be creating templates that PCO drivers can use but have no date set yet.
Personal and vehicle hygiene is still critical. Please ensure to wash your hands regularly, wear your mask at all times and keep a 2 metre distance where possible. Regularly clean your PCO car, especially on areas that are touched by yourself and passengers (door handles, steering wheel).
Private Hire industry concerned as 10pm curfew begins | 24/09
After week on week growth in trip demand, the new restrictions could impact the private hire industry. The public appeal to go out and socialise could be hit which could have a knock on affect on trip demand. On the other side, we could see a return to home socialising in the suburbs, which PCO drivers should take notice of.
Government set to lift lockdown measures | 23/06
Pubs, restaurants and hotels can open in England from 4 July. Hotels, barbers and museums are amongst the other places set to open.
There's more good news as people will also be allowed to meet with one other household at a time indoors, as long as social distancing is met. The 2 metre rule is also being relaxed to 1 metre where 2 metres isn't possible.
Demand for used hybrids and fully electric PCO cars surges | 16/06
Due to Covid-19 and the resulting Congestion Charge increase, demand for used hybrids and EV PCO cars has surged. PCO drivers have understandably changed their habits off the back of recent events, with many wanting to take advantage of the offers out there in the market.
London is on the move again | 16/06
Cittymapper's mobility index has shown a strong increase in movement in the capital. Over the last few months they've been comparing movements of citizens using the app by city. At it's lowest point (April 12th), only 7% of London was moving compared to normal. Over the last week this has risen from 17% on the 10th June to  24% on the 13th.  Check out Citymapper's Mobility Index for full stats by date and location.
Non-essential shops open from Monday 15th | 10/06
Providing that safety guidelines are met, non-essential shops in the UK can open from Monday. This will be provide a welcomed boost for the general economy as well as private hire, with demand for rides set to increase as the public start to move around more. The government also announced that pubs, bars, restaurants and hairdressers will not be able to reopen until 4 July "at the earliest".
TfL updates on face masks and screen partitions | 08/06
From Monday 15 June, all PCO drivers should wear a face covering at all times. The mask doesn't have to be a surgical mask and simply be a piece of cloth that covers the face and mouth. Riders should also be wearing one (exemptions apply including small children) and PCO drivers can refuse a ride if they want.
TfL also re-clarified their position on partition screens, stating that there is no evidence it would reduce the risk of infection. They've also had extensive discussions with Millbrook and HORIBA MIRA, two
industry leading automotive testing facilities who can now offer installations to verified applicants for the screen partitions.
Government announce all non-essential shops to open from 15 June | 26/06
As we go past the peak of infection, Boris Johnson announced that all non-essential shops will reopen from the middle of June. Strict guidelines will still need to be in place but this news is most welcomed. More movement from the public means increased demand for rides. Further to this, open markets and car showrooms will be open from the 1st June.
TfL have doubts over partition screens | 20/05
The effectiveness of the screens have been called into question by Tfl. They state that there's no evidence that it fully protects both drivers and riders. Should a PCO car be installed with one, they would still need to be approved or face action.  Feel free to read TfL's full notice.
TfL to reintroduce Congestion Charge and ULEZ fees from Monday 18th. Congestion Charge also set to increase from June | 15th May
With lockdown measures starting to ease, TfL has announced that they'll be reintroducing charges from next Monday. As the amount of traffic increases, TfL want to capitalise on the situation due to the lost revenue caused by Covid-19. Only yesterday a £1.6 billion bailout was agreed with the government as fares income dropped by 90%.
Further to this, TfL will increase the cost of the Congestion Charge from £11.50 a day to £15 from 22 June. This is a controversial move as the private hire industry has already been hit hard by fees even before Covid-19 struck.
Uber require both riders and drivers to wear face masks | 14th May
With safety of paramount importance, Uber have put in extra measures to improve protection for both riders and drivers. They must  wear face masks and riders can't sit in the front seat either. These measures will begin from the 18th May.
Addison Lee & Uber to start installing protective screens | 14th May
Addison Lee have announced they will fit perspex partition screens between PCO drivers and passengers for all of its 4,000 PCO cars next week.
Uber also trailing a pilot in Newcastle, Sunderland and Durham with the AA. Both operators are also distributing free protective equipment to drivers.
Private Hire market sees gradual increase in demand | 13th May
Since Boris Johnson's speech on Sunday evening, mileage by drivers and earnings taken has increased, internal research from Otto Car has shown. This is partly down to the ease in government restrictions and advice for workers not to use public transport where possible. There has also been an increase in enquiries for PCO cars by drivers. We're still in the early stages, but the signs are promising as the private hire industry starts to get back on its feet.
Government partially lifts lockdown measures | PCO Drivers advised to work | 11th May
Boris Johnson announced new measures to combat the virus and help improve the economy. Workers who can should continue to work from home. Those that cannot should go to work under the new rules. The public were also advised not to use public transport if possible. This should mean an increase in rider demand as the public look for alternative forms of transport.
HMRC Self-employed eligibility checker has gone live | 5th May
You can now check directly with HMRC to see if you're eligible for financial support. You'll just need your self assessment unique taxpayer reference. Feek free to view HMRC's webpage for more information.
Uber to reimburse their partners up to £25 for personal protective equipment | 1st May
As part of their commitment to support their partners, Uber will reimburse them up to £25 for general protective masks, aprons and gloves. All partners need to do is take a photo of the receipt and items, and upload this on the help section of the app. This news comes on top of the free bundle of surface spray and hand sanitiser, which is redeemable through their new Uber webstore. Feel free to read about Uber Claim's page for more information.
Uber Medics launches in UK this Wednesday | 27th April
Uber will be offering 1.2 million NHS staff and 1.3 million social care workers in Britain a 25% discount on trips from Wednesday. After trailing Uber Medics in Spain last month, it's now coming to the UK as Uber look to support key workers across the nation. This is welcoming news for Uber Partners who'll see a boost in rider demand.
TfL issue latest information around Covid-19 | 24th April
Transport for London provided private hire drivers an update to a whole range of issues during Covid-19. PCO drivers who're looking for welfare support can go to a number of charities and organisations such as MIND. They've also released more details on financial support available to those affected by the virus.
An update was also provided for in-car screen protection. They said 'Anything that helps to protect passengers and private hire drivers from the spread of coronavirus is welcomed but it is important that we ensure that the installation of any aftermarket equipment is safe and doesn't cause any unintended safety hazards.'
You must also contact TfL is you have been tested positive for coronavirus. You can do so on this Tfl form.
TfL U-turn on PHV licenses | 22nd April
It appears that Transport for London have changed their policy on PHV licenses being automatically extended. Uber has understood that where a PHVL has expired or is due to expire shortly, the vehicle owner will, where eligible, receive a new PHV license with a new expiry date. This will be sent by TfL along with an accompanying letter before the existing license expires.
Uber release Covid-19 podcast episode | 17th April
Uber recently launched a driver podcast around Covid-19. They discuss the latest information on their support initiatives and how to get access to government financial assistance. Listen to the Uber podcast episode
PCO drivers look to TfL for guidelines on driver safety partitions screens | 17th April
With safety the number one concern amongst working PCO drivers, many are looking at better protection between themselves and riders. A number of garages are now offering safety partitions and TfL's guidelines as to what would be accepted are available to view.
Otto Car release delivery driver work guide | 14th April
With rider demand slowing down in the private hire industry, many PCO drivers are looking for alternative ways to earn until things pick up again. The team here at Otto Car have put together a list of the top delivery companies that PCO drivers and Uber Partners could apply for using their current PCO car. From pay to perks, we've got all the details below. Check out the full list of delivery companies here
Delivery work available for PCO drivers | 7th April
Whilst this is not breaking news, we feel it's important to showcase all options available for PCO drivers stuck for work. Beelivery is a delivery service where you can earn money delivering items from your nearby convenience store.
Delivery payments range from £7-20 but please note you'll have to buy the product first and then you'll be reimbursed. Hours are flexible and up to you. The more you work, then more you'll earn. Interested? Beelivery's website for more information and to sign up.
Know of any delivery companies looking for PCO drivers? Send us a message on Facebook and we'll share this with the private hire community.
Uber partners with online retailer Ocado to help drivers find work | 7th April
To support their network of drivers find work, Uber have partnered up with Ocado. Top partners who live nearby an Ocado distribution centre are being invited to attend a training programme to start work. They'll then be able to deliver food and essential items to the community.
Drivers would continue as self-employed but wouldn't be able to use their own PCO car (they can however continue to work for Uber separately with their PCO car). Ocado pay rates range from £9.13-£14.60 per hour depending on shifts, location and availability.
MOT testing exemption confirmed by DVSA | 1st April
The DVSA confirmed that due to the unfolding COVID-19 situation, cars, vans and motorcycles due for their MOT from 30 March 2020 will have their MOT extended by 6 months. This will continue unless stated otherwise. Please note your vehicle must be kept in roadworthy condition and you could still face prosecution for failing to do so.
Some operators such as Uber are still seeking further clarification on this and there has been reports of partner accounts being taken offline whilst they clarify the ruling from DVSA.
TfL extends PHV licences by 6 months | 31st March
If your PHV licence was set to expire between 23rd March – 30 June, Transport for London have automatically extended your licence.
The six-month period will be applied from the date the PHV licence is due to expire. For example, if a PHV licence is due to expire on 15 April 2020, it will remain licensed until 15 October 2020.
Otto Car continue to reduce weekly rentals payments by 50% | 30th March
Weekly rental payments will continue to be temporarily cut by 50% for every PCO driver on our PCO Car Hire & Rent 2 Buy Schemes. This will continue until further notice and the Otto Team will review this policy on a weekly basis.
Ola and Uber offer discounted and free rides to NHS workers | 30th March
Uber have announced that from today they will offer 200,000 complimentary trips to NHS staff, with zero commission to their driver partners.  New entrants to the market Ola will also offer 50% off their rides to hard-working medical staff. This move comes at a time when rider demand is down and is welcomed by the private hire industry in a bid to boost work.
It's fantastic to see some of the biggest names in private hire playing their part supporting the NHS during this difficult period.
PCO drivers have until 23rd April 2020 to submit tax returns to HMRC | 27th March
The government have released a new guide to help the self-employed get their papers in order. Those eligible have until the 23rd April 2020 to submit their income tax self-assessment tax returns. They'll then receive up to 80% of their earnings based off average monthly profits over the last three years (maximum of £2,500 per month). For full eligibility criteria and information straight from the government, please visit HMRC's tax submission page
Transport for London announce NSL closures | 27th March
TfL have taken the decision to temporarily close the six NSL vehicle inspection sites with immediate effect. Another announcement is expected shortly regarding PCO car licensing.
UK announce help for self-employed | 26th March
In an effort to support the self-employed, the government announced that they'll cover up to 80% of wages up to a maximum of £2,500 per month. This is calculated using an average of monthly profits over the last three years and this measure will initially last for three months. The government aim to have this in place by June at the latest. You must already be self-employed to apply. PCO drivers have a maximum of four weeks to put forward their most recent tax returns in order for the government to calculate their payments properly. This is a welcomed boost for PCO drivers and we hope the start date can be brought forward to support the industry.
Government declare transport sector as a 'critical' | 25th March
Uber Partners and PCO drivers can continue driving and working as the government has stated that transportation is a critical sector. This news should provide clarity to many in the industry as to whether they are allowed to drive or not.
Uber release statement of support to their partners | 24th March
With the private hire industry taking a hit, Uber released a statement to their partners. If a partner self-isolates or fall ill, the AXA insurance and Partner Protection scheme can provide financial assistance. On top of this, they released safety instructions and discussed how they're working with vehicle vendors and insurers to lower costs.
UK in Lockdown | 23rd March
Boris Johnson announced that the public should stay indoors and may only leave for shopping, one outdoor exercise, a medical need and travelling to and from work (key workers only). This news will have consequences for the private hire industry as demand from riders will fall.
Uber cover their partners through 'Partner Protection' with AXA | 21st March
Uber Partners who fall ill or are quarantined can receive £75 per day for up to 15 days while they're unable to work from AXA (subject to T&C's). On top of this, Uber will provide their partners with £100 per week for up to 14 days. They'll need to provide proof of this in the form of either documentation or an order from a licensed medical provider or a NHS 111 self-serve certificate. Partner's accounts will be temporarily restricted during this period so they understandably not be able to work.
Transport for London to Suspend Congestion Charge and ULEZ | 21st March
From Monday 23rd March, the Congestion Charge and ULEZ fees will be suspended which will come as welcomed boost to PCO drivers. This will save drivers £24 per day should they enter Central London.
Government boosts self-employed benefits | 20th March
PCO drivers can fall ill due to the Coronavirus can now access, in full, Universal Credit at a equivalent to Statutory Sick Pay for employees. Visit our financial assistance page for more information
40 Underground stations to be closed | 19th March 
In an effort to reduce the spread of Covid-19, Transport for London will close 40 stations
The Waterloo and City line will shut completely and from Monday, TfL said it would gradually reduce other parts of its network. These include the London Overground, TfL Rail, the DLR and the tram network in south London. The night tube will also be closed and bus services reduced.
The affects of this could mean an uplift in demand from riders as they look to private hire to get around town. The public will still need to get around and this creates an opportunity for more work for PCO drivers.
ViaVan pause their service temporarily in London | 19th March
ViaVan's drivers have been informed that their service in London has been paused until further notice. Riders also receive a pop up message informing them of this update when they open the app.
UberPOOL temporarily suspend service in London | 18th March
Understandably, Uber have temporarily suspended their UberPOOL service as the government attempts to curb the virus. Normal Uber and UberEATS trips are not affected.
Otto Car temporarily reduce rents by 50% | 17th March 
In an effort to support PCO drivers during this difficult period, rents for PCO drivers on our Rent 2 Buy and PCO Car Hire scheme have been reduced by 50% from the next payment date. Feel free to read our full statement.
Looking for more PCO support and information? Check out our PCO Support page, filled with content including our driver blog, podcast, electric car guide and PHV driver magazine.