Part-Exchange Promo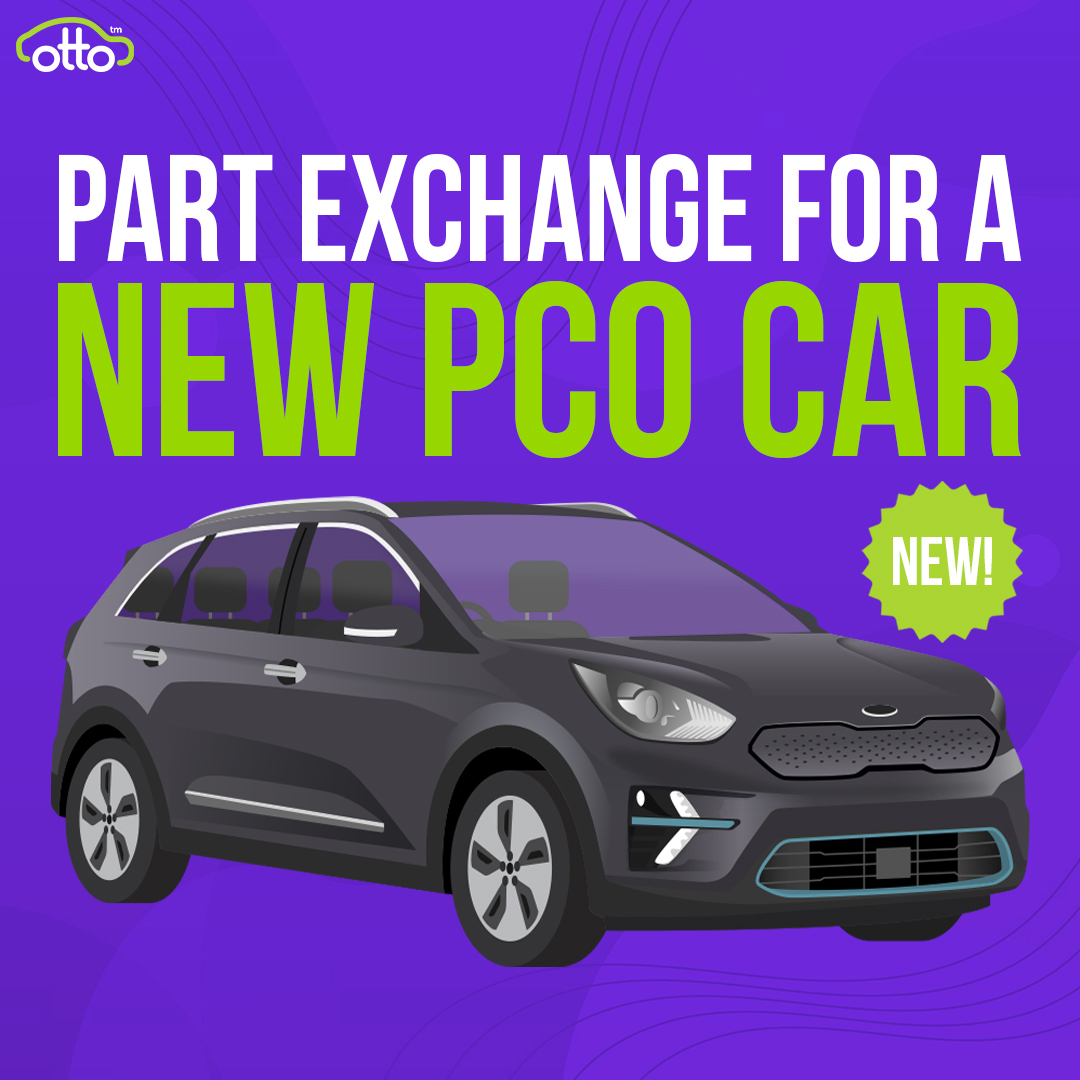 June 15, 2022
Drive home in a new PCO car by unlocking the value of your old one with the Otto Car part-exchange promotion
Got a car that you need to sell before you can switch over to a brand new electric vehicle? Otto Car can open the door to a brighter future as a car owner with this exciting new cashback scheme. 
If you are a qualified PCO driver, you can now hand over your older car in return for a cash payment when you join either of Otto Car's Rent 2 Buy or Rent 2 Buy + schemes. 
Fast-track your journey towards car ownership and let Otto Car deal with all the hassle of getting rid of the old vehicle.
▶️ Get your free car valuation to get started here
How does the scheme work? 
Traditional part-exchange schemes allow you to use the value of your existing car to lower the sale price of the new one. But that type of deal doesn't work for everybody.
Instead, Otto Car will give you an instant cash-payment that you can spend how you like. Keep it as an 'emergency fund' or invest in a family treat? It's your choice.
This scheme makes it easy for the Uber driver who wants a new electric PCO car to get things moving immediately. You save time and secure a great deal.
Tell us a few details about the old car and we'll give you a fair valuation over the phone. If you're happy with this offer, we'll pay you the money. There are no hidden costs or fees.
You receive this handy lump-sum payment, plus a shiny new Uber-approved car based on one of Otto Car's popular PCO car ownership schemes. It's totally hassle-free.
PLUS you will also get a voucher for a £250 discount on the downpayment for the new car on our Rent 2 Buy or Rent 2 Buy + schemes.
▶️ What's the difference between the all-inclusive Rent 2 Buy + and the basic Rent 2 Buy? Read this guide to find out more
What vehicles does Otto Car accept?
You can part-exchange any car that is roadworthy. Yes, that's right – the model, age and condition of the car to be part-exchanged do not matter.
Whether it's a Toyota Prius that's done years of private hire driving or a Ford Galaxy you only used for leisure trips, if the car has a valid MOT certificate, we'll take it.
Naturally, the old car must be registered in the name of the PCO driver who joins the new Rent 2 Buy or Rent 2 Buy + schemes. In simple terms, you can only sell us your own car.
▶️ Check out our 22 plate PCO car catalogue for our car range
Why choose Otto Car?
Otto Car exists to help our family of PCO drivers become car owners. We're always looking for new ways to support your journey and make life easy.
✅ Top prices paid
You get a fair market price for your car with no hidden costs.
✅ On your side
We accept ex-PCO cars and understand that your old car has worked as hard as you.
✅ Quick and easy
Save your valuable time and get instant cash-payment without any stress.
✅ Bonus voucher
Free £250 discount on the downpayment for your next PCO car.
✅ No credit check
Unlike dealerships, we don't do credit checks.
✅ Your PCO car. Your way
Choose the PCO car ownership scheme that works best for you.
✅ A wide range of PCO cars
We have an extensive range of brand new fully electric PCO ready vehicles.
✅ Trusted and professional
Otto Car has helped 8,000+ drivers get on the road and is rated 'Excellent' on Trustpilot.
💡 Rent 2 Buy vs Rent 2 Buy +
Looking to trade in your car for a new PCO car, but haven't decided which PCO car ownership best suits your needs? Here's a quick comparison of our Rent 2 Buy and Rent 2 Buy + schemes:
Rent 2 Buy + is our popular and stress-free all-in-one package that includes PCO insurance, servicing, MOT, PHV licence and breakdown cover, with our complete support. >>> Learn more
Rent 2 Buy is an affordable and flexible solution for PCO drivers, without any of the additional features that you would get on Rent 2 Buy +. You'll get a PCO car on your own terms. >>> Learn more
Both schemes are a long-term option for PCO drivers to drive towards PCO car ownership. At the end of the term, you'll fully own the car.
What are the eligibility requirements?
This promotion is open to all PCO drivers, even if you have never worked with Otto Car.
The criteria are exactly the same as our popular Rent 2 Buy and Rent 2 Buy + schemes:
Be the registered keeper of the part-exchange car (i.e. logbook in your own name)
Minimum age of 25 years
At least 3 months of recent PCO driving experience*
Live in London or the home counties (e.g. Bedfordshire, Essex and Kent)
Maximum 6 licence points. No more than 2 fault-based accidents
*Terms and conditions apply. Some cars may have higher requirements. Please refer to the specific car web-page for more details.
Let's get started…
In just four simple steps, you can part-exchange your old vehicle and own a new PCO car:
Select the PCO car and ownership scheme that best suit your needs
Fill out this form and we'll call back to confirm a valuation
Bring your vehicle to the Hammersmith or Colindale hub for final checks
Receive a lump-sum payment and drive home a brand new PCO car
With the Otto Car part-exchange promo, every PCO driver can quickly get the keys to a brand new car and begin their ownership experience with no stress. That's a promise.
No matter what car you trade-in, we will make this a smooth journey and do the hard work. You can focus on what really matters – earning good money to support your loved ones.
We hope this new scheme helps you to become the best driver you can be.
▶️ Learn more about our new Part-Exchange scheme