Private Hire in Numbers | Facts about the Industry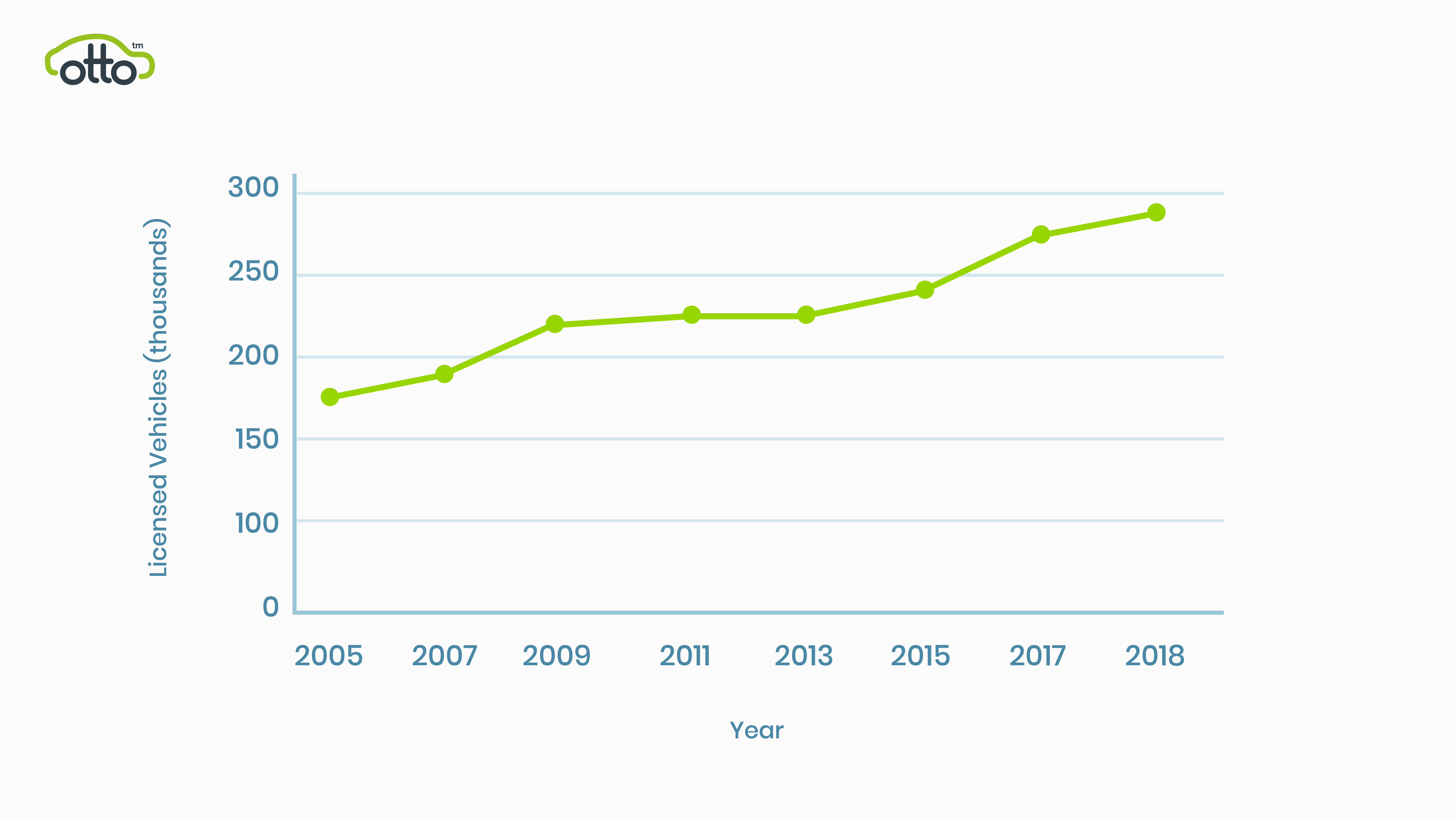 October 17, 2019
Private Hire driving has changed over the year. There has never been a better time to be a PCO Driver in London.
That's because there are more operators, PCO Cars, and consumer demand than ever before.
But what exactly do the numbers look like? And how exactly does this look compared to the year before, and the one before that?
Follow us on a journey through the private hire industry over the past couple of years.  All of these graphs have been made using data from TfL.
Total Licensed Taxi & Private Hire Vehicles in the UK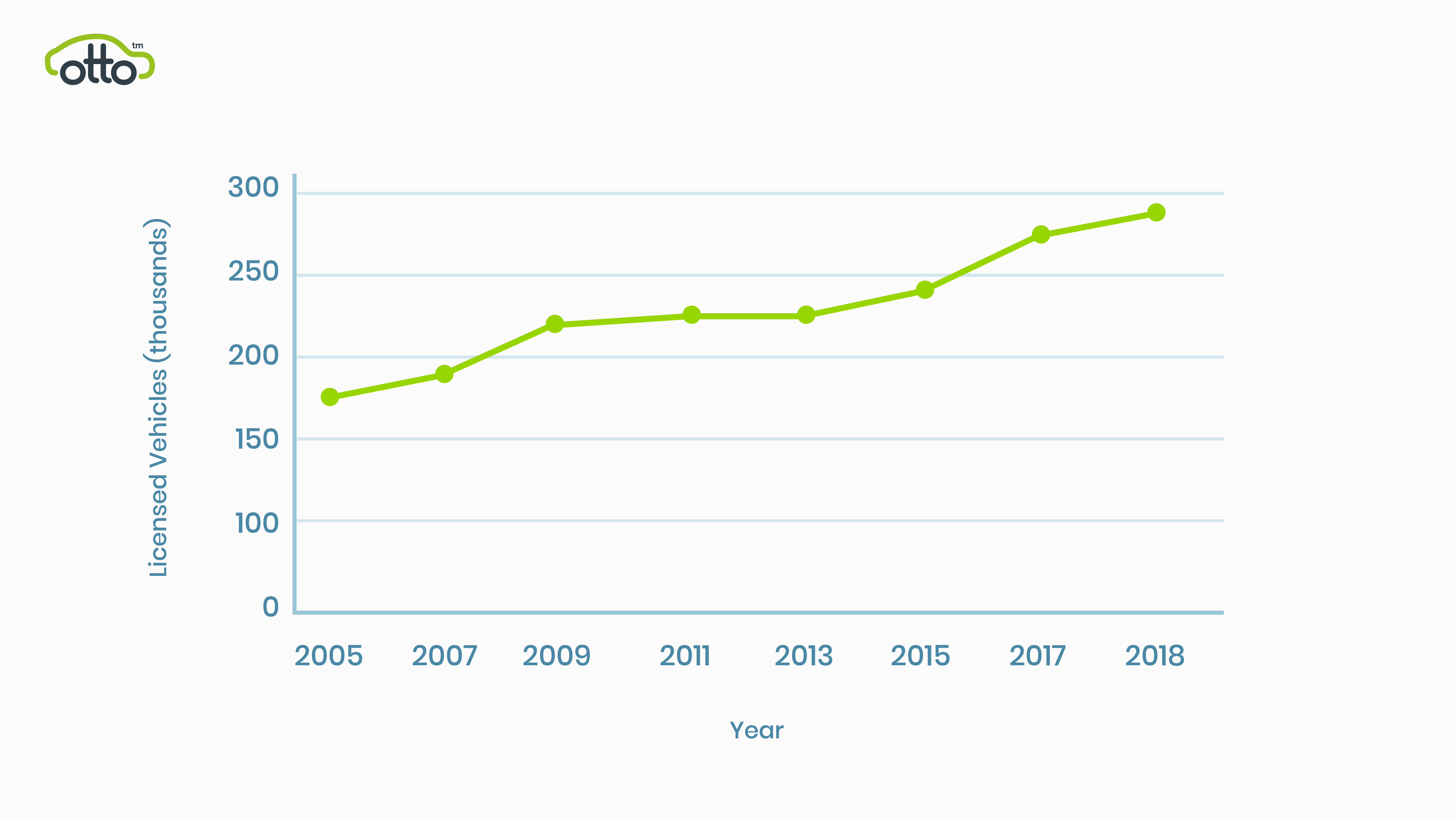 As you can see from this graph, the total number of licensed Taxi and Private Hire vehicles has shot up since 2005.
There are close to 100,000 more PHVs on the road today. That shows how much more attractive this industry has become, largely because of the entrance of Uber.
London's Private Hire Figures
In London there are currently 108,900 licensed vehicles for taxi and private hire. That is a 0.2% increase on 2017 alone.
Of that figure, a large portion are Private Hire vehicles. The exact figure is 87,900. Not only is that a 0.6% increase from 2017, but it also means that currently over 2/3rds of all licensed vehicles are PHVs.
That shows just how popular this industry has become.
The following graph shows us this exact breakdown over the last few years.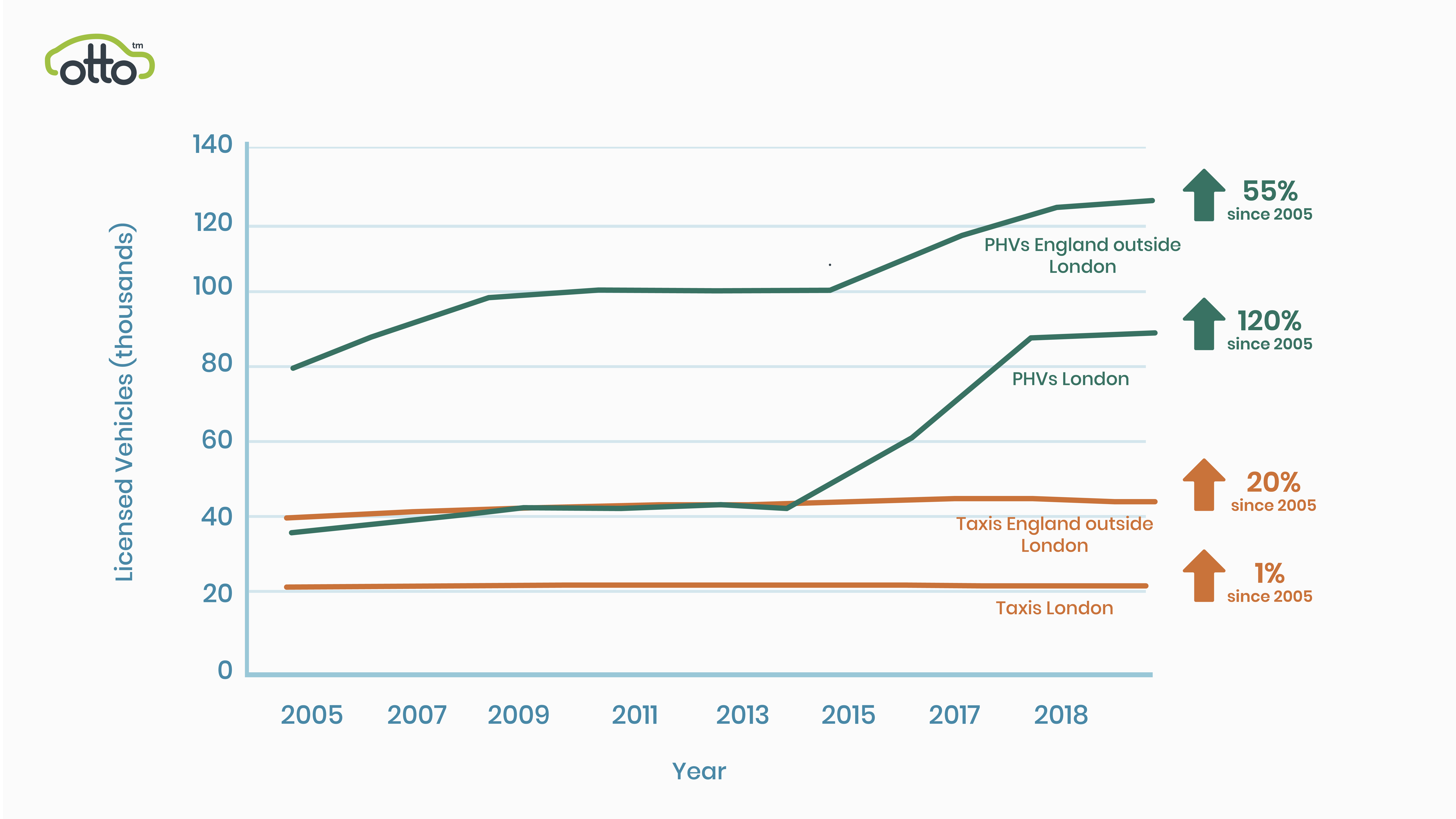 This graph expresses how the industry has grown quite well. Whilst licensed taxis have increased slightly, PHVs have gone up by 120% since 2005. A large bulk of these have been Uber Cars, and it represents a huge level of growth through the years.
Total PHV Operators in London
As of 2018 there were 12,600 operators in London. This number is extremely impressive, not only because it's so high, but also because it's actually 2.3% less than the total number in 2017.
A large reason for this is because smaller minicab companies are likely closing down as some of the bigger operators enter the market. It will be interesting to see how this number changes for 2019, as we've seen some even bigger players in London.
You can see a full list of London's PHV Operators for 2019 at this link. It includes some of the big players like Kapten, Bolt, Uber & ViaVan, with detailed descriptions of how to sign up and make the most of their service.
Some Rider Numbers 
We thought it would be interesting to include some stats about rider habits too.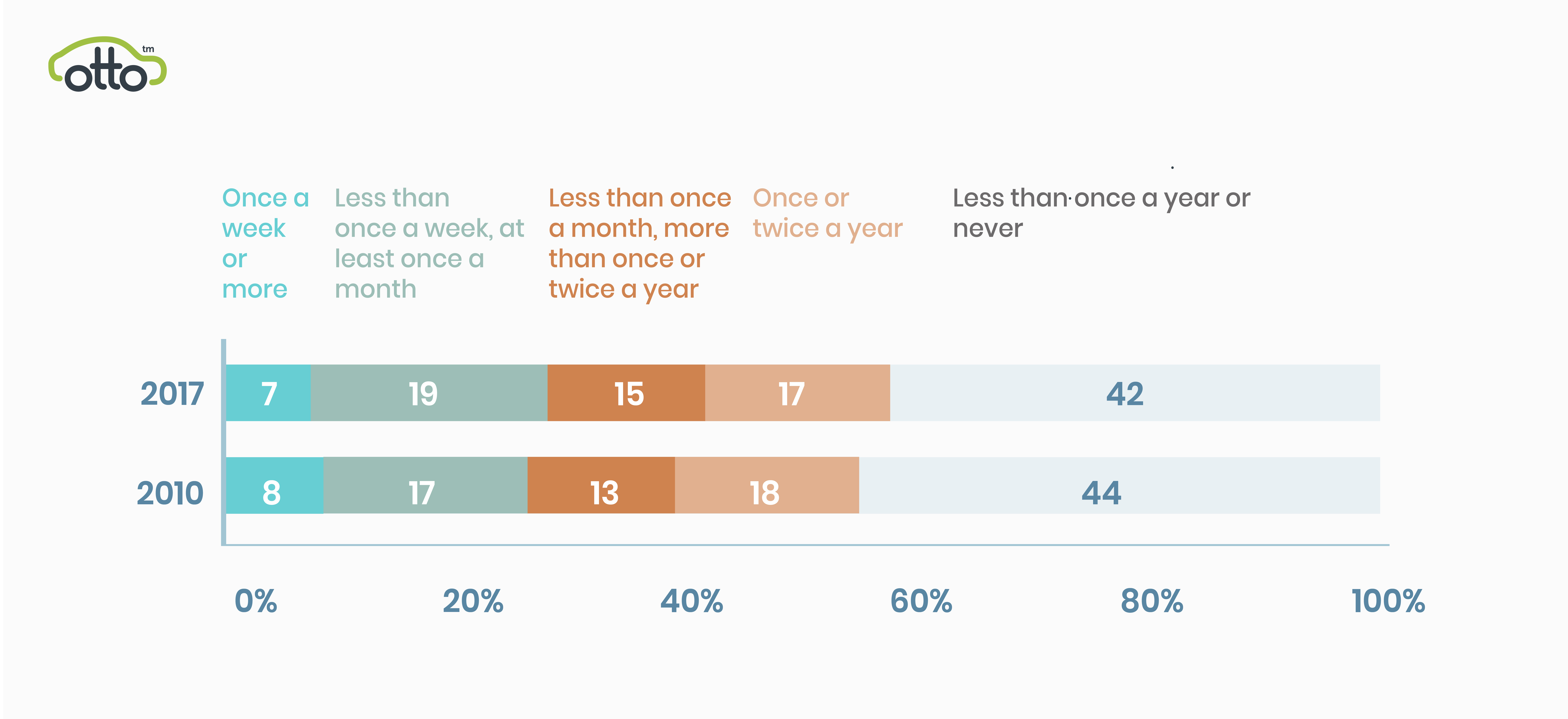 This first graph is quite interesting.
Firstly we can see that on average, it is now rarer for a person to not take any private hire trips throughout the year.
On top of this, over a quarter of people are more regular users, averaging a couple trips a month, or a trip a week.
Whilst this hasn't changed much since 2017, it definitely shows us how popular private hire has become as a form of transportation.
This is coupled with the next graph.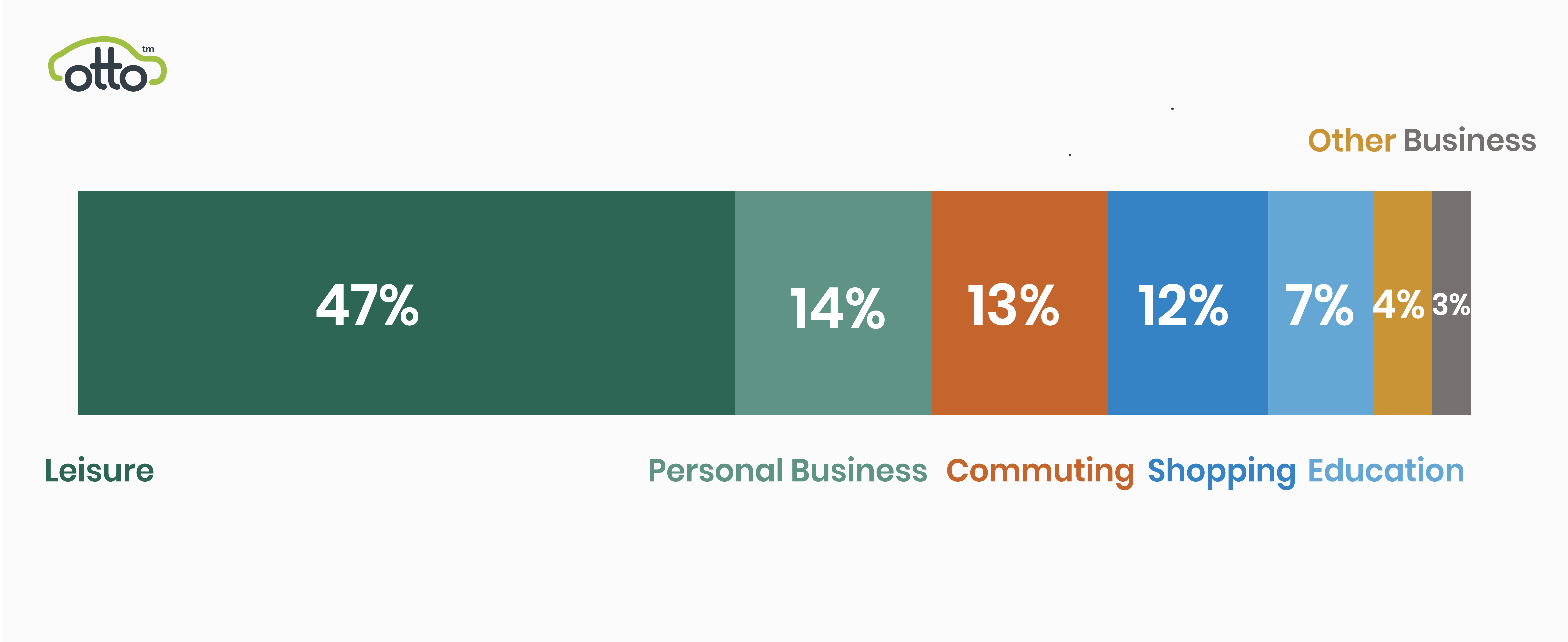 Here we can see that the majority of people are using services like Uber for leisure purposes.
Whilst personal business, general commuting and shopping all have quite large percentages, a large bulk of people consider Private Hire to just be a more relaxing and pleasant way of getting around.
Some Key Takeaways
The growth of the Private Hire industry doesn't appear to be stopping any time soon, and the latest operators entering the London market are a testament to this.
In addition to this we're seeing more drivers getting PCO Licensed, and purchasing vehicles, as well as customers that now view this as the best way to get around.
This is certainly exciting for PCO Drivers… onwards and upwards!
If you are interested in owning you next PCO Vehicle then don't hesitate to check out our popular Rent-to-Buy scheme. We also offer some newer cars on our  PCO Car Rental scheme that could see you through the winter. Enquire today and visit one of our hubs across London!