Nissan Leaf e+ Tekna Review | PCO Car Guide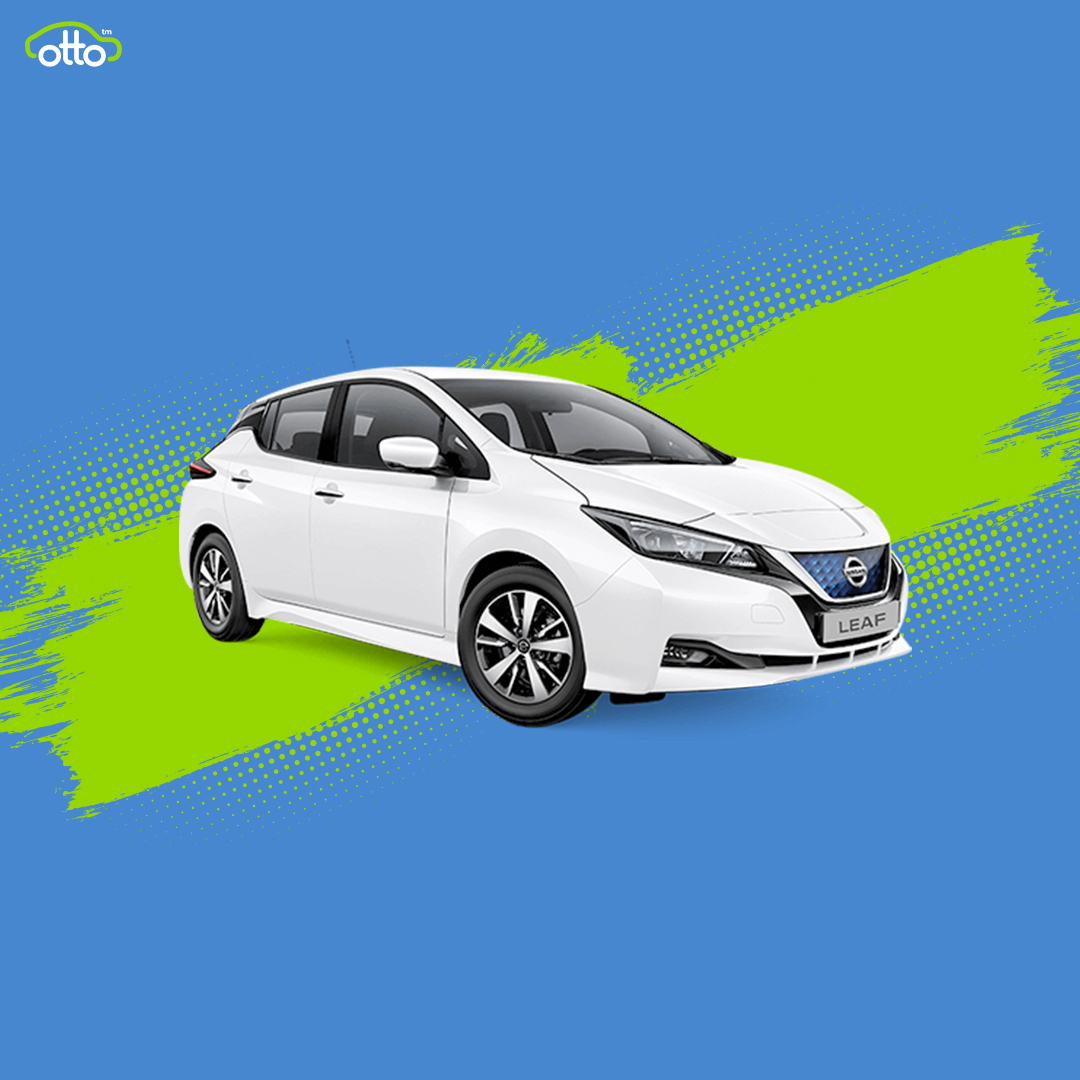 June 25, 2021
This review is part of Otto Car's new PCO Car Review series. We aim to look at the latest and best PCO cars in the market, in order to give you an honest insight into how they look, how they perform, and how suitable they are for private hire driving. You can see even more cars on our PCO Car Review Page!
Contents
Introduction
A lot of Uber drivers who are interested in making the switch to EV will have come across the Nissan Leaf.
There is a good reason for that as well. It is amongst the top selling electric vehicles in the world after all. In fact, until 2019 it was officially the best selling EV in the world.
Since that point Nissan have gone on to make a number of different improvements to this popular range.
After bringing out the Nissan Leaf N-Connecta, which had a 40kWh battery, they released the E+ range, which had some dramatic improvements.
The Nissan Leaf e+ Tekna is a part of this newer range. It boasts a 62kWh battery, and an electric range of up to 239 miles. This is less than the Kia e-Niro, but more than the MG5 EV Exclusive.
Since including the Nissan Leaf range on our PCO Rent 2 Buy scheme we have heard nothing but positives from PCO drivers. That's why we were keen to get in and do our own review for Uber drivers wanting to see how this PCO Car stacks up with the rest.
(Just a note: if articles really aren't your thing then feel free to jump straight to the vid below 😉.)
First Glance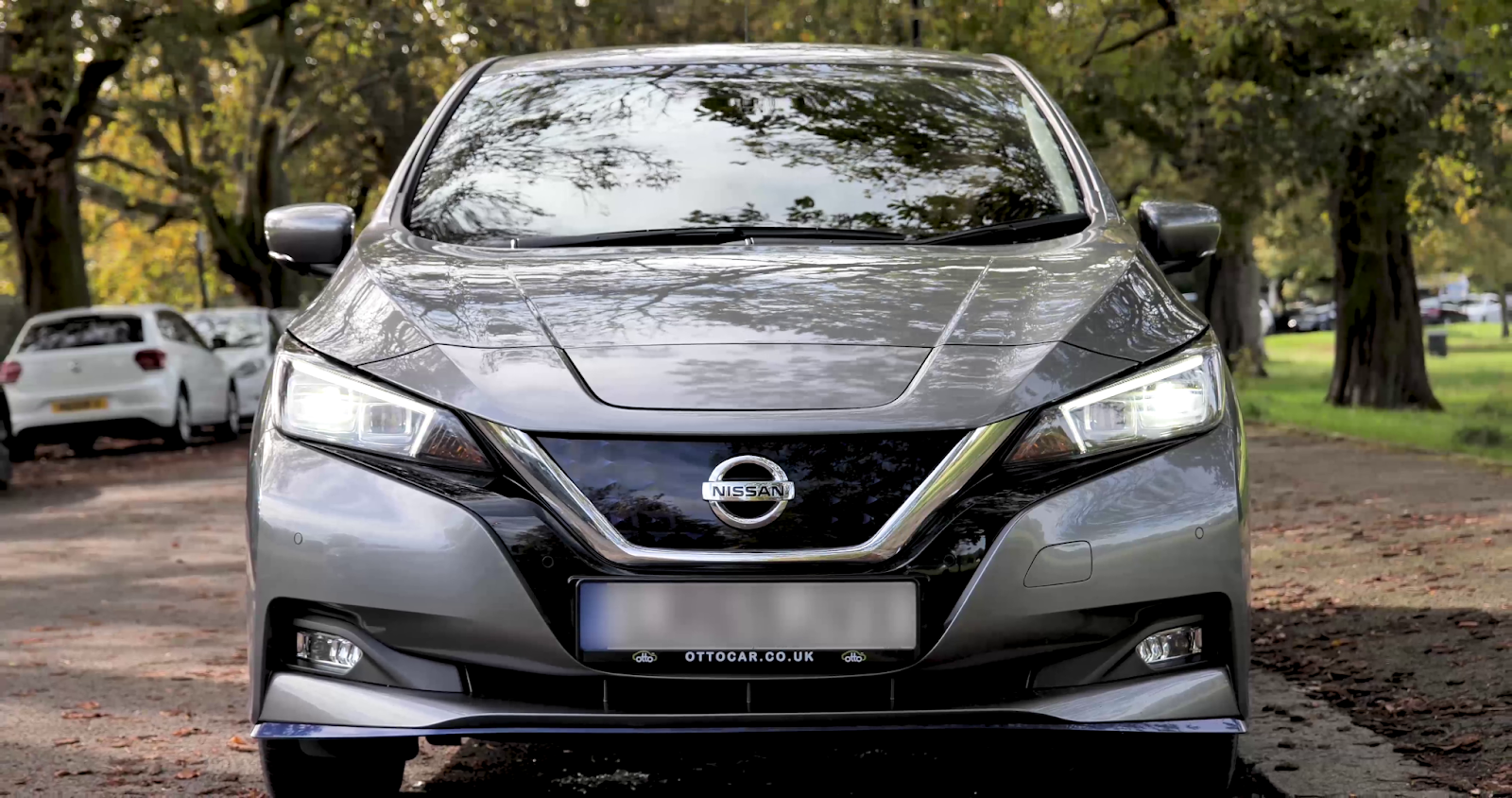 Before we get started, we've outlined some key specs and our Rent 2 Buy pricing plan for PCO drivers.
This should give you an idea of what features to expect, and the price point for this PCO car.
Vehicle Specs

👇

Rent 2 Buy

👇

Up to 239 Miles Range

Price: £249 per week

62 kWh battery

Contract Length: 4  Years

E-Pedal

Down Payment: £199

Privacy Glass

Free Servicing

17″ Inch Alloy Wheels

Free MOT, PHV Licence & Road Tax

8″ Colour Display with Touchscreen

Free Insurance

8-speaker JBL® Premium Sound System

No Balloon Payment

Revised Suspension Setup

Mileage Cap: 1000 miles per week 

ProPILOT (lane keeping assist, electronic parking brake,
traffic jam pilot)

Free CCTV Installed
These are just a quick glance at the specs inside this vehicle. We will outline more in this review, and you can also check out our dedicated Nissan Leaf e+ Tekna page for more info about our Rent 2 Buy offering. 
The Drive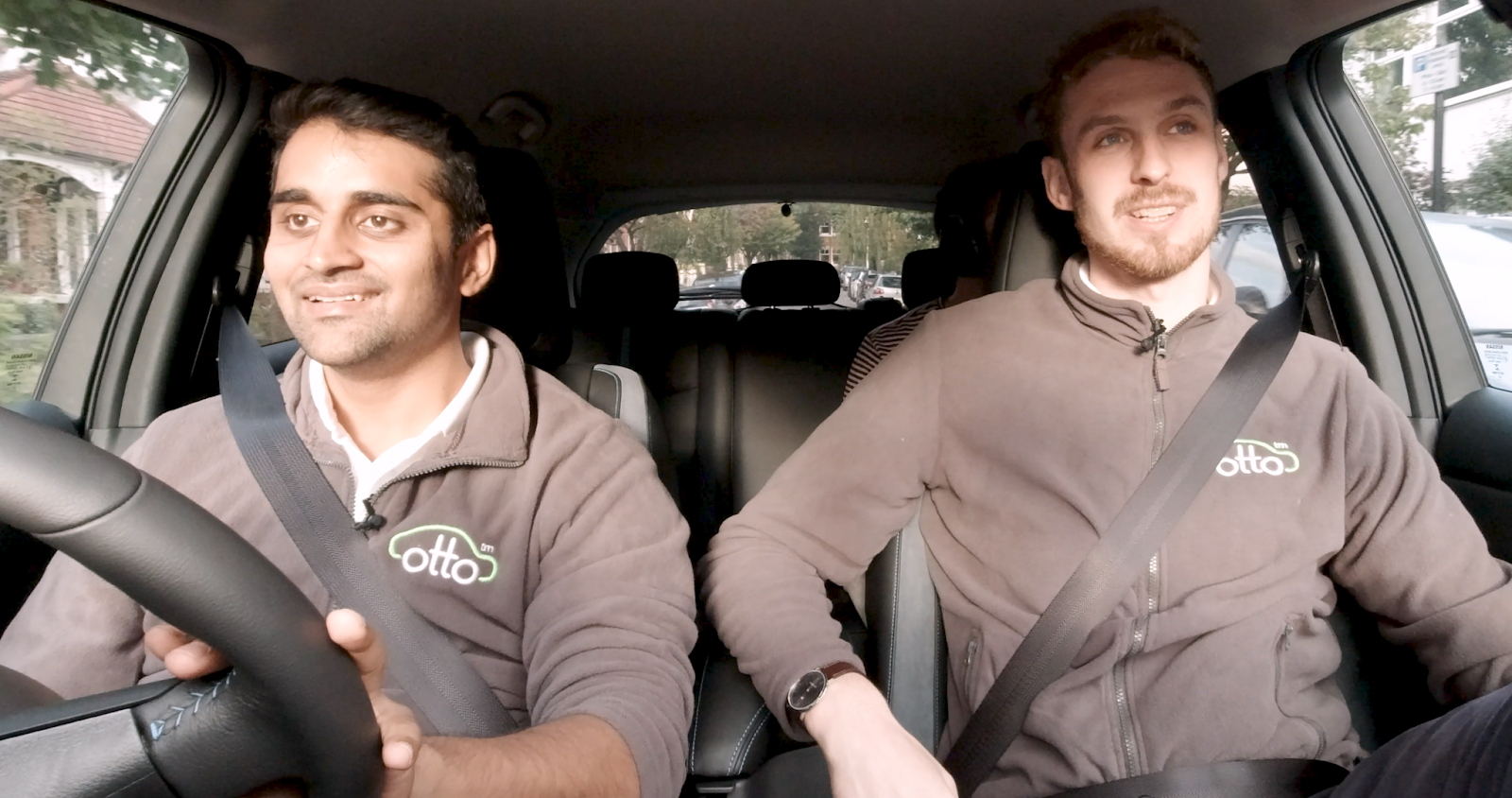 The Nissan Leaf e+ Tekna feels very good to drive. That could partly be because of its weight (2,140kg), which is even lighter than the Kia E-Niro, but also because it is packed with features that seem good for nippy inner-city driving.
A good example of this is the optional E-Pedal. We've regularly received feedback from PCO drivers who thought that they would never get to grips with this feature, but who eventually have gone on to love it. We had the same exact thoughts.
The E-Pedal feature almost feels like you are driving a go-kart. That's because instead of using the brakes you simply push down or lift up off the accelerator. Whilst this will be an extremely foreign concept for most PCO drivers, it is actually surprisingly quick to get the hang of, and feels quite controlled once you do. (Check out our review vid below to see how Ish got on with it!)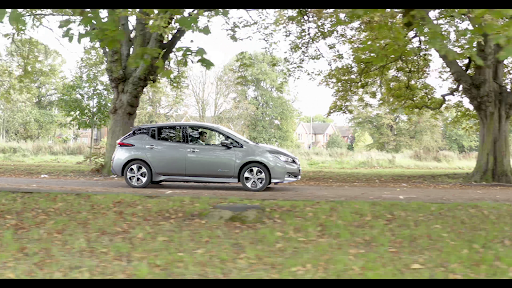 It's not just the E-Pedal either. The Nissan Leaf e+ Tekna includes features like the Electrically Driven Intelligent Break, Hill start assist, Intelligent cruise control and Intelligent Lane Keep Assist.
These are all features in keeping with Nissan's status as one of the pioneers in the electric vehicle market. They appear to be making vehicles that are geared towards intelligent and efficient driving, which certainly works well with PCO driving.
Overall we found the drive to be a pleasant experience. There are brief moments where you feel like you are in an almost luxury vehicle, as has been pointed out by some PCO drivers in the Otto Family, but above all it feels solid and reliable, especially around London's busy streets.
Exterior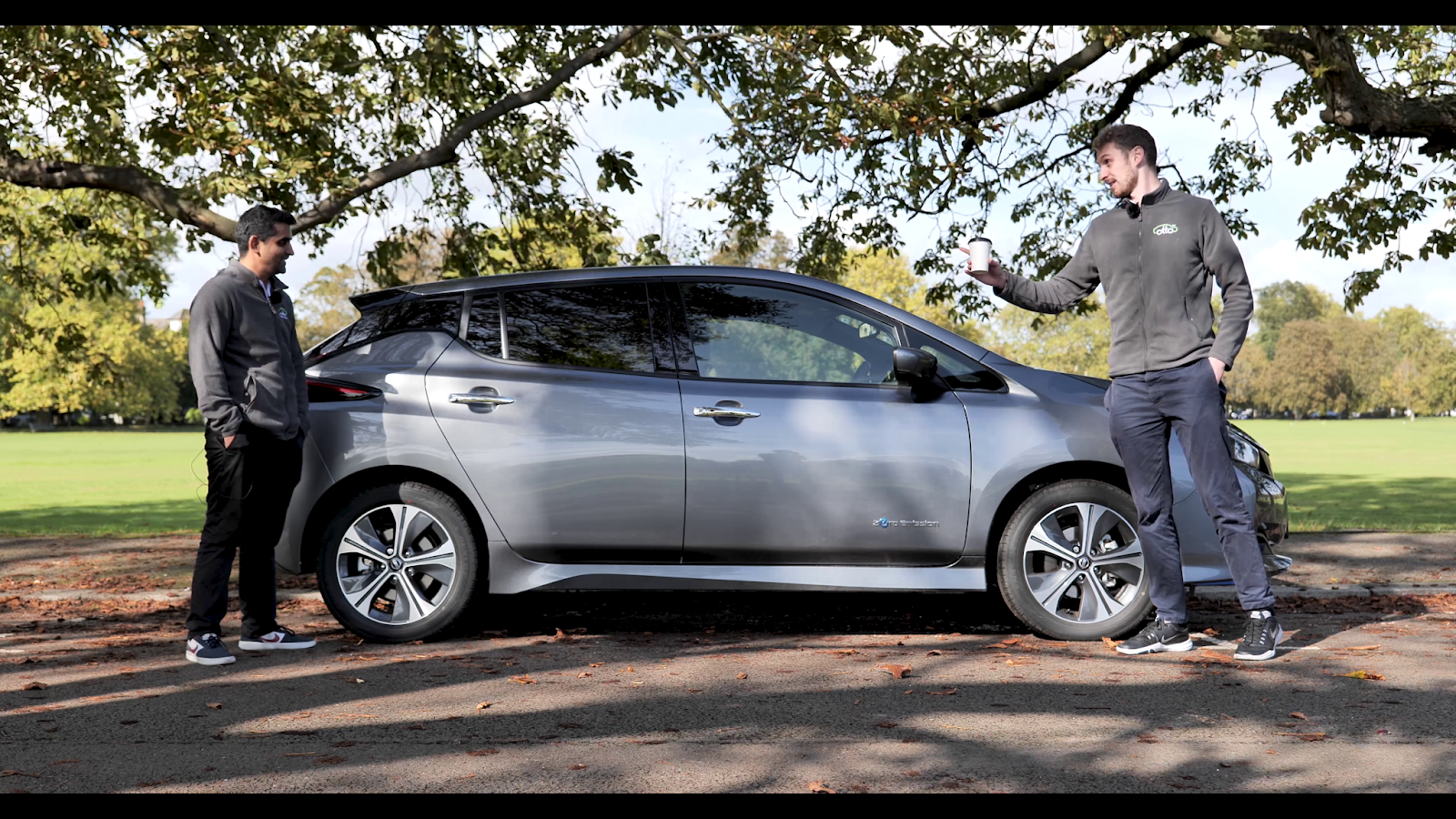 The Nissan Leaf e+ Tekna is not bad to look at either. Nissan have refined the exterior of this PCO car overtime, and have found a good balance between futuristic, intelligent design, and clean cut features.
It's fitted out with full LED headlights with a Manual Levelling system, as well as LED Signature Rear Lights. You will also find chrome door handles, and body coloured door mirrors with integrated LED turn signals.
Underneath, the car is propped up with 17″ Alloy Wheels, and you might also like to know that its fitted with rear privacy glass too.
Compared to the original Leaf, we feel that this design has come a long way. It now looks a lot more sophisticated, and some of the features will come in very useful for PCO driving.
Interior

Inside this PCO car is where things get even more interesting.
If you're a PCO driver who likes your gadgets, then you definitely won't be missing out with the e+ Tekna.
That includes a rear view camera (and 360° colour camera view), voice control navigation, 8″ colour display with touch screen, and 7 Bose® Speakers: 2 Tweeters, as well as 4 high and medium frequency door speakers including subwoofer. 
The touch screen particularly looks quite nice, but we would say that it's not as smooth to use as the Kia E-Niro, which seems to be in a league of its own in that regard.
If you're also one of those PCO drivers that likes to adjust your temperature to that sweetest of spots, then you'll also be keen to know that Nissan has you covered. That includes a heated steering wheel, heated front & rear seats, and automatic climate control with pollen filter and timer. We personally cranked up the heated seats on our drive (which is very useful in London), and it worked a charm without killing any of the range either.
Other notable things to point out is the leather steering wheel (which is fully adjustable), and the EV telematics system, which shows you charging stations on the way, energy information, and helps you plan the most eco friendly route.
Overall, we must say that it's nice to be sat inside the Nissan Leaf e+ Tekna. Whilst their are certainly factors where other EV manufacturers are matching the amount of features for PCO drivers, such as with the MG5 EV Exclusive, they are certainly not being beaten in terms of in-car experience.
Passenger Space & Boot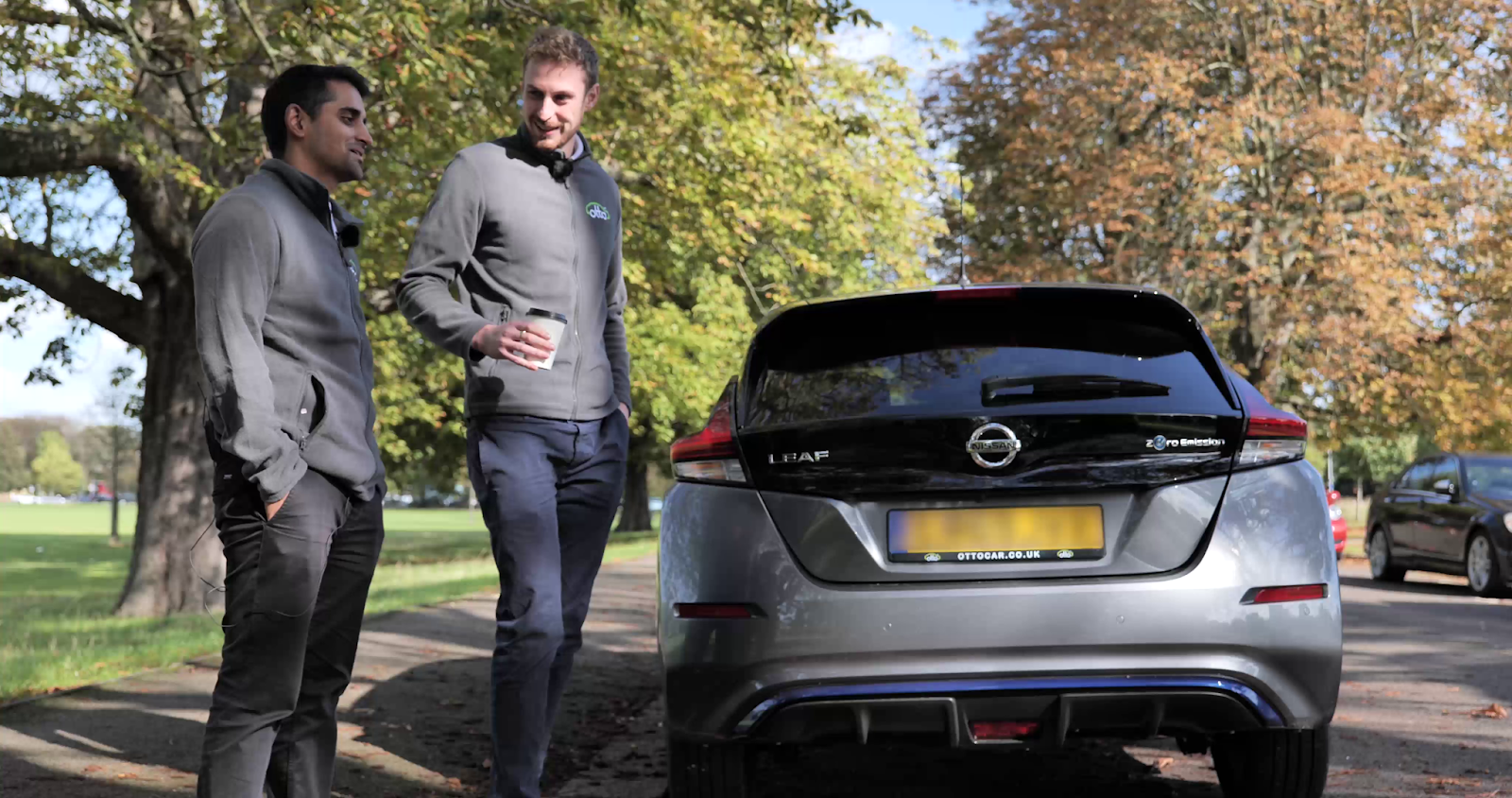 The official luggage capacity on the Nissan Leaf e+ Tekna is 420L. With seats folded up this goes to 1,176L. Whilst this is technically less than the Kia E-Niro we have actually found it to be just as good, if not better, at fitting luggage inside the back.
One of the slight drawbacks, depending on how you see it, is that the Bose subwoofer in the back does take up some space in the boot. This isn't a major hindrance though, and some see it as the price you pay for good sound quality.
In terms of passenger space there will be more than enough in this PCO car. Again, it doesn't feel as spacious as the Kia E-Niro, but it certainly stacks up, and for day to day Uber driving it will be more than enough.
Running Costs

We recognise that for PCO drivers this is quite an important category. That's why we wanted to give you an extensive breakdown of the savings that you could look to make with this PCO car.
The Nissan Leaf vs. Petrol Hybrid
We've included below a table showcasing the differences in price for the Nissan Leaf e+ Tekna vs. the Toyota Prius. We worked this out using a handy tool on the Go Ultra Low website.
The following is based on a work schedule of around 1000 miles of PCO driving per week.
Nissan Leaf E+ Tekna

👇

Toyota Prius

👇

Journey Fuel Cost: £43

Journey Fuel Cost: £53

Cost per mile: 4.3p

Cost per mile: 5.3p

Total Annual Fuel Costs: £2,223

Total Annual Fuel Costs: £2,765
According to these estimates PCO drivers could save up to £542 annually on fuel costs alone.
That's not all either. You would also be looking at daily savings of £15 for not entering the ever-expanding congestion charge zone. If you enter on average 3 times a week, this would make annual savings of around £2400 on congestion charges alone.
On top of this there is less wear and tear on electric vehicles, which makes for lower servicing and replacement costs. (If you'd like to learn more about this, you might be interested in reading about the top 10 reasons for PCO drivers to switch to an EV car),
All of these savings will make a huge impact on your overall earnings, which is ideal for PCO driving.
Safety & Reliability

The Nissan Leaf e+ Tekna has received a 5 star Euro NCAP rating after conducting their crash testing.
It feels like a reliable vehicle, and there have rarely been complaints over the years.
In terms of airbags the e+ Tekna is fitted with driver, passenger, side and curtain airbags.
Some other notable features for this category are Intelligent Emergency Breaking with Pedestrian Recognition, Lane departure warning and blind spot intervention.
These features are coupled with some of the others that we mentioned earlier, which makes for an overall intelligent and efficient driving experience.
Overall PCO Suitability

The Nissan Leaf e+ Tekna was designed for smart driving. It was a revolutionary car in the PCO market, and converted a lot of petrol hybrid lovers into the new EV generation with its intelligent design and economical features.
It should be mentioned that whilst the range on the Nissan Leaf e+ Tekna is good (up to 239 miles), some of their rivals, such as the Kia E-Niro or Tesla Model 3, are pushing above this figure. That being said, it is higher than the Nissan Leaf N-Connecta and the MG5 EV Exclusive, both of which are proving more than enough for PCO drivers.
It feels good to drive, and you can tell that the design was geared for this enjoyment. As a passenger it feels like a smooth journey, and as a driver it feels the same. That's always a sign of a good Uber car.
For those that are not sure about the Nissan Leaf range, we would really recommend trying it out. It appears to be a PCO car suited to a particular type of PCO driver, and if you fit that category then you will really find a lot of enjoyment with the Nissan Leaf e+ Tekna over the years!
Review Video
Check out our PCO Car Review video below. You can see how we got along with the Nissan Leaf e+ Tekna!
Other Reviews
If you're interested in seeing how other cars stacked up to our scrutiny, then feel free to check out our dedicated PCO Car Review page. We'll be updating this regularly with the latest cars that PCO drivers will want to know about.