MG5 EV Exclusive | PCO Car Guide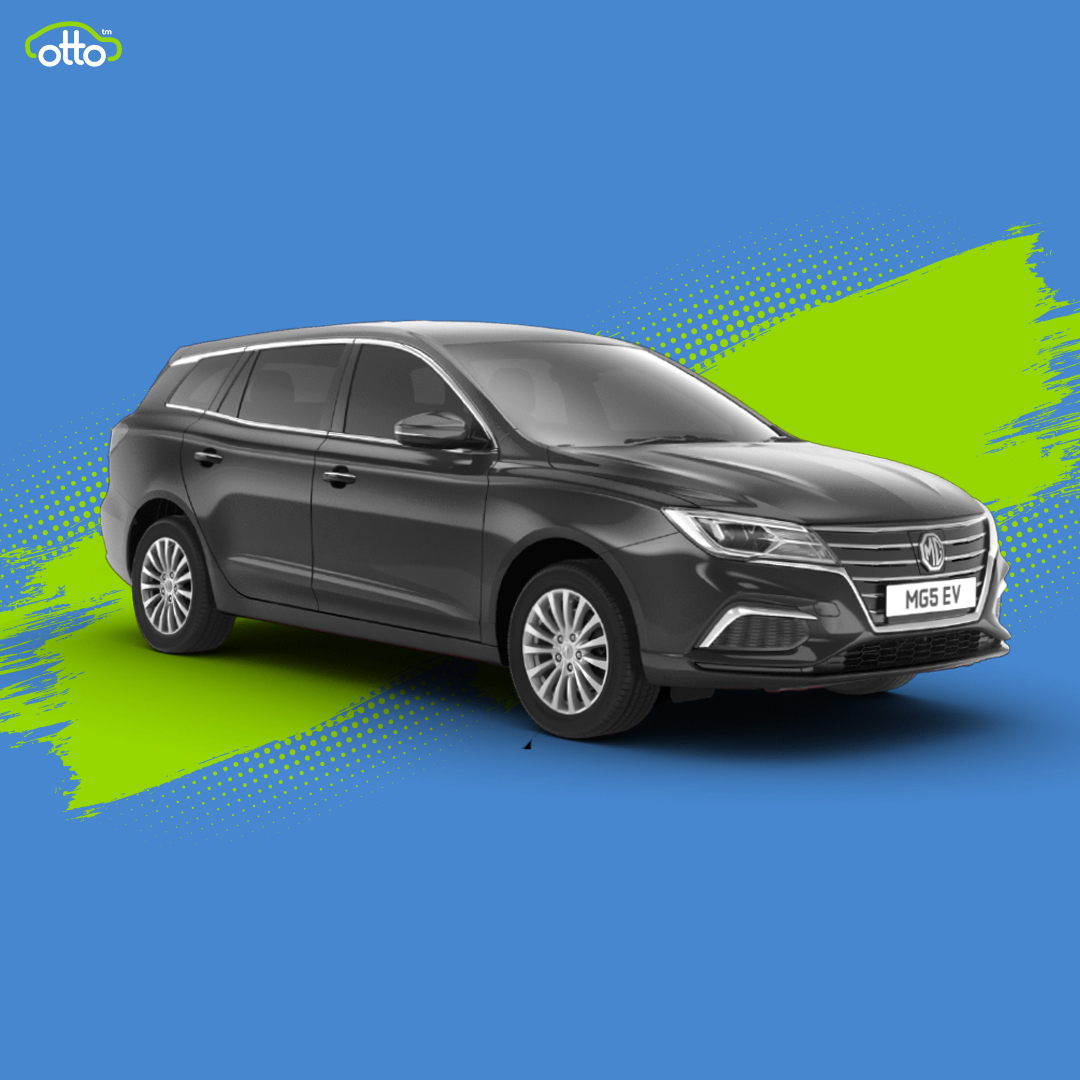 June 25, 2021
This review is part of Otto Car's new PCO Car Review series. We check out the latest and best PCO cars in the market to give you an honest insight into how they look, how they perform, and how suitable they are for private hire driving. You can see even more cars on our PCO Car Review Page!
Contents
Introduction
Ever since MG announced the release of the MG5 EV Exclusive we've been itching to get inside and do a review for PCO drivers.
That's because it has entered the private hire market in a good time with an interesting offering.
The MG5 EV Exclusive doesn't have as much range as the Kia e-Niro or the Nissan Leaf e+ Tekna, but it also comes at a more economical price point which will be a welcome sight for some PCO drivers looking for a more accessible switch to EV.
We took the MG5 EV Exclusive out for a spin, and whilst we weren't blown away by the drive, we did think that it was very good, and there are plenty of additional features inside and outside of this PCO car that make it quite exciting.
Keep reading to find out what sets the MG5 EV Exclusive apart from its other competitors, and to see our overall pco suitability rating.
(If articles aren't your thing, then also feel free to jump straight to our review vid below)
First Glance
Before we get started, we've outlined some specs and our Rent 2 Buy pricing plan for PCO drivers.
This should give you an idea of some of the features to expect, and the price point for this PCO car.
Vehicle Specs

👇

Rent 2 Buy

👇

Up to 214 Miles Range

Price: £219 per week

52.5 kWh battery

Contract Length: 4  Years

Heated Front Seats

Down Payment: £499

16″ Meteor Alloy Wheels

Free Servicing

LED Running Headlights

Free MOT, PHV Licence & Road Tax

Rain Sensing Wipers

Free Insurance

Cruise Control

No Balloon Payment

8″ Colour Touchscreen

Mileage Cap: 1000 miles per week 

Apple Carplay & Android Auto

Free CCTV Installed
These are just a quick glance at the specs inside this vehicle. We will outline more in this review, and you can also check out our dedicated MG5 EV Exclusive Page for more info about our Rent 2 Buy offering. 
The Drive

All things considered it was a pleasant drive. The MG5 EV Exclusive felt good on the road, and there weren't any hiccups.
There weren't many standout features to set it apart from competitors like the Kia E-Niro and the Nissan Leaf, but it felt like a controlled and measured drive.
In terms of the features you aren't going to be disappointed with the MG5 EV Exclusive (or any of the MG range for that matter.) That especially goes for some of the gadgets in the interior, which we cover in more detail below.
PCO drivers looking at an EV for their next Uber car will be pleased to know that the MG5 EV Exclusive has three different modes that you can switch into to maximise your efficiency. That includes Eco, Normal & sport mode.
There are also 3 regenerative braking modes. Regenerative braking is becoming a common feature in EVs, as it converts the usually wasted kinetic energy used when braking, and converts this into battery charge. This has the potential to maximise your efficiency and running costs in the long run.
In terms of range the official amount is 214 miles. However, MG also state that it has a city range of 276 miles. For Uber drivers that work predominantly in London this could work nicely, and at this price point (which is cheaper than the Nissan Leaf or the Kia E-Niro) it could be a nice trade off.
The max speed on the MG5 EV Exclusive is 115mph, and this PCO car also comes with some additional nifty features like cruise control and hill launch assist.
Altogether we'd say that it was a nice drive. There weren't many standout elements to it, but there also wasn't much to complain about, and we could easily see ourselves using this for day to day PCO driving.
Exterior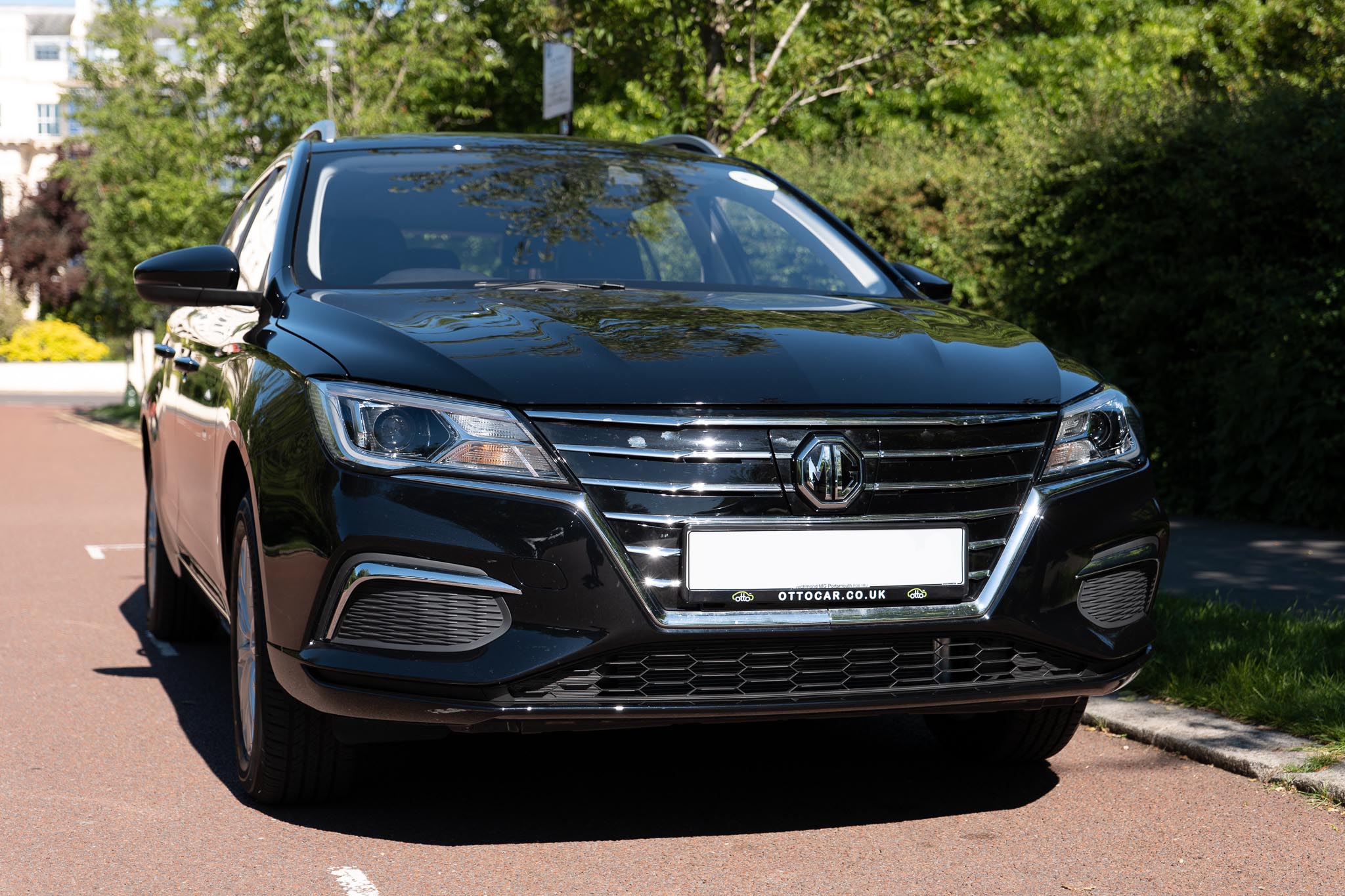 At first glance the MG5 EV Exclusive is a very nice car to look at.
MG have veered away slightly from the previous design on the MG ZS range, and opted for more of a sophisticated and executive look and feel.
It has 16″ 'Meteor' Alloy Wheels, Auto Headlights, and with the MG5 exclusive range you also get the silver roof rails too. There are also rear parking sensors and follow me home headlights (which means that the cars headlights stay on for a bit longer after you lock it, so that you can get to your front door).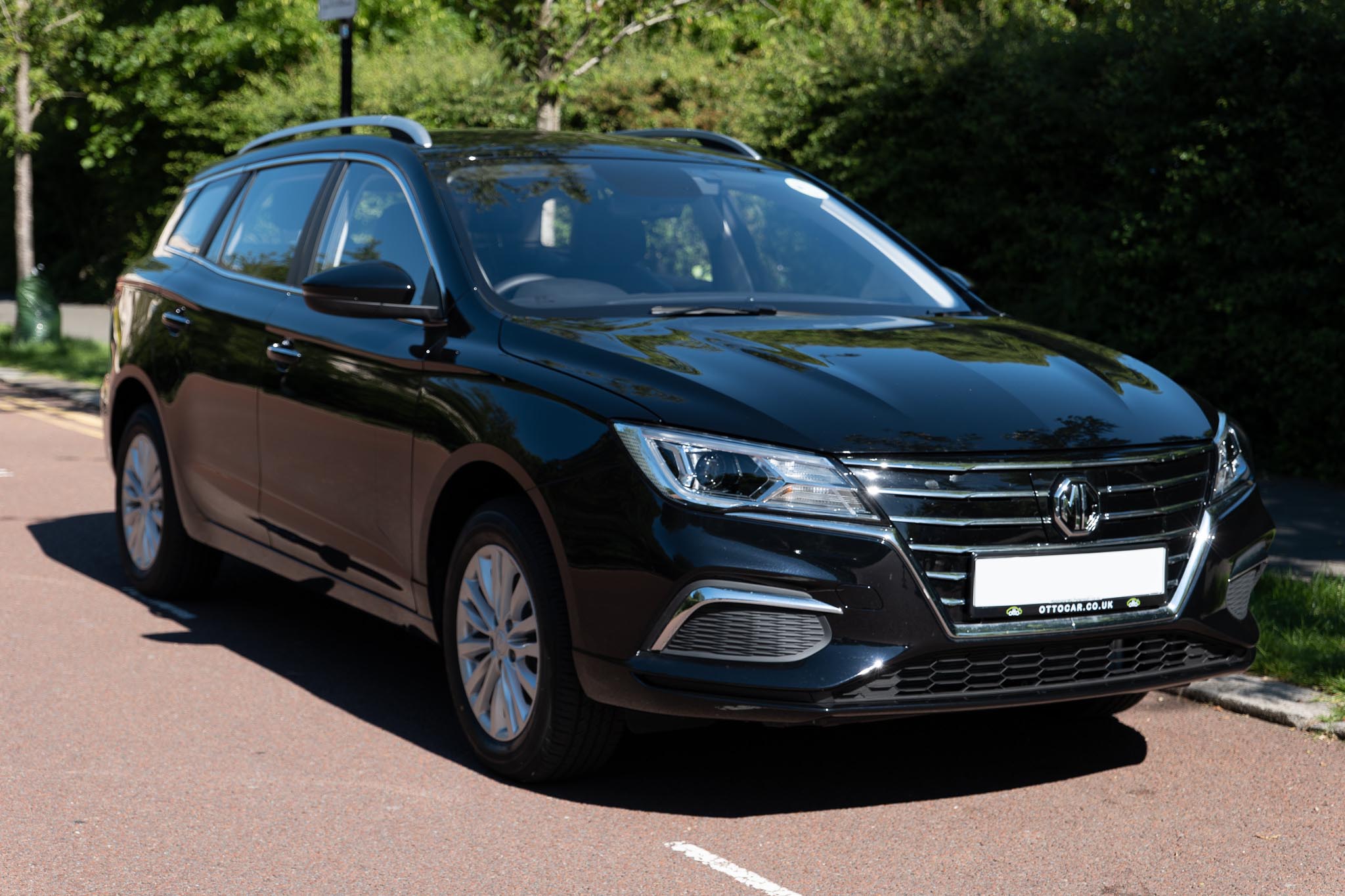 Finally, this PCO car comes in black pearl as well, which is a nice choice if you would like to reinforce that exec feel. Whilst it's getting harder to distinguish all of these shades of black (what exactly is black pearl after all?), it does look undeniably good.
Interior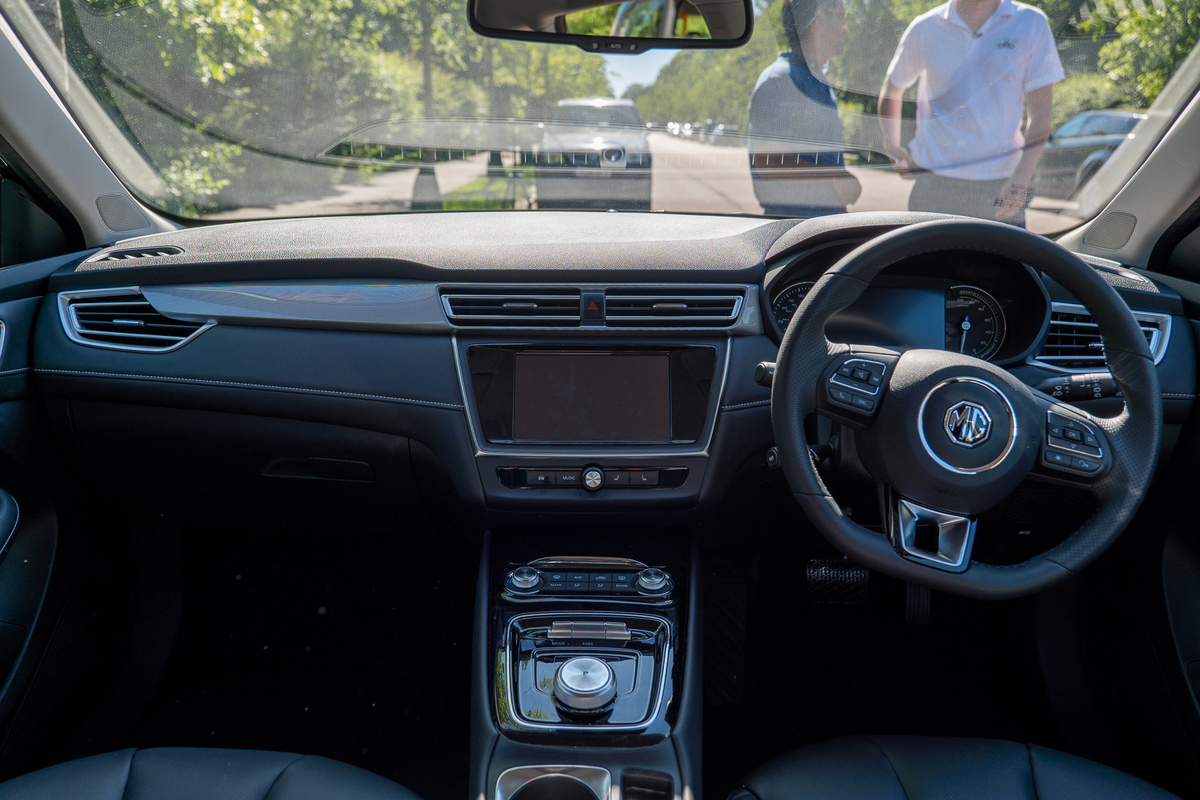 In terms of the interior the MG5 EV Exclusive picks up top marks. It's hard to fault MG in this regard, as the car has all the bits and pieces that you look for in a high tech EV PCO car, and genuinely feels good to sit inside.
Behind the leather steering wheel is a 7″ colour information display, which combines an old school style of speedometer on either side, with a more digital view in the middle. It blends the old with the new in a refreshingly classy way, and it gives you all the info you need as well.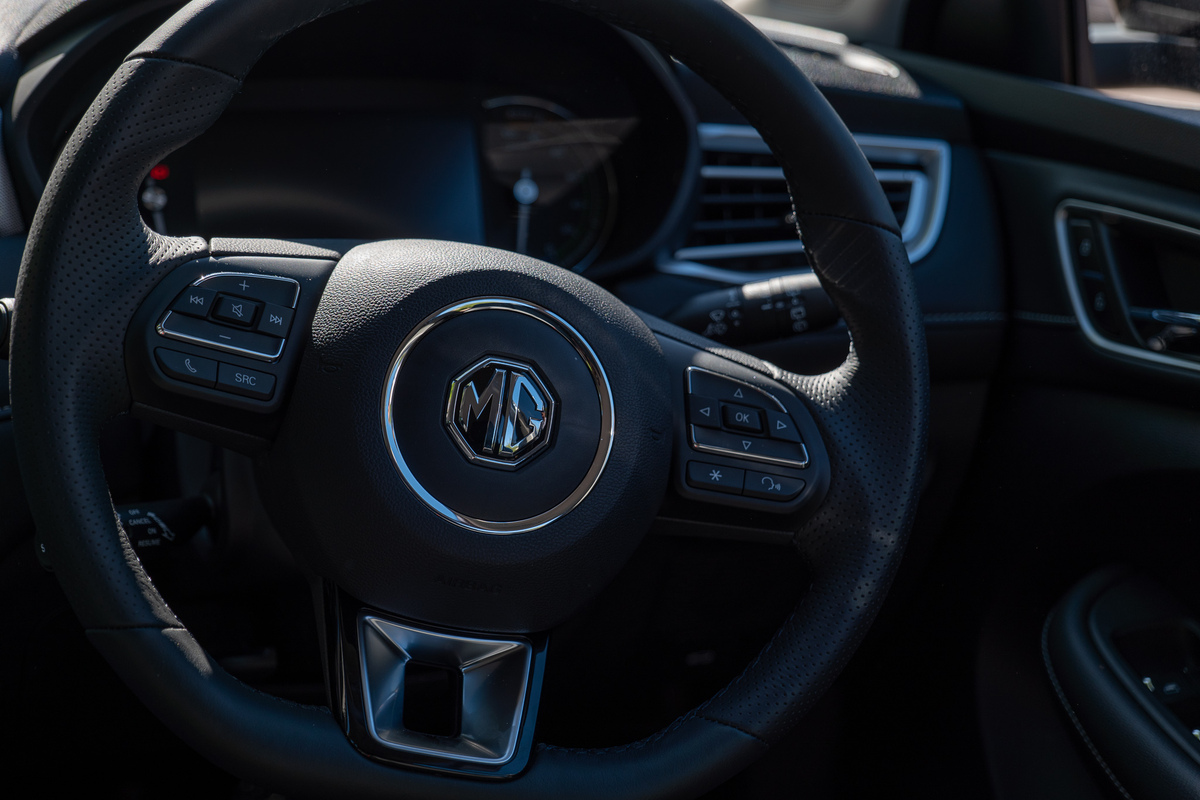 PCO drivers will also find an 8″ colour touchscreen, which feels good to the touch and doesn't lag at all. It's simple to use, with radio and SatNav easy to access, and actually competes well with some of the higher end touchscreens we've seen on EV PCO cars in the past.
Some other features you might like to know about are the heated seats, auto air conditioning, rain sensing wipers, rear parking camera, electronically adjustable and heated door mirrors, auto dimming rear view mirror, and a 6 speaker audio system with 3D sound.
The MG5 EV Exclusive doesn't hold any punches when it comes to the tech inside this PCO car, and it certainly adds to the overall enjoyment of the drive.
Passenger Space & Boot

Odds are you won't be struggling to fit luggage into this boot. There are obviously the odd exceptions to this rule, but for the most part you will be fine with this PCO car.
The boot space loaded to the luggage cover is 464 litres, and if you fold down the seats PCO drivers are looking at 1456 litres of boot space. That will do very nicely for most journeys.
In terms of the passenger room there is plenty in this PCO car, but it did lose a few marks for us in this category. Maybe it's because we expected there to be more space when we saw it from the outside, but behind the steering wheel you could have a bit of trouble if you are especially tall, and whilst the passenger space is more than enough your riders won't exactly be stretching their legs.
In terms of headroom there is 938mm, and 859mm of legroom for passengers. It definitely won't be a problem on your journeys, but it does feel slightly less spacious than the Kia e-Niro or even the Nissan Leaf e+ Tekna.
Running Costs

We recognise that for PCO drivers this is quite an important category. That's why we wanted to give you an extensive breakdown of the savings that you could look to make with this PCO car.
The MG5 EV Exclusive vs. Petrol Hybrid
We've included below a table showcasing the differences in price for the MG5 EV Exclusive vs. the Toyota Prius. We worked this out using a handy tool on the Go Ultra Low website.
The following is based on a work schedule of around 1000 miles of PCO driving per week.
 MG5 EV Exclusive

👇

Toyota Prius

👇

Journey Fuel Cost: £46

Journey Fuel Cost: £53

Cost per mile: 4.7p

Cost per mile: 5.3p

Total Annual Fuel Costs: £2,416

Total Annual Fuel Costs: £2,765
According to these estimates PCO drivers could save up to £349 annually on fuel costs alone. This is very close to the Nissan Leaf e+ Tekna, which many Uber drivers swear by in terms of savings.
That's not all either. You would also be looking at daily savings of £15 for not entering the ever-expanding congestion charge zone. If you enter on average 3 times a week, this would make annual savings of around £2400 on congestion charges alone.
On top of this there is less wear and tear on electric vehicles, which makes for lower servicing and replacement costs. (If you'd like to learn more about this, you might be interested in reading about the top 10 reasons for PCO drivers to switch to an EV car),
When you add in the lower price point, and the savings which PCO drivers are bound to make by switching to EV, the MG5 EV Exclusive could definitely help in driving up your earnings.
Safety & Reliability

In terms of safety there are front side airbags, front duel airbags and side curtain airbags. This PCO Car also has speed sensing locking, which means that the doors will lock automatically once the car reaches a certain speed. This feature could definitely come in handy with passengers at some point.
There is also an anti rolling protection feature, which applies the brakes when it seems like the car is rolling over.
Altogether it felt like a comfortable and safe drive, but we would like to have a bit more experience with the MG5 EV Exclusive before we give it the full five stars.
Overall PCO Suitability

The MG5 EV Exclusive entered the market as a cheaper alternative in the EV space, and it is certainly delivering in that respect.
There has been a lot of attention given to packing this PCO car with brand new features and gadgets that make for a pleasant driving experience, and whilst the drive itself didn't blow us away, it was a comfortable and enjoyable experience, which is all that you can ask for.
The lower EV range could be a sticking point for some PCO drivers, which could make them opt for a PCO car like the Kia E-Niro which offers more in that regard. However, if you have a solid charging strategy in place then you will be just fine with the MG5 EV Exclusive, and that's combined with cheaper upfront costs too.
The cherry on the cake when it comes to this PCO car is the look and the feel, which does genuinely have tinges of executive about it. It feels like a high end vehicle at an extremely reasonable price, which could be a great combination for some PCO drivers out there.
Review Video
Other Reviews
If you're interested in seeing how other cars stacked up to our scrutiny, then feel free to check out our dedicated PCO Car Review page. We'll be updating this regularly with the latest cars that PCO drivers will want to know about.