How to pass the TfL English test for PCO drivers in 2022 | Uber driver requirements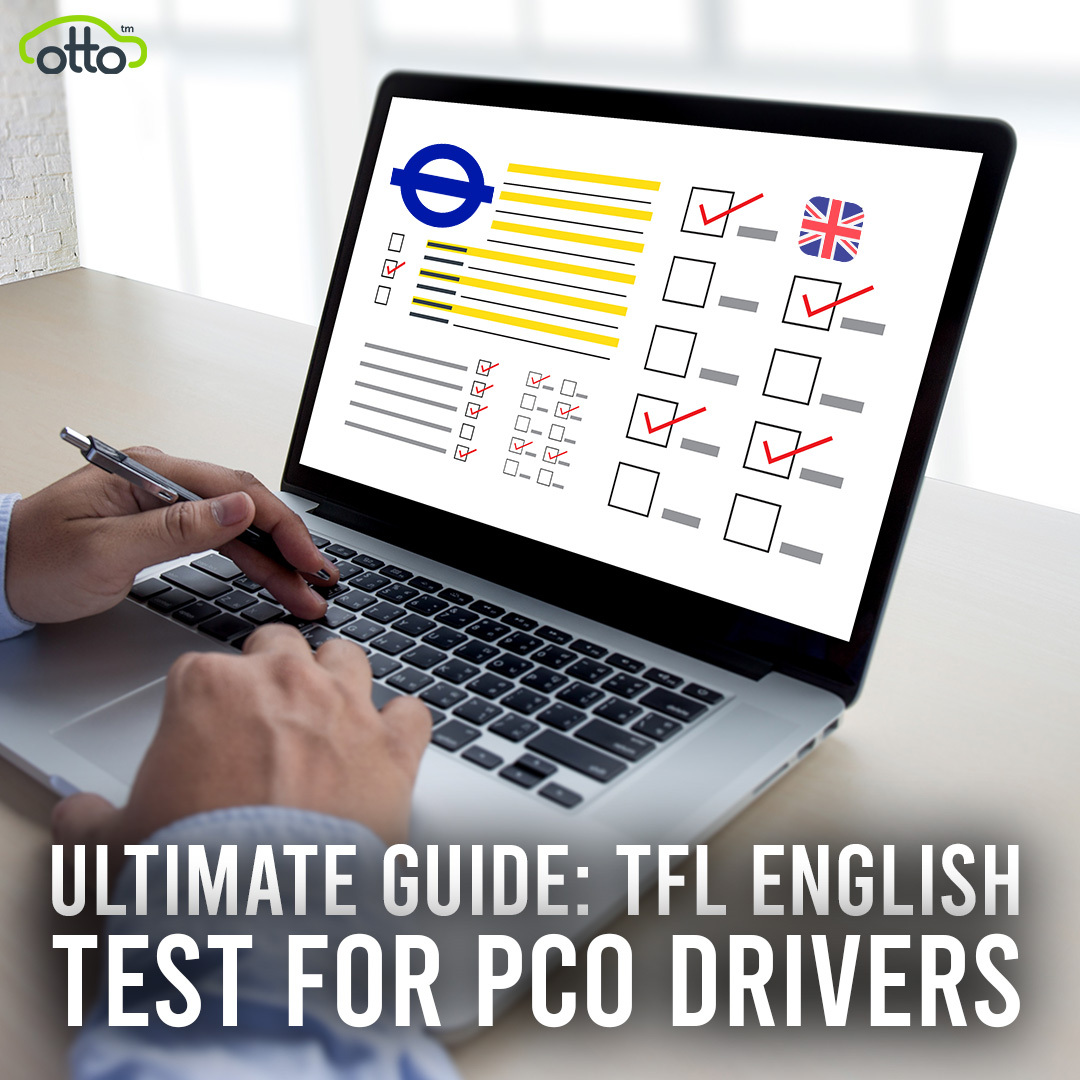 July 12, 2022
To work as an Uber driver in London you will need a valid PCO licence issued by TfL (i.e. Transport for London). 
This licence application involves three short tests set by TfL. Two of these tests make sure that all PCO drivers can understand English to a suitable standard and passing them is known as the English Language Requirement (ELR). 
The rules for the ELR have recently changed but this updated article covers everything you need to know in 2022. 
This third TfL exam for a PCO licence checks that a private hire driver has a basic grasp of London geography and can plan routes properly. This is called the topographical test and you can read tips about it here. 
What is the English Language Requirement for a PCO licence?
Back in 2016, Transport for London introduced the ELR to check that all private hire drivers can speak, listen, read and write English to the equivalent of level B1 on the Common European Framework of Reference. In case you don't know what level B1 means, this refers to intermediate standard (i.e. a person who is able to cope with common situations if on a trip to the UK).
In October 2021, TfL changed the rules for the ELR tests. The overall standard remains the same – the difference is that you can no longer simply provide documentary evidence, such as a certificate from one of TfL's appointed Secure English Language Test (SELT) providers. From that date onwards, new PCO drivers must pass the actual tests.
Who is required to pass these ELR assessments?
The rule changes on ELR affect three groups of people: 
New applicants for a PCO licence (i.e. after 1 Oct 2021)

Private hire drivers who submitted no ELR evidence before the deadline (i.e. 1 Oct 2021)

Private hire drivers who submitted ELR evidence before this deadline that was not acceptable 

Private hire drivers who need to renew their licence (i.e. after Oct 2021)
All of these people will have to pass the ELR tests but there are transitional arrangements in place at the moment. 
PCO drivers who applied for a PCO licence after 1 Oct 2021 (but before 1 April 2023) must pass both ELR tests by 31 March 2023.
PCO drivers who applied before 1 Oct 2021 and submitted no evidence must pass both ELR tests by 30 Sept 2022. 
PCO drivers who applied before 1 Oct 2021 and submitted unacceptable evidence must pass both ELR tests by 31 Mar 2023.
These transitional arrangements end on 31 March 2023. After that date, all private hire drivers must pass both of these ELR assessments before being licensed by TfL, whether they are a new applicant or an existing PHV driver who needs to renew.
💡 Did you know?
Uber says TfL's current focus is on private hire drivers who are renewing their licence and have not completed the ELR tests. There is no urgent requirement for new drivers to complete the tests at this time. However, they must do so by March 2023.
What does the TfL English test include?
The TfL English test (ELR) is split into two halves. Each exam is a separate test but both are typically taken on the same day. 
The first test is a speaking and listening assessment of your spoken English skills. The second test will check your reading and writing ability. Let's look at what each of these tests involve in a little more detail. 
Speaking and listening assessment 
The new English language skills test is a 15-20 minute conversation with an interlocutor (i.e. the examiner you speak with). This is an individual assessment that happens while you are at the TfL offices but it actually takes place over a video or telephone link with a TfL service provider called PeopleCert. To pass the exam, you must score at least 60 out of 100 marks. 
This verbal assessment is only short and has five basic sections: 
Personal information – driver responds to questions on familiar matters

Situational role play – driver initiates and responds to social situations

Exchanging information – driver exchanges information about a set of images

Listen and respond – driver answers questions on a short speech delivered by the examiner

Long turn – driver gives a short talk on a relevant topic provided by the examiner
PCO drivers can download practice materials and mock interviews on the PeopleCert website here
Reading and writing assessment 
As its name suggests, the second ELR test is a written exam. However, the assessment is not purely to check general English skills. Instead, TfL looks at the answers drivers give in their test about safety, equality and regulatory understanding (SERU). 
The SERU assessment checks that London PHV drivers understand the safety, equality and regulatory requirements that apply to them. Put simply, TfL also uses the SERU test to assess reading and writing skills. It's one exam with two purposes. 
This test is based on the PHV Driver Handbook and covers four main subjects:
Equality – the needs of passengers with protected status e.g. race or disability

Passenger and driver safety – how to protect children or adults at risk from harm

Road and vehicle safety – regulations on licence tests and public safety

TfL policy for PHV drivers – rules about private hire drivers behaviour at work
This exam involves multiple-choice questions and asks drivers to complete sentences by adding missing words. There is an official TfL guide to the SERU assessment and free practice questions here. 
New PCO drivers should also complete the online Safeguarding Awareness training course before taking the SERU assessment. 
Where can you take the TfL english test?
Most PCO drivers take both of the ELR tests on the same day, either at the TfL premises in Baker Street or West Kensington.
The other big question that most Uber drivers ask is how much does it cost to take the TfL English language test?
Each of these two ELR tests will cost £36 when taken for the first time or £16 for a re-sit.
Whether you have already submitted a PCO licence application or are due to renew this, TfL will contact you about a test date for your ELR test. Drivers may contact TfL on 0343 222 4444 (charges apply) but cannot book the tests until invited to do so.
Where to find free resources?
You can get free help with your English language skills at the BBC Skillswise website or via the National Careers Service
The Uber Ignition programme is a free service that help you to become an Uber driver. You can get face-to-face advice and support sessions to prepare for all three of the TfL tests. 
Various private agencies offer to help new PCO drivers with their licence application for a fee. However, Otto Car suggests you stick to the official channels (e.g. Uber Ignition or TfL).
▶️ Want to know more about how to get a PCO licence in 2022? See the Otto Car complete guide. 
▶️ Got your PCO licence already? Why not check out our Rent 2 Buy + scheme to own a brand new PCO car.