How Muhabir earned £10,000 for his old car with the Otto part-exchange scheme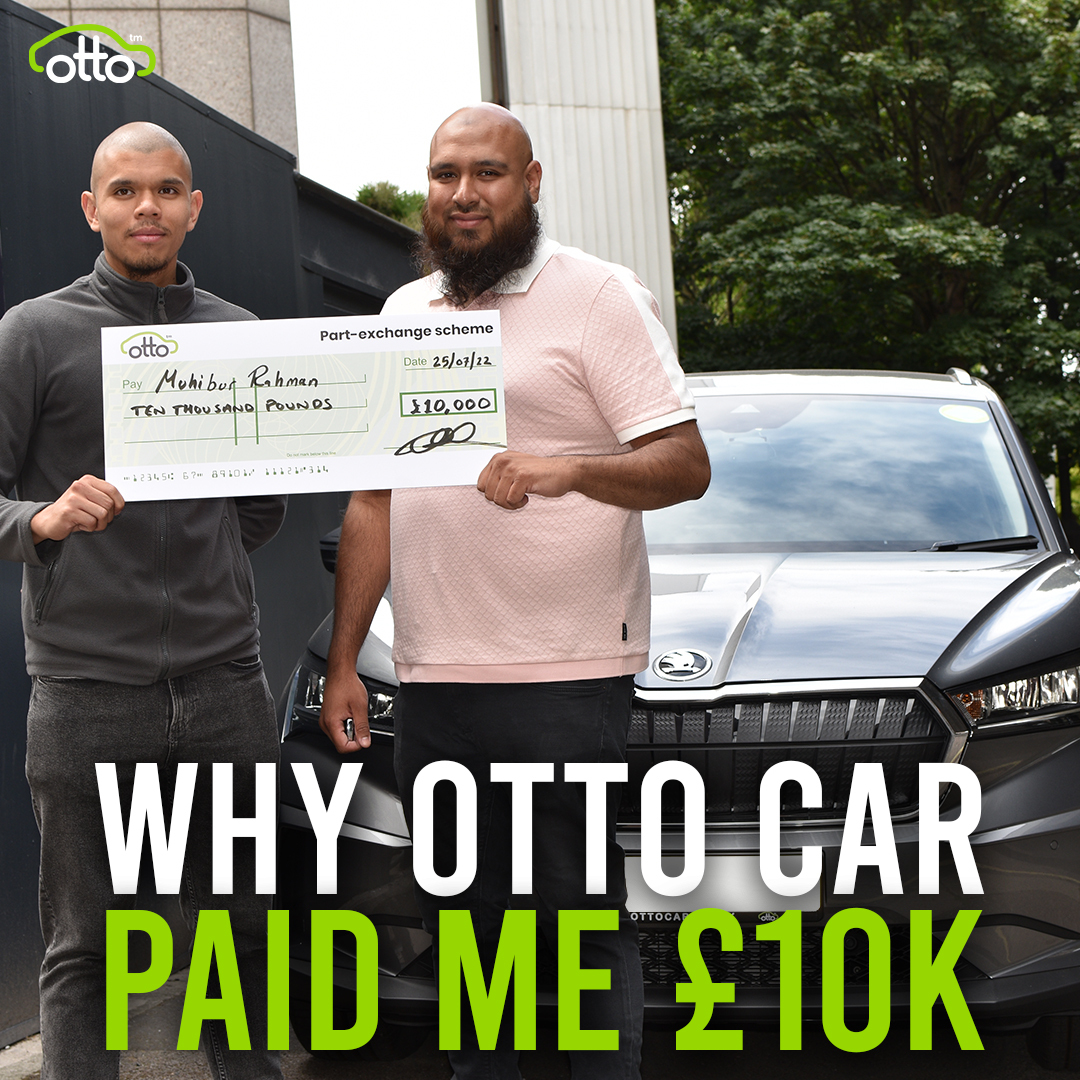 July 28, 2022
When Muhabir Rahman decided to upgrade his car, he expected a headache. Instead, he used our new part-ex promotion to get paid £10k in cash, plus a free £250 voucher for the downpayment on a new one. He explains why this was the easiest trade-in deal ever
Let's start by talking about why you wanted to replace your car?
In the current situation, with prices going up, I felt the only option was to act now – and go towards electric. On top of that, my car was coming to a natural end. So when I saw that Otto had a part-exchange promotion, it kind of drew me in.
If it wasn't for this scheme, would you have sold it privately?
Yes, that was my original plan. But then, actually, I thought: this is a really good deal. So I traded it in and placed an order for a new electric car, which is something I was looking for.
How did you feel about selling the car yourself?
I knew it would be a headache to get rid of the old car – and I felt that this headache was coming soon. Once you put a car up for sale, people waste your time. They say they're going to come and then don't turn up. Sometimes, they try to lower the price and – when you agree – they just go lower. And even after all of this, sometimes the sale doesn't go through. It's aggravating. 
▶️ Find out more about how Otto Car's Part-Exchange scheme works 
So you must have been pleased to avoid that aggro?
I was over the moon. It was a huge weight off my shoulders. That's the honest truth. 
And how did you find the process of a part-exchange deal with Otto Car? 
The trade-in was simple. You bring the car into one of the hubs, the team examines it to see if there's any damage. If there is any damage, they do mark it down. They don't mark it down really low – just a reasonable amount. Then, they tell you what price they're going to give you, and that was it. I handed in the old car and off it went. No more headache.
Do you think you got a good deal?
I think they offered me a fair price. It's a three-year old car with reasonably high mileage and it's been driven around a lot. I believe it was reasonable – and I did check the price in other places. For me, it worked really well because Otto is giving me a new car and also paying towards the deposit.
You mean the free £250 voucher towards the downpayment on a new car?
Yes, this made me happy – as it's £250 less out of my pocket and it made the whole deal a lot easier. I thought it was just great that I didn't have to fork out the full payment because Otto had got me covered. 
▶️ What is Rent 2 Buy +? What's included in this PCO car ownership scheme? Read more here
Were you glad to get the £10k as cash rather than reduce the price of the new car?
Yeah, that was amazing. I was really happy with that – and I got the money right away.
What are you going to do with this cash?
I'm going to pay off a bit of debt and give some money to my wife and family. I have no idea what I'm going to do with the rest but it's nice to have a little nest egg. 
Any advice to other drivers who are thinking about this? 
I've done trade-ins before but this was the simplest one and it felt comforting to know that nobody was going to rip me off. The team just gives you an honest price – and that's how it worked out. I was very pleased. It was cool.
What's your overall impression of Otto Car?
When I first picked up the phone, I spoke to a jolly chap who made me feel welcome. I've met a few guys from Otto, and they always shake my hand and treat me with respect. I feel like I'm part of the family and I genuinely can't say anything bad. It was all really easy.
Are you keen to upgrade to a new PCO car? Fill out this form to get your car valued.
You can part-exchange any car that is roadworthy. Yes, that's right – the model, age and condition of the car to be part-exchanged does not matter. For more details, click here.