Meet Khalid | An Ownership Story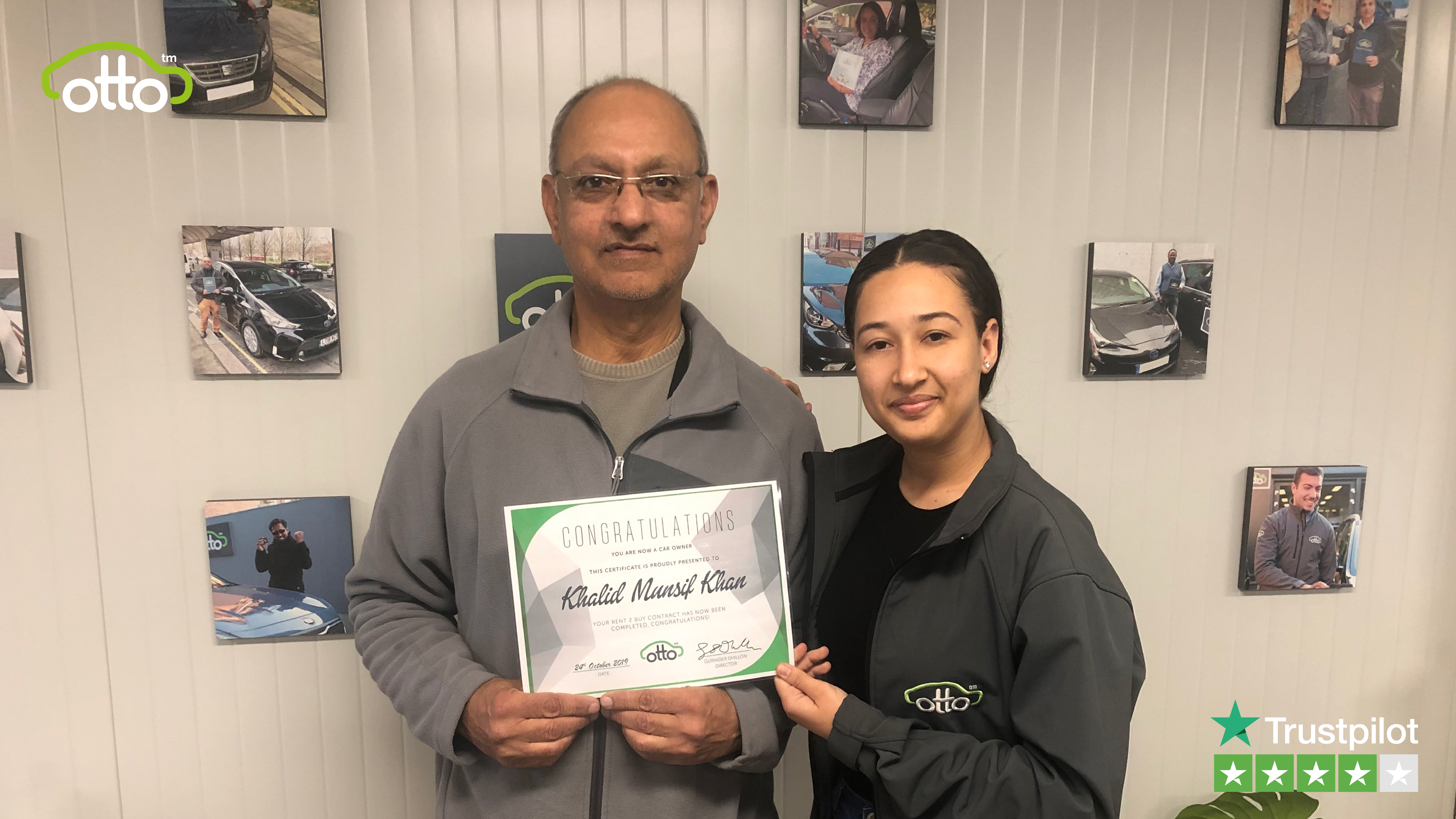 November 12, 2019
We sent across Richard, Marketing Manager for Otto Car, to sit down with Khalid, who has recently completed his Rent-to-Buy journey. He is now the proud owner of a Seat Alhambra (pictured here with Otto Team Member Krystle). Read up below to hear his experiences with the scheme, and driving Private Hire in London for the past three years.
What's your name & where are you from?
Khalid Khan, from Sudbury. I'm from Pakistan and have been living in this great city for 40 years
Have you always been a private hire driver?
I've done plenty of job before moving into private hire. I was a bus driver for many years, worked at Heathrow doing crew transportation in bound and outbound, chauffeuring for Tristar and then finally becoming an Uber Partner 3 years ago. I've always been in the transportation business!
What made you join Uber in the first place?
Flexibility and the freedom. Not having to do shift work was a great bonus and I've never looked back since!
Lovely, how did you hear about Otto Car and our ownership scheme, Rent 2 Buy?
When I started out I was a novice and Otto Car steered me into the right direction and a good profession. They've helped me make a decent income and provided me with a reliable PCO car to get the job done.
What PCO car have you been driving and now own?
I've been driving a Seat Alhambra and going forward I'm thinking of switching to an all-electric PCO car. I'm going to keep in touch with Otto Car and assess my options over the next few months. Nissan E-NV200 could be a good 7 seater option if that becomes available on Otto Car's Rent 2 Buy scheme.
Great to hear Khalid! So of course today is the day you become a car owner, how does it feel?
It's great! It's a nice feeling! The journey has been smooth and the team has been very helpful since day one. From servicing to any support I've needed, they've been there for me. Mentally I've never felt that this scheme was a burden for me, it's been a good experience, probably helped because I've always paid my rent on time! 3 Years has gone very fast
So now you've become a car owner, do you have any plans for the short-term future?
I plan to have a few more days off each month, take things a little easier.
Going back to the job itself, how has it been being an Uber Partner?
I've always been with Uber and never looked back. I have a lot of trust and confidence in the company.
If you could drive any PCO car, what would it be?
It has to be a Tesla, they're really cool cars. I'm really excited about electric cars.
Any hobbies outside of your private hire work that you enjoy?
I love walking and cycling, it's important to keep myself fit.
Favourite food?
Pizza! What else?!
Thank you so much for your time Khalid and congratulations once again on becoming a car owner
Thank you Richard and Otto Car!
Interested in becoming a car owner like Khalid? Why not take a look at our popular car ownership scheme Rent-2-Buy. There's no credit check and down payments start from as little as £199. Our scheme includes PCO insurance, servicing, MOT, breakdown, road tax, and PHV licence.