How PCO drivers can beat inflation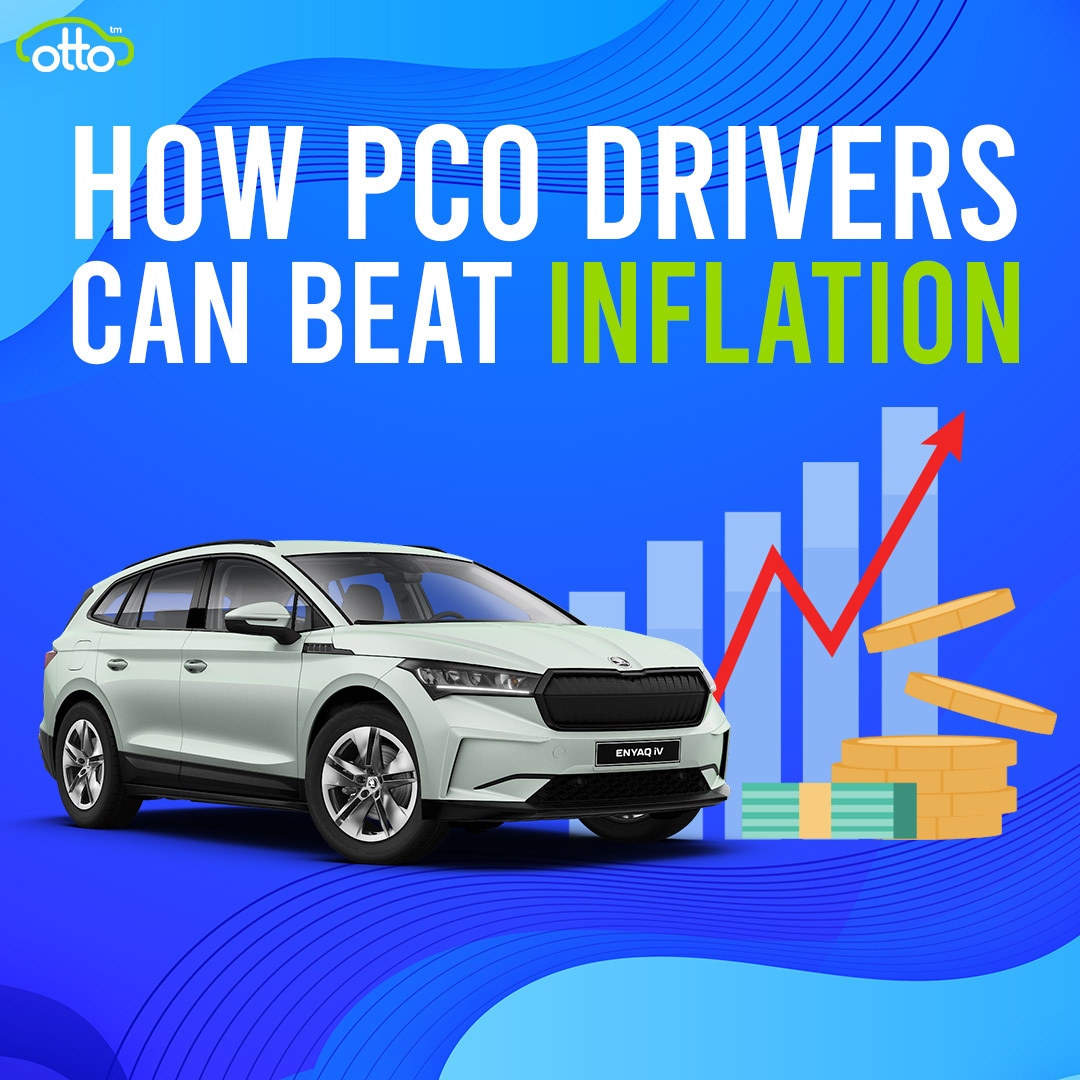 June 29, 2022
Everybody knows that prices are out of control. The rate of inflation in the UK hit 9.1% in May 2022 and is expected to go even higher. These are scary times. 
So what steps can a PCO driver take to protect their family from this cost-of-living crisis?
The answer is to think about your own goals and choose a sensible path. For instance, if you prefer the flexibility of PCO car hire and don't mind paying money into a rental scheme that won't move you closer to the dream of becoming a car owner, fair enough. Of course, as with housing, there is no guarantee that car-rental prices won't go up but that's your choice. 
However, if you are already thinking about upgrading to an electric PCO car – because of the rising cost of fuel or to avoid paying the TfL Congestion Charge – then you must be realistic about the right time to take this step. The simple fact is that the longer you delay, the more expensive it will become to make this change. 
▶️ Learn how electric PCO cars earn 15% higher payments on Uber Green here 
In the same way that many people now regret not signing-up for a fixed-cost energy tariff before the gas prices went crazy in 2021, the wise move today is to lock-in the weekly price of a PCO car before it gets out of reach. This is the harsh reality. 
Let's explore how this idea works for a hard-working PCO driver keen to make plans today.  
Car prices
As you know, UK car prices have risen fast and yet this is about to get worse. It's partly due to shortages (i.e. supply and demand) but also because the Government's plug-in grants have finished. For example, the official dealer price of the Hyundai Ioniq 5 – one of the most popular PCO models – has already gone up this year. Unfortunately, reliable industry sources say the price will increase by another £5,000 before early 2023. This is why a PCO driver needs to plan ahead to save money.
Servicing costs
As a private hire driver, car servicing is one of your main running costs. Even at today's prices, it makes no sense to rely on pay-as-you-go servicing. For example, when you buy a Kia e-Niro with a finance offer, you can take a bundle of five services for £709. Once you burn through these – typically in two years for a PCO driver – you must pay full price and the sixth service alone costs over £400 today. Do you think this will be cheaper two years from now?
Breakdown cover 
Every Uber driver needs a breakdown policy and – as with PCO insurance – private hire drivers pay more. The current cost of suitable RAC cover is £165 per year but unlike domestic drivers, PCO breakdowns are part of the job. If this happens, the policy will increase next year. And don't forget that RAC engineers expect to earn more to feed their own families.   
▶️ What are the true costs of PCO car ownership? Here is a full breakdown
Protect your income
By contrast, the Otto Car Rent 2 Buy + scheme is an all-in-one package that locks-in all of these variable prices into one weekly payment that never goes up, no matter what happens. 
That's right, Otto Car understands that PCO drivers are anxious and so the Rent 2 Buy + bundle will always be at the same fixed price for the entire length of the contract.
Even if the weekly cost of a new Rent 2 Buy + contract is forced to increase over the coming years (because cars get more expensive) you will have locked-in your weekly payments at today's prices. By doing so, you protect your future income and beat inflation. Simple as that. 
Get peace-of-mind
Every private hire driver also knows that time is money. Owning a new PCO car is stressful if you have to constantly compare all the various running costs and handle the admin yourself. 
Because your Rent 2 Buy + package bundles all of these costs together, there is no need to shop around to find better deals on servicing or insurance. You can focus on earning a living.
▶️ By joining our Otto Charging Network, you get instant access to 4,500+ EV chargers with discounted rates
Drive the car you want
Most PCO drivers have their heart set on a specific car when they're ready for an ownership deal. This is your workplace, so why shouldn't you drive the car that makes you happy? To be blunt, though, if you wait too long, these rising costs might make the new weekly payments unaffordable and you will have to settle for second-choice. Worse, there might be no stock at all. This isn't sales talk – it's already the situation with Teslas and other models.     
Make the right move
With the cost-of-living rising so fast, the natural instinct is to avoid making any big decisions. For some people, this is sensible but for the PCO driver, a wait-and-see approach is a big risk.  
There is no good news on the horizon – and so the only way to inflation-proof your PCO earnings is to lock-in the weekly costs with a rent to buy contract. The smart money is on taking this step before it grows too expensive and you are stuck in the rental world forever.
Finally, remember that you never lose your flexible future. If your plans change and you no longer want to drive a PCO car, you can cancel the whole contract for a one-off payment of £200. Simply hand back the keys and walk away. 
Hopefully, this article will help you make the right choices about how drivers can beat inflation but if you have questions, our dedicated team is always here to help. Good luck.