Hot weather tips for PCO drivers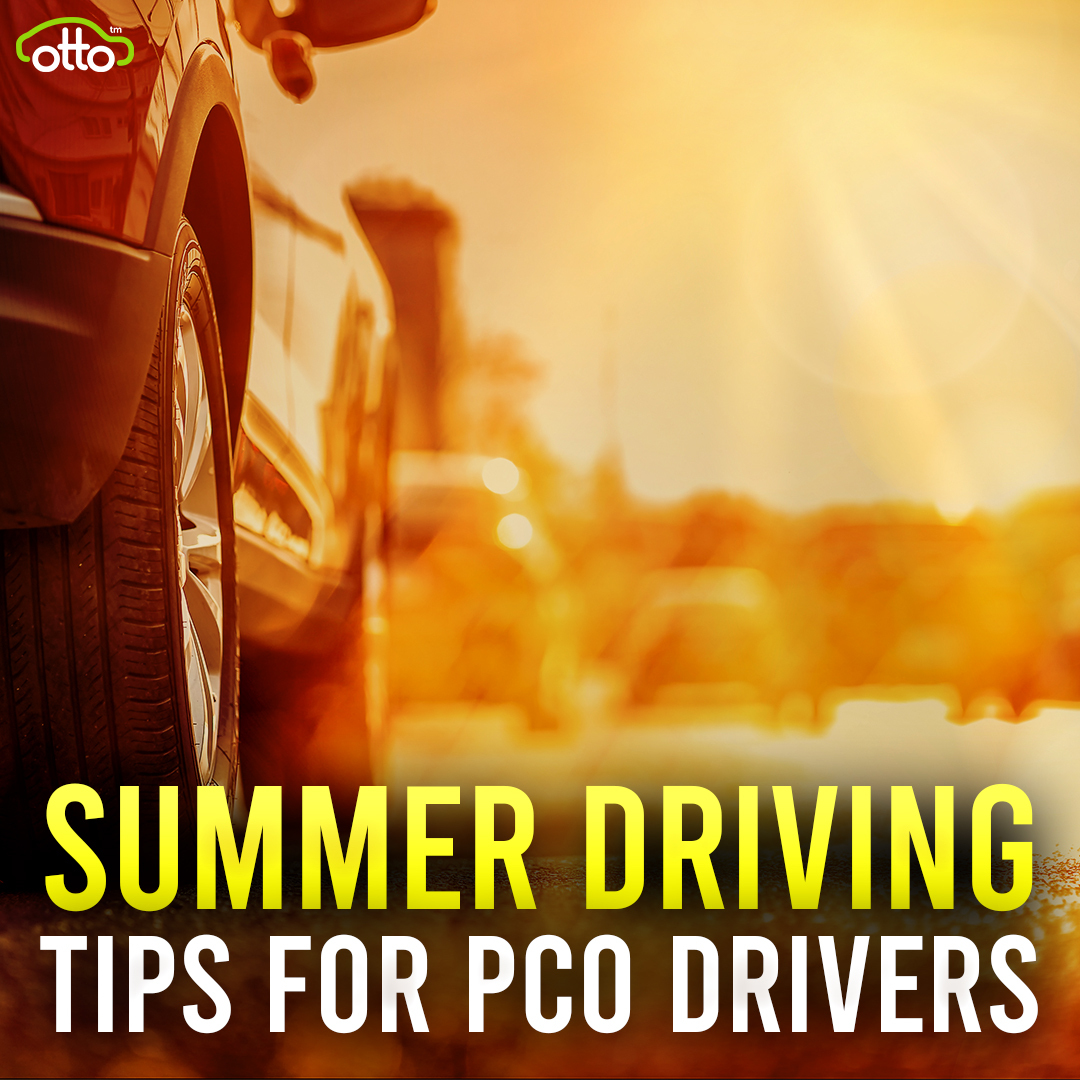 July 15, 2022
Most PCO drivers are aware of the dangers of winter driving. However, did you know it's just as important to prepare yourself and your PCO car for summer and avoid breakdowns?
To make life easier, we've put together some expert tips to help you protect your Uber car and keep passengers safe. 
Safety tips for driving in a heatwave
Stay hydrated
This may sound like common sense, but please always remember to keep water with you, and drink plenty of it.
So how much water should you drink? The NHS recommends drinking 1.2 litres of water a day, i.e. six to eight glasses. Some experts suggest that you should have even more.
Being dehydrated while driving can affect your concentration and coordination, potentially increasing the risk of an accident, especially when you sweat more in summer.
To lower the risk of dehydration, you should be aware of the common symptoms, such as headache, feeling dizzy and dry mouth. 
If you're a big fan of coffee, you might want to think twice before getting one. That's because coffee dehydrates you.
💡 Tips: Keep spare water for passengers and they will surely be grateful.
▶️ Always do night shifts? Check out our night time PCO driving tips
Pre-condition your car
'Pre-conditioning' is one of the most fantastic features of electric PCO cars.
On hot summer days, pre-conditioning allows you to pre-cool the car's cabin before you leave.
When you activate pre-conditioning at home via your app, the car is still plugged in, which means you'll start a comfortable journey with a full battery. It's a great way to prolong the life of the battery as it helps bring the battery up to its optimal operating temperature.
💡 Tips: Be ready to go the extra mile and ask your passengers if the AC level is okay. 
Check your PCO car before heading out
It's important to perform a daily pre-trip PCO vehicle check, no matter the weather, to make sure the car is ready for the job. These simple checks include tyre pressure, light and wiper, and range check.
Common heatwave car problems are engine overheating, dead battery, tyre punctures, broken air conditioning and more. If an engine begins to overheat, stop somewhere safe immediately.
Failing to ensure a private hire car is safe to drive not only affects your income, but you may also get fines and penalty points.
💡 Tips: Check the cooling system to avoid engine overheating. 
▶️ Here are some essential checks to do before a private hire trip
Beware of sun glare
Driving in summer means you're likely to have your vision impaired by the sunlight. 
Sunglasses are not just about fashion, but they can also help PCO drivers reduce the sun glare and protect their eyes. Please be reminded that some everyday sunglasses can be too dark for driving, according to the AA.
Sunglass tints are categorised, always check the category as category 4 sunglasses cannot be worn when driving by law. 
In addition, driving in urban conditions means that glare is variable. Consider wearing polarised lenses to ensure better visibility. 
Don't forget to keep your windscreen clean to reduce the dazzle from the sun.
💡 Tips: PCO drivers could be fined for careless driving if they are 'dazzled by bright sunlight'.
Make sure to take breaks
When you've been driving your PCO car for the whole day, sometimes it's just too hard to stay focused. Drowsy driving can distract you from the road and slow down your reaction time.
So, if you're planning on doing a long shift, be sure to take a break every couple of hours. Park your car up for 20 minutes, get out and stretch your legs or have a bite to eat. By doing this you'll keep your focus on the road.
▶️ Read this article to learn more about mobile phone use while driving
Summer road rage
Rising temperatures are the perfect recipe for increased stress levels when driving. 
Be aware that other road users will have less patience – and think about how you can be part of the solution, not the problem. 
▶️ Check out our previous article and find out how to deal with road rage as an Uber driver
We hope this quick guide helps you better understand the dangers in hot conditions. Enjoy the nice weather and safe driving!