The Benefits To Joining The Otto Family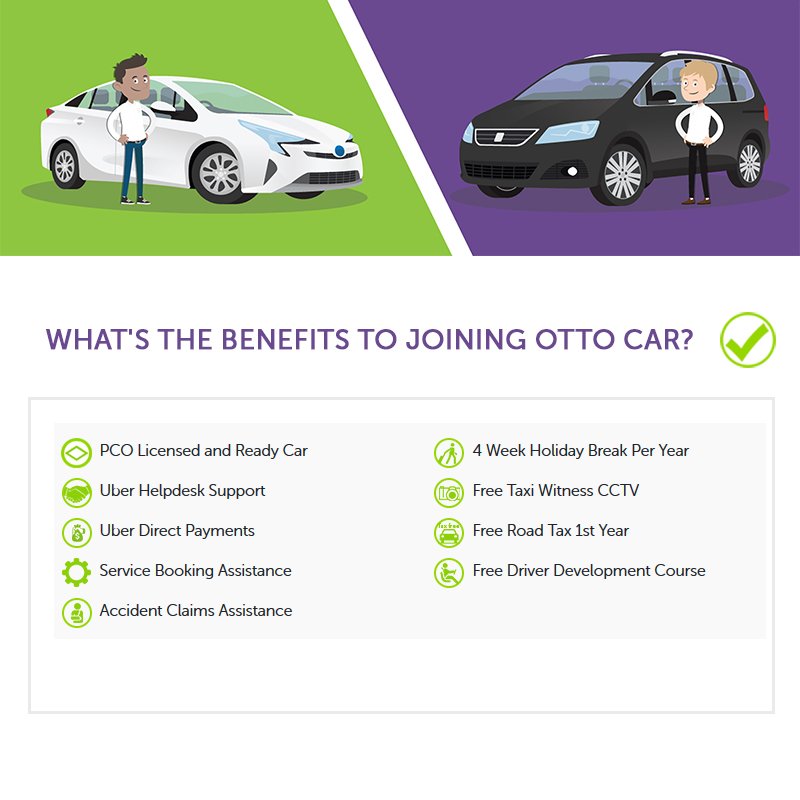 August 14, 2017
Over the last few years there has been an explosion in the number of PCO car rental companies, and with so many to choose from it can become quite a confusing task choosing the right one.
Otto Car have spent the last few years trying to focus on one thing, helping PCO drivers. Simply renting out our PCO cars is not enough and we've been striving to provide the best experience possible so all a PCO driver has to do is drive, whilst we take care of the rest.

PCO Licensed and Ready Car
The last thing you want to do when you pick up your new PCO car is deal with all the hassle of licensing it (and paying for it). You want to get on the road with minimal hassle, so that's why all our PCO cars, for both PCO Car Hire and Rent 2 Buy are licensed and ready to roll.

Uber Helpdesk Support
We know sometimes it can be difficult getting all your documentation sorted and uploaded on the Uber platform, that's why we help you through the whole process and get you up live on their system. Don't know where to upload your PHV licence?, don't worry we've got you covered. If you fancy giving it a go yourself, here's an article we made explaining it step by step

Uber Direct Payments
As one of Uber's top prefered partner, we're able to offer the Direct Payment programme to all our new PCO drivers. This means you can choose to have your weekly payment to Otto come out of your Uber earnings each week, if you have sufficient earnings. The key benefit of the Direct Payment programme is that your weekly payment to Otto will be deducted automatically from your earnings.

Service Booking Assistance
When you join the Otto family, we really treat you like one. When it's time to service your PCO car, our dedicated servicing manager will organise it all for you and book you in, saving you time to concentrate on making money on the road!

Accident Claims Assistance
We hope you never have an accident, but should it happen, we'll be there for you. Our dedicated accident claims manager is on hand to guide you through the process, take the video footage and liaise with the insurance company.

4 Week Holiday Break Per Year
We know our PCO drivers deserve a break. This is why we're the only company to be offering a 4 week holiday break per year. As long as you're 6 months into the contract, you can take up to two weeks off in one go, allowing you to take a payment break (and we'll just add the time you took off at the end of the contract). You can even continue driving should you wish to do so!

Free Taxi Witness CCTV
All our PCO cars are installed with our Taxi Witness CCTV system, which goes a long way to helping you in the event of an accident claim. Our accident claims manager will then be on hand to get the footage and run you through accident claims process.

Free Road Tax first Year
Otto Car has this covered so that's one less expense to worry about when taking a brand new PCO car on our Rent 2 Buy scheme. Sorted!

Free Driver Development Course
We love helping our PCO drivers get the best out of their job. That's why we help them become better drivers by offering them our development sessions every couple of months with our highly experienced driving instructors. We also give handy guides and tips on how to save money on fuel. Drive a Toyota Prius? Read Shoyab's top tips and save money today.
And Much Much More..
The above is only part of the great service we provide for PCO drivers here at Otto Car. We also do PCO tax returns and our popular PCO blog provides great advice to drivers.
Sound good? Join the Otto family by clicking here
Remember, we're #InItTogether