The full costs of PCO car ownership | Finance deals vs Rent 2 Buy +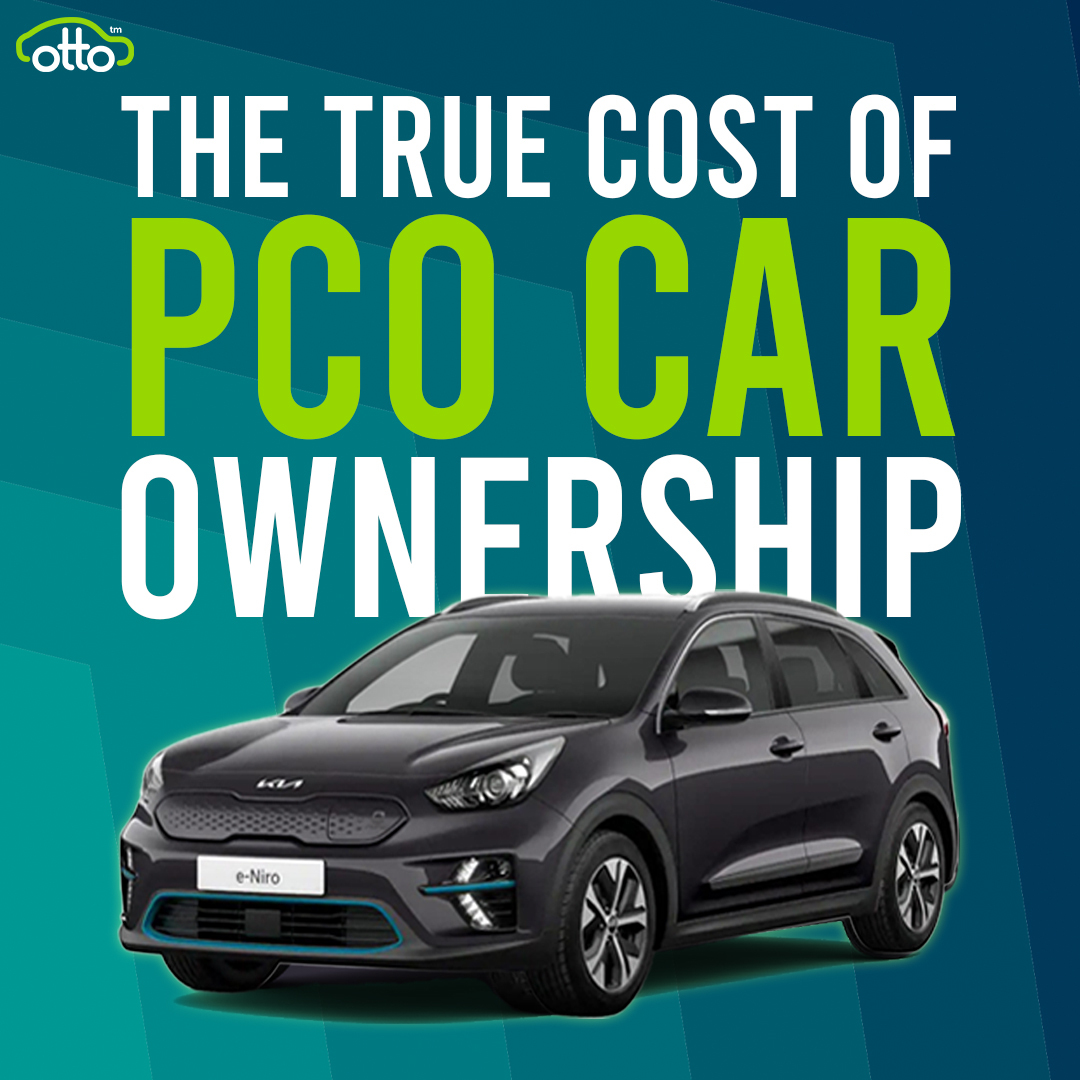 June 21, 2022
Most PCO drivers ask themselves one thing – why rent when you can buy? And when you are ready to own a new PCO car, it's always tempting to look at the headline price of buying the vehicle with finance from a dealer without seeing the bigger picture.
This is confusing because Uber currently offers an 8% discount on new electric PCO cars from selected Uber Partners on top of its Clean Air Plan.
In reality, it's sensible to look at the full running costs of a PCO vehicle before you commit to a finance deal that lasts several years. These 'hidden costs' can surprise you.
Running costs are everything on top of the downpayment and monthly car finance. The obvious ones are the PCO insurance, servicing and fuel (i.e. charging an electric car). But don't forget about breakdown cover, MOTs or PHV licences. It all adds up. 
This article compares the costs of buying – and running – the Kia e-Niro 2 (64kWh model) on a finance deal from Humming Bird Motors with the Otto Car Rent 2 Buy + scheme.
The Humming Bird deal has a loan period of either four or five years but we've converted this into a 4.5 year agreement to create a simple step-by-step comparison table.
For clarity, every cost is shown as the average weekly payments an Uber driver would make for the full length of each deal.
Eager to know the full results? Here's a quick summary…
▶️ Looking for a PCO vehicle for rental instead? Check out Otto Car's PCO Car Hire
▶️ Want to know how to choose a premium PCO car? Read this article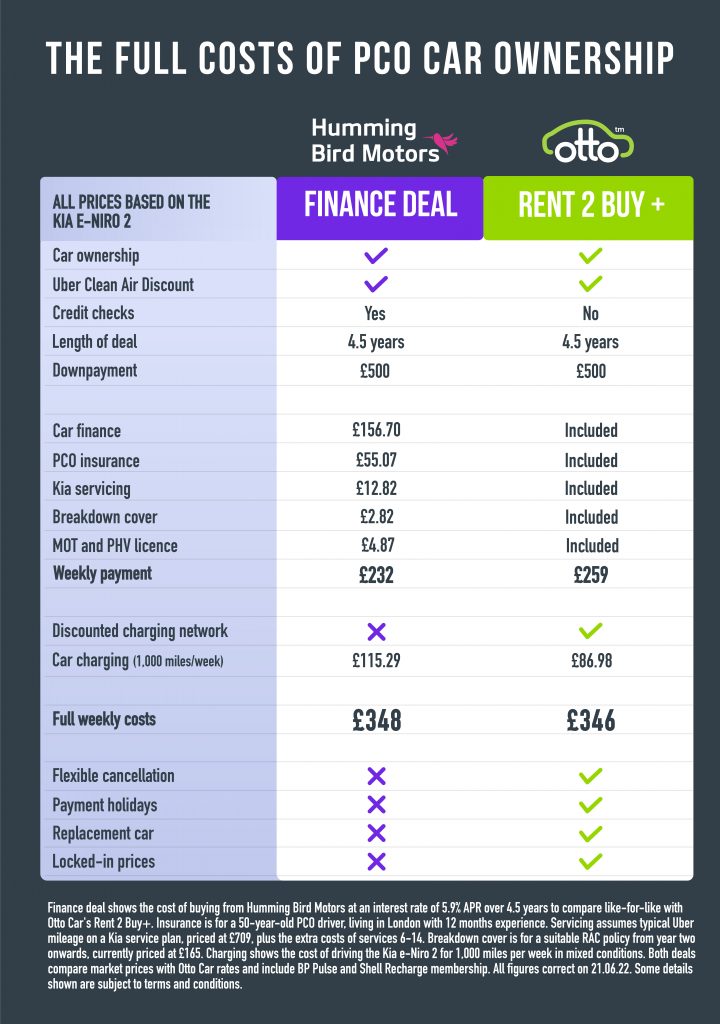 Road to ownership
It doesn't matter how good any deal sounds if you can't get your hands on the car keys. At the moment, Humming Bird has good stock-levels of the Kia e-Niro 2 and only asks for a small downpayment. To be fair, we've used £499 downpayment for both offers. 
The real challenge is that you must pass a credit check to secure car finance from Humming Bird – or any dealership. By contrast, Otto Car doesn't do any credit checks and can typically deliver the Kia e-Niro 2 within a week or two. 
RESULT:
Otto Car wins because we only look at the driver, not their credit score.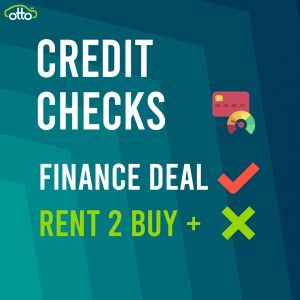 Everyday costs
Both Humming Bird and Otto Car give the full Clean Air Discount to eligible Uber drivers. You also get an extra 8% off the list-price of the car from Humming Bird plus any options chosen at the point-of-sale (e.g. servicing) but Otto Car provides the same Uber discount. 
The finance payments with Humming Bird are £157 per week*. Sounds good? Wait until you see all the running costs…  
*Assuming you get the published interest rate for Humming Bird's finance of 5.9% APR.
• PCO Insurance
When drivers are trying to find a PCO car for sale their most common question is how do the PCO insurance costs work?
We averaged the two cheapest quotes for this car as a monthly policy for a 50-year-old driver, living in London with 12 months of PCO experience. The cost of insurance is £55.07 per week.
With Otto Car's Rent 2 Buy + deal, our PCO insurance is part of the package and the price never increases.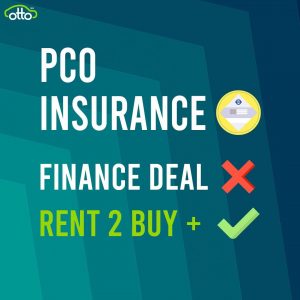 • Servicing
When you buy a Kia e-Niro with a finance offer from a dealer you get the option of a Kia service plan – and Humming Bird sells a bundle of five services for £709.
As an Uber driver, you need at least three services per year (i.e. every 10,000 miles). After that, the price of servicing goes up. For example, the sixth service alone costs over £400 from Humming Bird.
We added the price of services 6-14 onto the discounted Kia service plan from Humming Bird to calculate the maintenance costs over 4.5 years. This comes to £12.82 per week.
That figure assumes the price of these extra car services won't increase in future years. Who knows what will happen?
With the Otto Car Rent 2 Buy + package, all of the servicing is included and you can go to a Kia main-dealer at no extra charge.
Our friendly support team handles all the service bookings and documents. And if your PCO car is off-the-road because of an accident or a delay in sourcing the parts for a warranty repair, Otto Car will often provide a free courtesy car.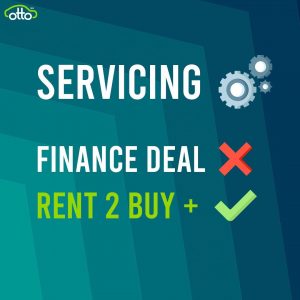 • Breakdown cover
You can't earn a living if your car doesn't move and so every Uber driver needs a suitable PCO breakdown policy. 
Kia gives all of its new car owners free RAC breakdown cover for year one. After that, anybody on the Humming Bird deal must buy their own policy and – as with PCO insurance – private hire drivers pay more. 
The current price of RAC cover for a PCO driver is £165 per year. For the unprotected part of the Humming Bird deal, the average weekly cost (over the 4.5 years) is £2.82 per week.  
Unlike domestic drivers, PCO breakdowns are part of the gig. If this happens, the price of buying a breakdown policy is likely to rise. 
Otto Car drivers can relax because Rent 2 Buy + includes 24/7 breakdown cover.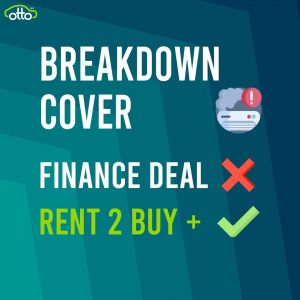 • MOT and PHV licence
Even an electric PCO car must have two MOTs each year and renew its annual PHV licence with TfL. The costs of this vehicle inspection process will add £4.87 per week. 
Otto Car bundles both of these licences in its Rent 2 Buy + deal. And if the car ever fails a test, we will get it fixed*. No drama.  
*Some costs may apply, depending on the reason for test failure. 
RESULT:  
The finance deal is slightly cheaper on basic costs but only by £27 per week.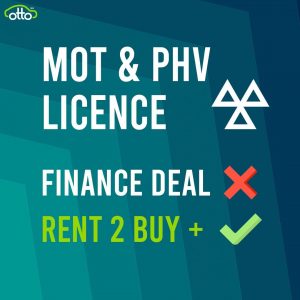 Discounted charging
There is one crucial running cost we've not covered. You must obviously pay to charge the battery of an electric car like the Kia e-Niro 2 (or refuel a hybrid, such as the Toyota Prius). This chunky number isn't obvious when you look at the sale price on a finance deal.
Let's assume you drive 1,000 miles each week and sign-up for both the Shell and BP Pulse charging networks.  
With the finance deal, EV drivers will pay £7.85 per month for a BP Pulse subscription, plus an average unit-price of £0.50kWh for charging. Based on the Kia e-Niro 2 official range of 282 miles in mixed driving, this costs £115.29 per week. 
Our Rent 2 Buy + drivers can join the Otto Charging Network from £39 per week. This deal includes membership for the Shell Recharge and BP Pulse networks – plus a discount of up to 25% on the charging rates. That same 1,000 miles per week suddenly costs £86.98. 
The Otto Charging Network will save the typical PCO driver around £1,500 every year. 
You want more? How about exclusive access to ultra-rapid fleet chargers.
With charging included, the full weekly costs are £348 for the Otto Car Rent 2 Buy + deal or £346 for the car-finance offer at Humming Bird. In other words, the costs are almost equal. 
Yes, the amount saved on charging depends on mileage but the real bonus here is time.
RESULT: 
Once all the running costs are included, Otto Car is unbeatable value.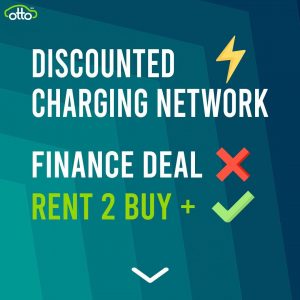 Simple solutions
For the hard-working PCO driver, time is money. So don't forget all the hours it will take you to check these various costs. When you ask yourself what does rent to buy mean, the real answer is this – less admin and a much easier life.
With a finance deal from Humming bird (or whoever) even the smartest PCO driver must shop around for the best deals to make it work. Do you have the spare time to do this?
Meanwhile, the Otto Car Rent 2 Buy + driver can focus on what matters – earning a living. 
RESULT: 
Otto Car wins because Rent 2 Buy + makes it easy to be a PCO driver.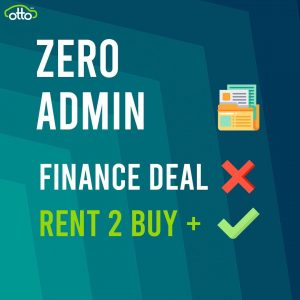 Flexible options
Buying a car with a traditional loan leaves the PCO driver on the hook for several years. If your circumstances switch and you need to cancel, you must still pay back the original lender. 
There are also financial consequences if you fall behind on repayments or need breathing space for a holiday?
Drivers on Otto Car's Rent 2 Buy + deal can take up to four weeks of payment break per year. This means you won't pay holiday expenses and PCO costs at the same time.
If your priorities change, you can cancel the whole contract after three months for £200. Just give back the keys and walk away. 
RESULT: 
If you want real options, Otto Car is your flexible friend.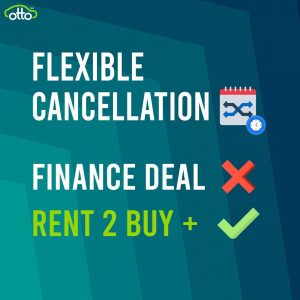 Final verdict
In short, the only sensible way to choose a PCO car for sale is to compare the full running costs. You must always pay for these extras – it's just a matter of how. 
When you compare a finance deal with a rent to buy bundle, look behind the figures in the advertising campaigns and ask a wide range of questions.  
One final point is not to overlook the 'soft costs' of being an Uber driver. For example, the time it takes to handle the admin.
With Rent 2 Buy+ you lock-in a weekly price for the whole deal. The cost of living is rising fast but you'll have peace-of-mind. 
This article should help you to make smarter choices about how to buy an Uber vehicle. Otto Car hopes you will join the UK's largest family of PCO drivers. But either way, we wish you every success on the road.
▶️ What are the popular electric PCO cars? Read more here