Waze, Google, or Uber? | What GPS is Best for PHV Drivers?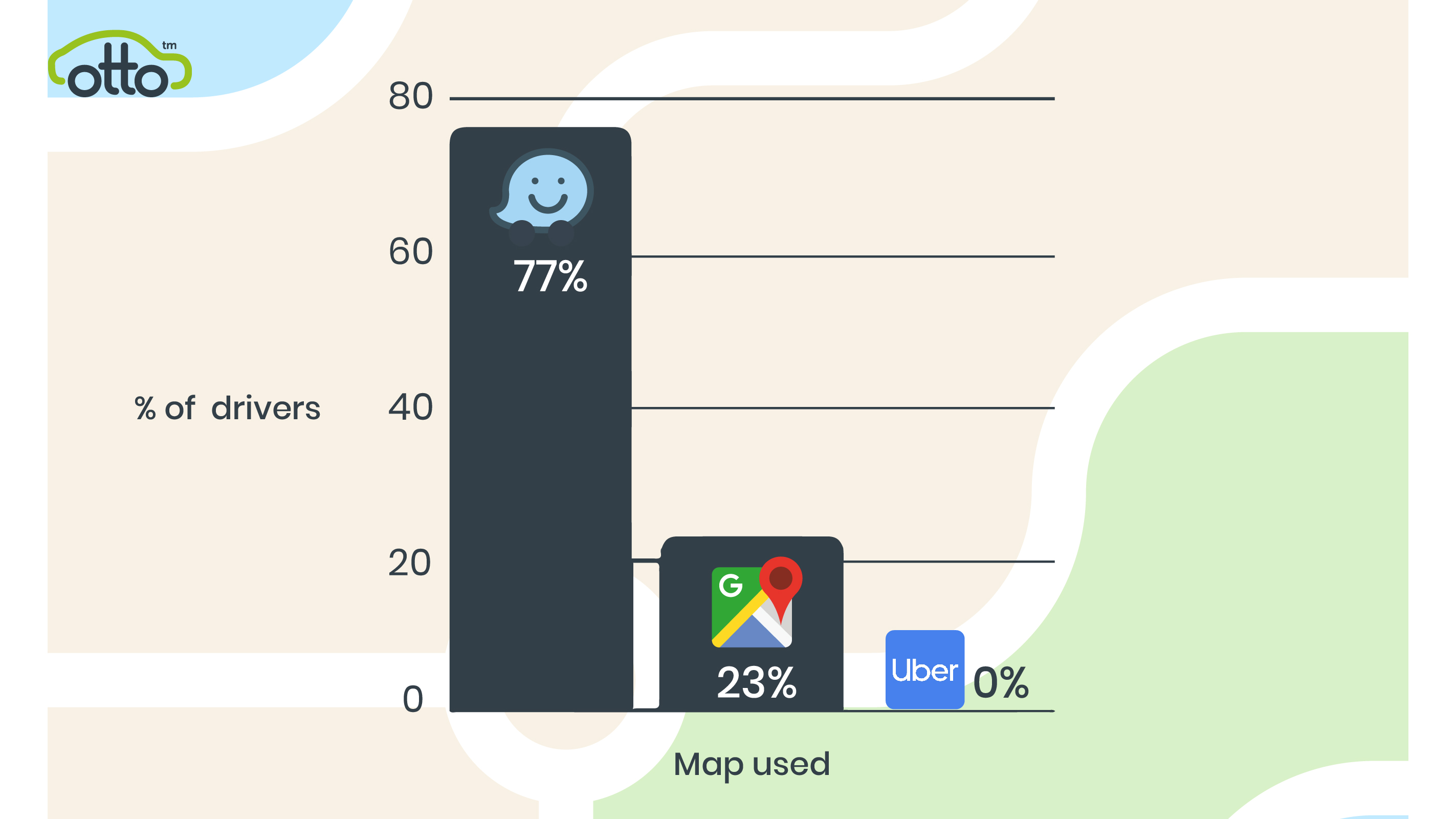 May 1, 2019
We want to help all our current PCO drivers, and those of you looking to get on our Rent 2 Buy, Rent 2 Buy + and PCO Car Hire schemes, to get the most out of your time on the road!
That's why we asked the Otto community to tell us which maps they rely on day to day, so that we could see which GPS operators are proving the most reliable for all you private hire drivers.
We have a clear winner!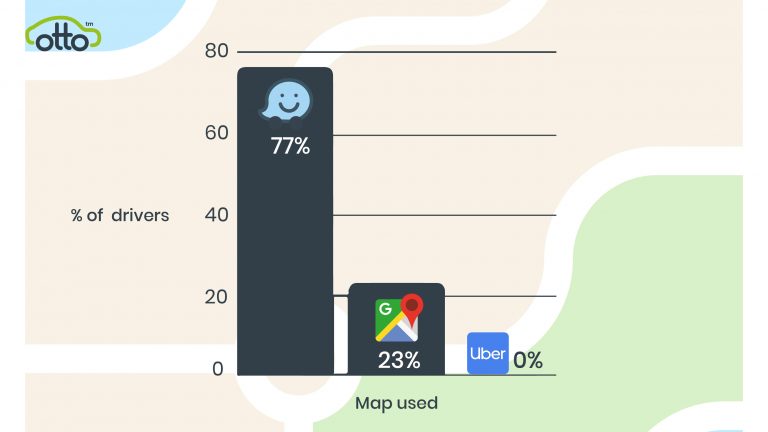 The results are pretty conclusive. Waze is the preferred system, Google Maps are trailing far behind, and Uber Drivers are still turning to other services.
Don't forget to set your navigation app before you move off as it's illegal to use any handheld devices while driving now.
Read more about the new Highway Code changes in 2022
So why is Waze that good?
Waze is clearly the one for the majority of you, but what's making so many PCO drivers turn to this GPS?

Live Traffic Updates
This feature is clearly setting Waze apart from the rest. Let's face it, in our industry nobody wants to get stuck in traffic, it's bad for pockets and patience…

Although other GPS systems also advertise this live traffic feature, Waze are clearly doing it better than the rest. There are also some nice extra features that allow you to check the traffic out for yourself, and they seem to be working a treat for PHV drivers.

It's Not Just the Traffic Either…
There are also a bunch of other features that are attracting drivers to the Waze operating system. The app lets you know if there are police blocks coming up ahead, as well as accidents and road hazards.
This type of detail is catered directly for drivers, giving them a good idea of what the road ahead looks like.

The Community Feel
Instead of relying on some random signal that's coming from space (probably?), Waze allows its users to inform the wider community. This also makes for some nice extra perks:
Quicker reporting on changes in Waze neighbourhoods, and live traffic updates from actual drivers on the road.




Community-shared fuel prices means that you can see which petrol stations will give you the best rates along your journey.

You can connect up with friends through the app and plan routes together, so that you don't need to spend those breaks alone. Lunch in Lambeth anyone?
It's like a personal heads-up from a few million of your friends on the road – Waze
Check out our PCN guide 2022 to save more money!
Google Maps aren't completely out of the running though.
There are still some features that are drawing PHV Drivers to Google Maps for their daily routes.
High Level Detail & Easy Interface
It's important to note that Google Maps is not designed just for drivers. This can lead to less car-specific features, which isn't as handy for Uber drivers in London or other busy cities. However, it also means that a lot of effort goes into making sure that their maps have a higher level of detail than their rivals.
These extra locations and road details can be useful for drivers that are having difficulty finding tougher locations.
The general interface is also easy to use, visually appealing, and some drivers find that it gives clearer directions than other GPS apps. There's also talk of some new ride-sharing features for drivers coming soon, so don't delete the app just yet!
So Which Map App is for you?
The community has spoken, and for now it seems like Waze is where it's at. It's hard to deny the numbers.
If you're mainly thinking of a rental car for Uber then you might want to arm yourself with one of these handy apps as well. Uber does a great job of putting you in touch with your customers, but the extra detail Waze gives to drivers could be great for planning the best routes.
Despite all of this, relying only on a GPS, however good it is, shouldn't stop you from using your best judgement.

We couldn't agree more Reni. Getting to know the roads well, and understanding the way the city works, is one of the best ways to stay ahead of the traffic.
Becoming overly reliant on any app can give you tunnel vision, and prevent you from understanding which routes you personally prefer. Also, if you don't learn any of the roads then what are you going to do when your battery runs out?
Another issue that drivers find is that they focus so much on their phone screen that they forget to take notice of what's happening right in front of them. These apps can help you plan your journey from A to B, but it's your own common sense that will actually get you there.
An example of what can happen when you trust the GPS more than yourself!
PCO Support Content
Don't forget, there's plenty more support for PCO drivers available on our website. From Uber's top rider destinations in London to the most popular private hire operator platforms, we have done the hard work for you!
We've also put together a special covid-19 and private hire newsletter to keep you up to date with the latest news in the industry.